50 Most Inspiring Adoption Stories With Beauty Revived: Part 11
Beauty Revived has joined with Adoption.com to bring you the 50 Most Inspiring Adoption Stories. We have found 50 amazing photographers with big hearts to donate a session to tell the story of an inspiring adoption story in their community. This is Beauty Revived: Part 11.
Want to learn more about Beauty Revived and see the rest of the pictures? Check it out here and on Instagram.
Photography for this session by Mandy Beth Photography
Meet the Valentine Family. They are Beauty Revived.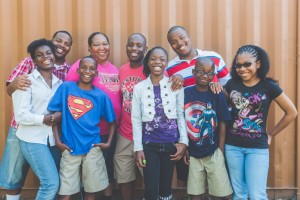 Falling in love with the Valentine family is an easy thing to do. I received the following submission from Franjuan and was moved by her and Chris' beautiful story:
"We are a family of nine! My husband Chris and I are teachers; we love children and wanted a big family. God saw fit to only bless us with two biological daughters because He had a greater plan for us. When our girls were 3 and 5, we knew we wanted a son. We didn't feel comfortable with fostering after a failed attempt, so we decided to wait for a straight adoption to become available. We were told we had been chosen for a 14-month-old boy. After a few complications, we brought him home and finalized his adoption.
"A year later, we said to each other, "Hey—that wasn't bad. Let's do it again." We found that it was a little tougher since we already had three children. Our worker asked if we would consider a sibling group . . . a set of 12-year-old twins, a 9-year-old little girl, and a 7-year-old boy. They had been through some things but they were smart and needed to be loved. We brought them home that summer on a trial basis. Six months later, we were in court finalizing adoptions and giving them new biblical first names, along with new middle names and our last names. The most memorable moment is when one of the twins turned to us and said that he had never had a father's name on his birth certificate; it was always blank. It will never be blank again. The twins, Elijah and Elisha, are now 17 and seniors in high school. They are in the top 5% of their class and preparing for college. Trinity is 14, Mariah 13, Zachariah 13, Jada 11, and Chris Jr., 8."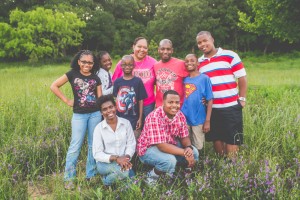 We met up at Jellystone Campground, a favorite spot for this active bunch. While walking, I commented on the joy and kindness their family exudes. Franjuan smiled and replied that it is a love that "is just there." Franjuan and Chris were kind enough to expand on their journey:
How were you introduced to adoption?
We were initially introduced by researching adoption on the web, and attending the orientation class once we found an agency.
What transitions did you experience as you adopted each time and how did your family dynamic change and/or stay the same?
The dynamic changed dramatically. We had to trade in our Honda Accord for a Honda Odyssey, our grocery budget tripled, and things like going out to eat and vacations have to be planned out more carefully. On a positive note, playing games and sports is a lot more fun because we always have enough players."
What do you wish people knew about adoption?
We wish people knew that all older children who are available for adoption are not all "stuck in their ways." Children are children and they all just need structure and love. You can choose your child and have a history of behaviors and diagnosis so you are not just led in blindly. We also wish people knew that there are thousands of children legally clear and ready for adoption. Fostering is not necessary; children who are available for straight adoption only have to reside in your home for six months before the adoption is finalized."
How has adoption changed you?
"We have learned to be more patient, giving, and understanding."
What are some tips or resources you would give to someone planning to adopt?
We would highly recommend for future adoptive parents to communicate with each other, know what they are willing to accept and what you do not desire. Our agency has a listing questionnaire that goes through behavioral, physical, and medical conditions that you are willing to accept. Make sure you are surrounded by family members who are willing to help so you can still "date" your spouse. Know that there are post-adoption services and respite available; adoptive parents are not alone.
What are some myths about adoption you wish you could dispel?
Myths we would like to dispel . . . Adoption doesn't have to cost $30,000. Children adopted from the state of CPS . . . there is no cost associated. All children who have been in foster care do not have "something wrong with them."
What do you love most about adoption?
We love to give children a new start to let them know that they have parents who will always be in their corner. We teach our children that they are not a product of their past but a major key to their future. Our children have given just as much to us as we have given them.
We hope you've enjoyed this story from Beauty Revived: Part 11.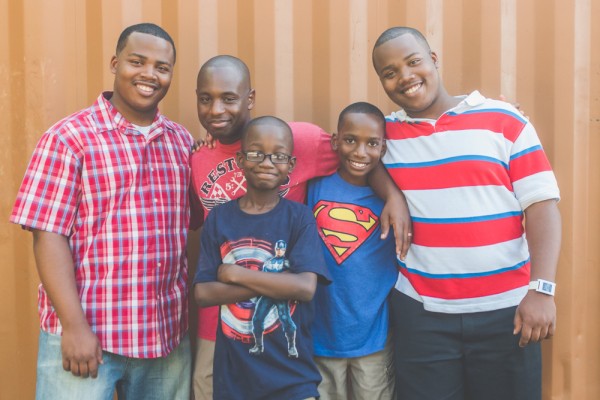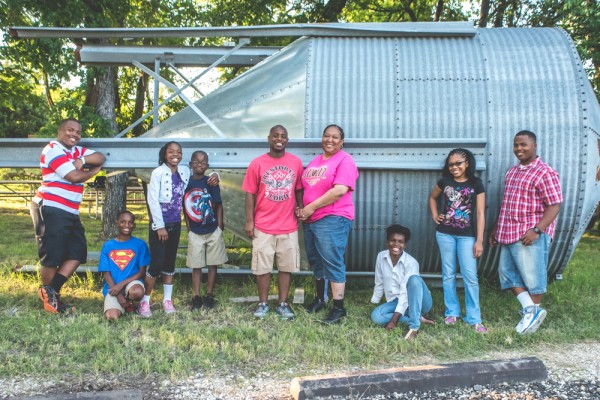 Considering adoption? Let us help you on your journey to creating your forever family. Visit Adoption.org or call 1-800-ADOPT-98.