Every good book has an opening, a storyline, and a closing section. While this story is still to be continued, you need to put a finishing touch on the adoption profile to leave the expectant mother with some final thoughts. You will use the closing of your book to summarize what points in the adoption profile book were most important to you. Ending your book will be your final impression, and just like the first impression, the last impression is key. What can you do to put your best foot forward?
1. Family photos.
Can there ever be too many photos of your family? I chose to close out my book with some professional, yet still fun, images of me, my husband, and our boys. We look put-together but we're having loads of fun. I feel like our photographer did a great job of capturing our love for one another in the final few images I selected to showcase at the end of our book. If you leave the reader with a few final images, make sure they are images you feel represent you well.
2. A closing letter.
Just like an opening letter introduces you to the expectant mother, a closing letter will summarize your book. You can reiterate the things that you mentioned in your opening letter and drive the point home.
3. Important points.
Was there something you felt you only showed in pictures but didn't have a chance to talk about it much other than in a caption? The end of the book allows you the opportunity to touch on those important points a little further. Is your community highly rated? Is your school district amazing? Are you already adoptive parents with a great open adoption relationship?
These are all things you can mention in your closing letter.
4. Thank you.
Don't forget to say thank you. While you may be desperately wishing to grow your family, keep in mind that it is at the cost of an expectant mother placing her child. Thank her for considering your family and wish her luck in her journey.
5. Cover art.
Just like the cover image says a lot about what they will find inside the book, don't neglect the back of the book just because it's done. Our first book had a cute picture of my son on my husband's back and my husband and I holding hands, walking away from the camera. It seemed fitting to have our backs to the camera for the back of the book. For our second book, I selected a playful image that depicted our love and joy of each other and captioned our story "To be continued . . . " Don't be afraid to be unique and have fun!
6. Contact information.
No adoption profile is complete without the expectant mother knowing how to contact you or what steps to take next. If you are working with an agency, they may be the ones showing her the book. But often hopeful adoptive parents are sharing their adoption profiles online, with friends, at church, or other places. So be sure to include the phone number, website, or email address that is best to contact you or your adoption professional if they are interested in discussing a possible match or adoption placement.
The closing of your adoption profile should be the place to wrap it all up. Tie together loose ends, leave a closing statement, and maybe inject one final thought that you can leave the expectant mother with as she finishes learning about your family through this very small glimpse into your life. Try not to overwhelm her with too much information. Be yourself and you will speak to the right match for you.
For tips on writing the introduction to your adoption profile, read more here.
For tips on writing the bio of your adoption profile, read more here.
For tips on writing the activities and interests section of your adoption profile, read more here.
For tips on writing the extended family section of your adoption profile, read more here.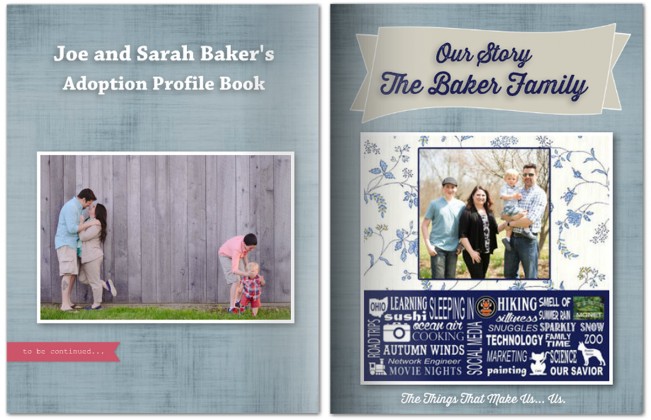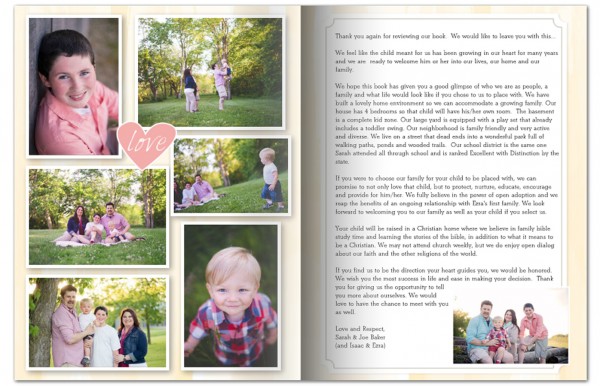 Are you ready to pursue adoption? Visit Adoption.org or call 1-800-ADOPT-98 to connect with compassionate, nonjudgmental adoption specialists who can help you get started on the journey of a lifetime.