No one just dips their toes into the world of adoption without feeling like they have been overwhelmed with a wave of information. Results for Adoption TX can be tricky to navigate as an expectant mother who is considering placing her child. During an uncertain time of decision-making and crossroads, it can be easy to fall into a rabbit hole of information in an attempt to make an educated choice. On the other hand, becoming aware of the entire process before falling into the rabbit hole is even more important and beneficial. Expectant mothers and fathers who are considering adoption in Texas will want to know these eight basics of the adoption process.
1. Adoption Agencies
Texas is home to countless adoption agencies. Many of those agencies have educated professionals with years of experience who are eager to lend a hand through a delicate process. One of those leading agencies that have seven regional offices in Texas is The Gladney Center for Adoption. The Gladney Center for Adoption has been around for nearly 130 years. With a focus on the health and happiness of the expectant, birth, and parenting mothers they work with, Gladney's team of professionals aims to strengthen the women they work with through their services. Gladney offers mothers—wherever they are in the process of considering adoption—resources in counseling, financial assistance, housing, and guidance through the adoption process.
Individuals who are considering adoption with Gladney will be assisted by an options counselor. An options counselor will help expectant mothers understand their adoptions without bias or judgment. When and if adoption is chosen as the best option for the expectant mother and her child, a caseworker will help determine eligibility for financial assistance, draft an adoption plan, find qualified legal assistance, and build a network of support. Gladney understands that expectant and birth mothers need support before, during, and after the adoption is finalized. Their dedication to walk with each mother through the entire process does not expire once an adoption is finalized. Rather, they offer a lifetime of support to those they work with as long as counseling and emotional support are needed.
Gladney Center for Adoption can be contacted via phone, email, or text message 24 hours a day, seven days a week. They are ready and willing to assist any expectant mother, father, or anyone who knows someone who is looking for information on adoption tx. Their offices can be found in Fort Worth, Amarillo, Austin, Dallas, Houston, Lubbock, and Midland, Texas.
2. Adoption Eligibility
Although the adoption process looks fairly similar from one state to the next, different states have different requirements for prospective adoptive parents to be eligible to adopt. Candidates who are seeking eligibility must meet requirements regarding age, stability, references, and a home study. In Texas, any single or married person who meets all of the state's eligibility requirements may adopt. Candidates must be 21 years old or older and financially stable. Hopeful adoptive parents must also complete an adoption application, home study, background check, and provide proof of marriage (if relevant). Additionally, a list of references and information about background and lifestyle must be shared before becoming eligible to adopt.
There are tons of hopeful adoptive parents in Texas who are ready and willing to open their doors to their forever family. The process of determining adoption eligibility ensures the children who are being placed for adoption are placed in homes that can suitably offer an environment for healthy growth and nurturing. These requirements also offer potential birth parents the peace of mind in knowing that the child they are placing for adoption in Texas is going to a good home.
3. Open/Closed Adoption
No two adoption plans look the same. Every birth mother, adoptee, and an adoptive parent has a different vision for an ideal adoption. Regardless of those preferences, every birth mother gets a say in the amount of contact that will be sustained between a biological and adoptive family post-adoption. Although closed adoptions were more commonly practiced in the past, open and semi-open adoptions have been found to foster more positive relationships within the adoption triad. Both expectant parents and hopeful adoptive parents should consider which adoption plan would work best for them and the adoptee.
All adoption plans—open, semi-open, or closed—offer different opportunities for each member of the adoption triad. Some may choose to keep an adoption closed due to the need for privacy and safety for the biological mother and adopted child. In some cases, adoptive parents prefer to keep an adoption closed until a child has reached an age when they can decide if they'd like to pursue a relationship with his or her biological parent. An open or semi-open adoption plan leaves the door to contact between biological and adoptive parties open to the specific needs of each person at any time. As long as strong communication and respect are maintained in an open adoption, this plan can prove to be ideal for everyone involved.
4. Parent Profiles
Texas, like many other states, uses parent profiles to acquaint expectant mothers with hopeful adoptive parents. Parent profiles open the door to the mystery of your child's future forever family. These profiles will introduce you to the many parents who have gone through the extensive screening process to gain eligibility to adopt In Texas. As a state that supports and celebrates strong families, Texas is home to an impressive database of parents who are ready to open their hearts and homes to a child in need.
While some adoption agencies have their own collections of parent profiles that highlight local hopeful adoptive parents, others have widened their reach to parents across the country. Other websites such as Adoption.com also have a wide selection of parent profiles to browse. As expectant mothers begin to read and become familiar with the names and faces behind the screen, they begin to make personal connections with those they learn about. Many expectant mothers even recall the moment they saw their child's parent(s) for the first time and knew immediately she had found a match. This is not the case for every expectant mother but, for many, parent profiles are the way expectant mothers confidently and peacefully select their child's forever family.
5. Housing
When you are carrying a child, caring for your body is your number one priority. The moment you learn you are an expectant mother, one of the first thoughts you have is your health and safety in carrying that child. You eat better food, you pay closer attention to your body, and you become more aware of your surroundings. Another important factor concerning your health is the environment you live in. If an expectant mother is unsafe or surrounded by unhealthy behavior either physically, mentally, or emotionally, it can become detrimental to her health and pregnancy.
Some adoption agencies, like the Gladney Center for Adoption, have housing and/or financial assistance for housing available to the potential birth mothers they work with. At the Gladney Center for Adoption, the agency hosts the Gladney Home, a center for pre-teen and teen girls from the foster care system who are facing an unplanned pregnancy. At the Gladney Home, these girls are prepared for life after foster care and are offered support through their current and past trials. Gladney believes that expectant mothers are just as deserving of a safe and loving home as the children they are placing for adoption. To fulfill their goal, they provide those young women they work with the type of environment necessary to learn, grow, and progress.
For expectant mothers who are not in the foster care system, there are still options both at Gladney and other agencies. These options include assistance with rent, bills, and other living expenses throughout the pregnancy and temporarily postpartum.
6. Faith-Affiliated Agencies
As a state that is known for faith, family, and football, there are plenty of faith-affiliated adoption agencies in Texas. Many expectant mothers prefer to work with faith-centered adoption agencies either because of their own beliefs or because of the values they want for their children. Often, Christian adoption agencies work exclusively with hopeful adoptive parents who come from strong, faith-centered homes—although, their doors are open to all expectant mothers considering adoption. Placing a child in a home that is centered on faith and God gives many expectant mothers peace of mind knowing their child will be raised in an uplifting environment.
Pregnant and considering adoption?
Get your free adoption benefits and support bundle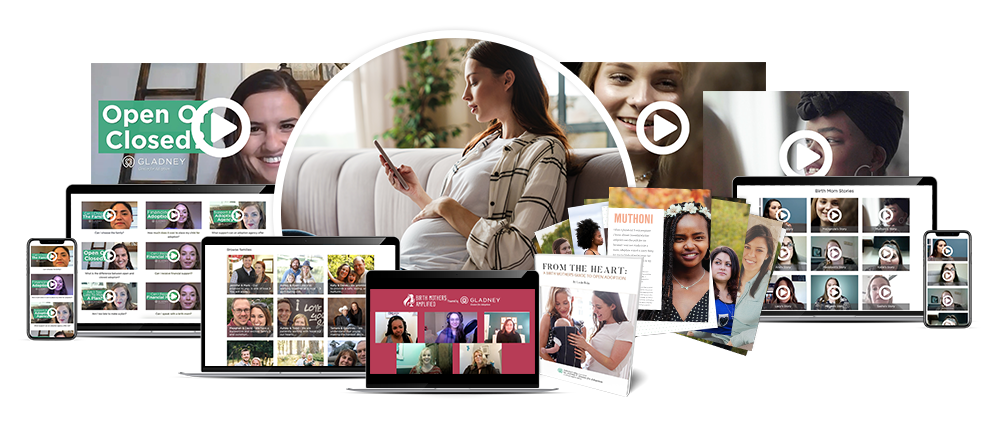 7. Support Groups
There are dozens of birth mother support groups, both online and in-person, available to expectant mothers who are researching adoption tx. Support groups are a wonderful way for expectant mothers to affiliate with other women who know exactly what it is they are going through. While family, friends, and adoption professionals can help guide expectant mothers through a process with encouragement and advice, expectant mothers and birth mothers can guide one another in a sisterhood. Support groups of like-minded individuals who are enduring the same trials at the same time can uniquely support one another. For women who do not have a local support group accessible to them, many online support groups can offer a similar experience to expectant mothers that an in-person support group would.
8. The Process
The adoption process will look different for everyone involved. It can even look different from one adoption to the next. While the order of the process will look different depending on when an expectant mother discovers she is pregnant, decides to place her child, finds an adoption agency, and secures a support system for herself, the elements of adoption will look fairly similar for every expectant mother googling adoption tx. An expectant mother will go through a basic checklist of choosing an adoption professional, creating an adoption plan, securing health care for her pregnancy, choosing a family, and finalizing the legalities of the adoption.
An adoption agency is one of the best resources to help expectant mothers through the adoption process, but not every adoption agency will offer the same type of services or resources. Because of that reason, expectant mothers should carefully study and consider what an agency can offer them. Depending on her needs, an expectant mother might choose an agency that offers more or less assistance through the process. She should consider her needs as far as living expenses, legal assistance, health care, and pregnancy-related expenses go. If these are all areas that she can anticipate needing more assistance in, then she will want to find an adoption agency that offers those types of services to their expectant and birth mothers.
The adoption process does not have to be miserably complicated. At the end of the day, the goal of adoption is to bring everyone greater happiness and peace long-term. Gladney has a vision: "For the sake of the children and those who love them, Gladney is dedicated to creating the finest adoption experience possible while forging new paths in serving the mission of adoption." They fulfill this vision by offering a myriad of services to expectant mothers, parenting mothers, hopeful adoptive parents, adoptive parents, and adoptees. Their work revolves around making the adoption process as smooth as possible so everyone can return to a loving home at the end of the day.
If you are considering placing your child for adoption in Texas, start considering the many options you have as far as agencies, assistance, and adoption plans go. Remember there is no easy way to navigate the complexities of the adoption process. Rather than trying to endure the process alone, rely on your resources, reach out to your support system, and let those who can do something help you along your journey. No one ever said adoption was an easy process. But, if you take one step at a time, one hour, and one day at a time, you'll make it out stronger and with confidence that you made the right decision. Adoption is tragic, but it is also meant to be beautiful.
Are you and your partner ready to start the adoption process? Visit Adoption.org or call 1-800-ADOPT-98 to begin your adoption journey. We have 130+ years of adoption experience and would love to help you. Are you considering placing a child for adoption? Do you want more choices with your adoption plan? Do you want to regain more control in your life? Visit Adoption.org or call 1-800-ADOPT-98. We can help you put together an adoption plan that best meets your needs.