Carrie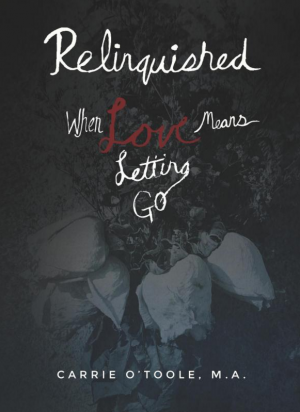 is an adoptive mother. She is also a mother who has known pain unlike many of us will ever experience. Carrie and Bob's youngest child came to them from Vietnam. His RAD was so severe that after eight years of doing everything humanly possible to help him be a part of the family and to thrive, they had to let go.
For any who are shocked at the idea that adoptive parents could ever "give up" on an adopted child; and for any who are struggling with their own circumstances raising an adopted child with RAD, this book is for you. Carrie writes as if she's sitting down next to you, carrying on a very intimate conversation. There is no façade, no exaggeration, and no attempt to sugarcoat anything. What is it like loving deeply, but never connecting? How does raising a child with RAD effect family members? What does your family and your adopted child look like to society? What effect does the judgment of others play in the decisions made?
Although much of the trauma experienced by Carrie's family remains buried (that's what happens with a lot of trauma) Carrie is able to draw on specific instances to give her readers a little glimpse into what was the O'Toole's reality. Her memoir reads like a novel, encouraging each page turn to see what's next. But it's not a novel. It's real. So real that it makes me (an adoptive mother) offer extra prayers of gratitude for our situation.
Wherever you sit on the judgment fence regarding relinquishment (or rehoming, as some call it) please pick up Carrie's book and read the truth. If you're experiencing difficulties yourself, Carrie's book will help you know you are not alone. You will be validated as you find that parts of Carrie's story is your story.
More adoption books are available at AdoptionGifts.com.