When we began our journey to adoption through foster care, I became a virtual hoarder of adoption books. From guides on attachment and bonding, to children's books, to memoirs, it was a rare moment that I was found without my nose buried in an adoption book of one sort or another.
During this time, I found that not all books on adoption are created equal. Which I suppose shouldn't surprising, as it's true for any genre.
Some were frightening, worst-case-scenario stories: stories that happen and are hard and have an important place, but that weren't the right choice for a person prone to panic heading into the world of adoption and foster care.
Others were so picture perfect that I had a hard time connecting to them. They felt sickly sweet, and while I was certain that the end result of adopting would be well worth the trials, I also wanted a realistic picture of what it might be like to go through it.
In What Led Me to You, Carrie Dahlin has managed to strike that tricky, beautiful balance between an uplifting adoption tale and the often-challenging reality of what it takes to care for children in difficult circumstances. She paints for us an authentic, candid picture of a wonderfully nontraditional family while sharing her navigation through the ups and downs of foster parenting, adoption, advocating and caring for children with special needs, marriage in the midst of it all, and more.
Having children with special needs who came to us through foster care and adoption, I found myself nodding in agreement at so many moments in the book, particularly this realization: "It took having kids that didn't fit the typical mold to realize that I didn't want that coveted box for them. Instead I wanted to teach them that they were so much more than that." It's such a pivotal moment to realize that what you want for your kids isn't always what you had originally thought, or even what you wanted for yourself in life. It isn't a "certain kind of smart," it's a contentment that comes with dissolving that notion, and Dahlin describes it perfectly.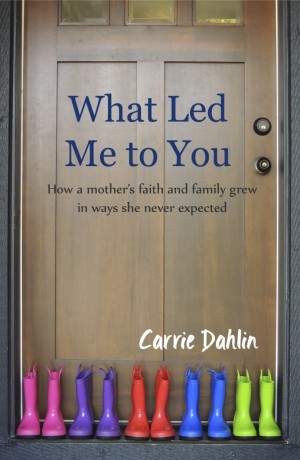 The book's vulnerable honesty, both on serious matters (the terror of an investigation by DPS) and in moments that strike a funny-'cause-it's-true chord (the panic of answering the door to a mis-scheduled caseworker visit wearing old sweats and no bra, for instance) is oh-so-relatable. The truth is, adoption and foster care are often chaotic. From schedules overflowing with appointments and certification classes, to seemingly endless paperwork and court visits, it's messy. In the act of absorbing as much of that mess as possible for your child, it's easy to find yourself in the thick of it, not entirely sure how you feel, because you're feeling so many things at once.
Learning to rely on God and His role in their family is a theme throughout, but refreshingly, the growth that she experiences through that process isn't portrayed as linear; like most of us, she learns some lessons by forgetting that she's learned them before and starting again. In her words, "Listening takes practice, but when you focus on hearing God's plan for your life, there is no sweeter sound."
About the author: Carrie is the author of What Led Me to You. She lives near Portland, Oregon with her husband and five children. Carrie is passionate about connecting with other foster parents and helping them get the support they need as they spend many of their days living in the trenches. You can connect with Carrie at www.CarrieDahlin.com, where she often shares her heart and more of her story.