If you're experiencing an unplanned pregnancy or difficult parenting circumstances, you may be wondering how adoption in Florida works. Choosing between raising your baby or allowing someone else to raise him or her can seem like a daunting task. With adequate research, you can make the best, most informed choice for your child and yourself. A great place to start when researching "adoption FL" is Adoption.com's Adoption in Florida resource guide. It thoroughly explains state laws and regulations, lists Florida adoption agencies, and provides information prospective adoptive parents might need. If you would like additional details about this topic, you can read a comparable article on Adoption.org.
Adoption Agencies in Florida
Check out this list of adoption agencies in Florida and this directory of adoption agencies in the state. Adoption agencies are a wonderful place to begin your process. Adoption agencies are a great place to start asking questions and gleaning details about what adoption options you have—regardless of how certain you are to place your child for adoption. These agencies don't push you to commit to them or even to the decision to place your child for adoption.
Deciding which agencies you should interview can seem like a big step. If you narrow your list down based on location and services provided to both birth mothers and potentially prospective adoptive parents, you'll have an easier time moving to the interviewing stage of the adoption process. Don't assume all agencies are the same. They are not, so please do your research and make sure your questions are answered during the interview.
Adoption Attorneys in Florida
As a birth mother and/or birth father, you may decide for various reasons that you prefer to work with an adoption attorney to finalize the adoption and help you with the legal paperwork along the journey. You may be wondering in what situation you would use an adoption attorney instead of an adoption agency. If a birth mother has identified a potential adoptive family for her baby through either a connection from church, social media, family, word of mouth or online adoption photo listings of prospective adoptive parents, it can be most helpful to use an adoption attorney for the next steps in the process. If you do not use an adoption agency, you will absolutely need an adoption attorney to help with your adoption. Many expectant parents or those giving them advice may think or advise that you can use an attorney to finalize your adoption. However, this is very wrong—adoption law is intricate, and nuances make using a reputable and experienced adoption attorney who understands adoption laws in your state critical. The problem arises when your non-specialized attorney neglects to appropriately address all of the applicable laws regarding "adoption FL." Adoption attorneys barred in Florida are specialized in understanding applicable adoption FL state laws, which usually govern most of the adoption, as well as all federal laws about adoption.
Who Can Adopt in Florida?
Adoption in FL means that certain people based on the rules and regulations in the state can adopt a child in Florida. According to FL adoption regulations and laws, it does not matter if you are single or married; anyone regardless of marital status can adopt. Previously, Florida prohibited lesbian or gay couples and individuals from adopting. However, in 2010, this law was ruled unconstitutional and was overturned.
However, adoption FL does require you to meet certain rules and regulations specific to FL and the adoption agency with whom you are working to complete the adoption. All prospective adoptive parents must be approved by a Florida adoption home study agency to ensure their home is safe, and they have the proper education and preparation to adopt. All home studies for adoption in FL need to be completed by a licensed social worker in the state where the prospective adoptive parents live. This is because the social worker in their state, who is a licensed adoption professional, will need to interview the parents in person, as well as any other adults in the house. They will conduct background checks and FBI lives scan checks for each adult living in the house where the child will be placed. The social worker will need to tour the home and ensure it is safe and that certain babyproofing and safety measures are in place. They will want to see where the baby will sleep and get a feel for where the baby will grow up. They will also interview children in the home of a certain age and review letters of recommendation from places of worship, friends of the prospective adoptive parents, teachers who may be interacting with the child or other children already in the home, neighbors, and employers. The home study will also include financials, driving records, medical exams, medical histories for both parents, and need to show a steady history of employment for one or both parents. The home study is ensuring the prospective adoptive parents are suitable future parents for your child and the home is a safe one for your baby to thrive in. Once the home study is completed by the home study agency, your agency or adoption attorney will work with the prospective adoptive family on building their profile and photo album for your viewing.
Next Steps Adoption in FL as an Expectant Parent
Once you have chosen an adoption agency to help finalize your adoption as either a birth parent or expectant parent, your agency will work with you to show you profiles of prospective adoptive families who have completed a home study and are approved to adopt by the agency and their state. Lots of agencies are working with many prospective adoptive families who may meet your criteria for raising your baby. They may have children or none, are infertile or not, have a large home in the country or a small apartment in the city. You will learn by going through their profiles that there is no right or wrong answer to the question, "Who are the best adoptive parents for my baby?" You will just know. You may have some criteria that are critical to your decision, but most birth mothers will say they just had a feeling in deciding on their baby's adoptive family.
After selecting some sets of parents or adoptive families you would like to connect with, your adoption agency will help set up a call or meeting for you to connect with them and get a better feel for them as a couple, individual, or family. The agency will continue to work with you as you traverse along that path of meeting with and interviewing prospective parents, hopefully making the process as smooth and calm as they can.
Adoption agencies and attorneys can help you and the adoptive parents to figure out what birth mother costs will be covered by the prospective parents. Adoption in FL regulations allows adoptive parents to cover practical living expenses for the birth mother both during pregnancy and sometimes for as long as six weeks (maximum) after the delivery. However, this is usually only when the birth mother is unemployed, has a low income, or has diagnosed disabilities; your agency can help you determine if you can receive any expenses as a birth mother to ensure the adoption does not cost you anything. Most of the time, these birth mother expenses will help cover any costs to ensure just that—that the adoption does not cost you anything. The adoptive parents will likely pay any agency fees, medical bills, hospital stay, and potential rent, groceries, or maternity clothes. Your adoption agency or adoption attorney can explain more and help you draft up the agreement and required paperwork.
Adoption FL Once the Baby Is Born
Adoption FL is similar to other states once the birth mother goes into labor. Based on your birth plan, which you drafted with the help of your social worker, you or your adoption agency may notify the adoptive family that you are going into labor or got admitted to the hospital. The agency will inform your adoptive family (if you have not) of who you would like to have in the delivery room with you and any other specifics of your birth plan.
After your baby is born, there are several steps before the baby is legally the adoptive parents' child. After you deliver your baby, there are steps for the relinquishment paperwork and adoption finalization. You won't be required to sign paperwork relinquishing your parental rights immediately; there will be some time for you to be with your child after her or his birth. Some parents just want a few minutes alone, and others want and/or need many hours with their child before giving the adoptive parents full parental rights. There's not a right or wrong way to go through the closure process; it is up to you, your discretion, your needs, and your feelings.
There is a law in Florida that states the adoption consent paperwork cannot be signed within 48 hours of delivery unless the birth mother is discharged by her doctor within 48 hours. In the event of a C-section, the wait could be a little longer. Your baby stays your child by law until you consent to the termination of your parental rights. The decision to sign relinquishment paperwork is yours; until you sign on the dotted line, you can still change your mind. Ask whatever questions you need or want to, and talk to people in your support group. You can even talk to your social workers who will likely be at the hospital to aid the process. Your right is to make sure placing your child for adoption is still the choice you want to carry through with.
After placement, you will start communicating the way all parties said they would during the interviewing and selecting part of the adoption process. This could mean you will get calls, photos, and visits. It could mean you will have less interaction. The amount and type of communication you get to send and receive is up to you before your baby's birth. You may require pictures of milestones, regular letters, or in-person visits to your child. Some birth mothers request annual albums full of pictures. Other moms like casual phone calls expected each week or each month. Sometimes, mothers prefer a semi-open adoption where they may only receive letters from the adoptive family, without free-flowing communication from the adoptive parents. Besides open and semi-open adoption, the only other adoption type is closed adoption, and very few birth mothers and parents choose to have a closed adoption plan.
In Florida, closed adoptions are recognized and records for closed adoptions are sealed. Adoption records may be obtained by court order, but any information about parties involved in the adoption (adoptee, adoptive parent(s), and the birth parent(s)) that could identify them probably won't be released until the birth mother gives disclosure consent in writing. But laws change, especially adoption laws. Perhaps one day sealed records will be free to be opened by any requesting party in the adoption triad.
Pregnant and considering adoption?
Get your free adoption benefits and support bundle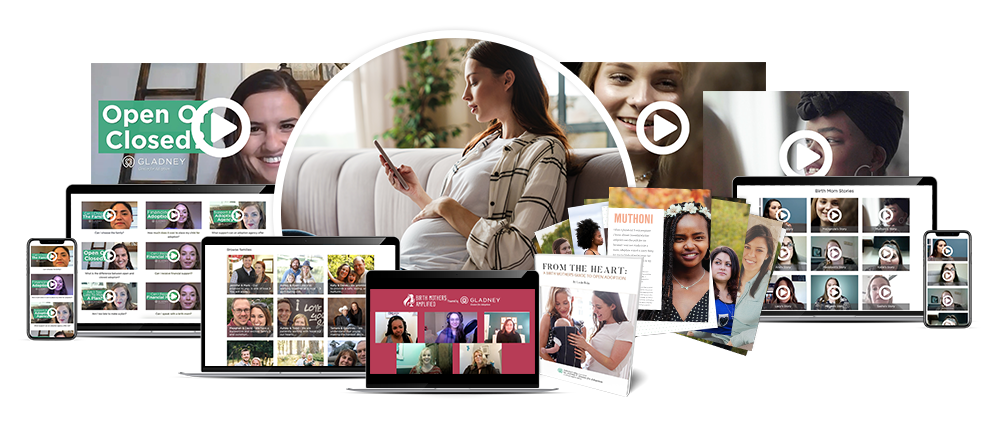 After placing your baby for adoption, you might experience many emotions. You might feel sadness, grief, relief, confusion, or peace. Allowing friends, social workers, therapists, and loved ones to support you is important. Self-care is critical during this time. Taking time for yourself as you go through the process is crucial. As you embark on this adoption journey, doing research, counseling with social workers, hiring an adoption attorney or adoption agency, and comprehending all the steps involved in the adoption process will make it easier for you to take your first step.
If you would like to speak confidentially with an adoption professional about your pregnancy options, click here.
Do you feel there is a hole in your heart that can only be filled by a child? We've helped complete 32,000+ adoptions. We would love to help you through your adoption journey. Visit Adoption.org or call 1-800-ADOPT-98. Are you considering placing a child for adoption? Not sure what to do next? First, know that you are not alone. Visit Adoption.org or call 1-800-ADOPT-98 to speak to one of our Options Counselors to get compassionate, nonjudgmental support. We are here to assist you in any way we can.