When you are unexpectedly expecting, it can be a very difficult time. Emotions are running high, and you may feel overwhelmed with the choices that you now need to make. Though you have options if you are facing an unplanned pregnancy, if you are here, you are likely considering adoption. Thinking about "adoption for my baby" can lead to many questions which this article will try to answer. Understanding adoption and what choices you have with regards to an adoption agency or adoption facilitator, prospective adoptive parents, and your adoption plan will help you in your prospective adoption journey and hopefully make it a little easier.
1. What Is Adoption?
As you begin to explore the idea of adoption for your child, it is important to understand what adoption is and what it is not. Adoption is the legal termination of the parental rights of the birth parents and the granting of those rights to the adoptive parents or a child-placing agency. For the adoption of a child to take place, the birth parents must consent to the adoption, and—in the instance of direct placement, the adoptive parents must consent to adopt the child. Adoption is legally binding and involves the use of adoption attorneys and the issuance of a final order of adoption in a court of law. The United States has a rich history of adoption, and every year tens of thousands of adoptions occur within the U.S.
There are many different types of adoption from private domestic adoption to stepparent adoption, kinship adoption to international, adoption from foster care, and even embryo adoption. As an expectant parent, however, you will likely explore only two types of adoption. Private domestic adoption is the most common form of adoption in the United States and refers to the birth parents consenting to adoption then placing their child with an adoptive family within the United States. In private domestic adoption, expectant parents may work with an adoption agency or an adoption facilitator to identify the prospective adoptive parents as typically the prospective adoptive parents were previously unknown to expectant parents. In kinship adoption, the birth parents consent to the adoption, but the child is then placed with a blood relative of either the birth mother or the birth father. Kinship adoption typically does not involve the use of an adoption agency, through an adoption attorney will be required.
As an expectant parent, you may choose to place your child for several reasons. Now may not be the right time in your life to parenting a child. You may feel that you are emotionally, or physically, or financially not ready. You may be at a time when your education or your career is not conducive to raising a child. Or you may be with the wrong partner or in a less than ideal situation. Whatever your reason, know that you are not alone. Thousands of other expectant parents have walked this path, and whatever decision you make will be the right one for you and your child.
What adoption is not is a selfish act. Adoption does not take place because you do not love your child. Rather, adoption is the most loving, selfless, giving act an expectant parent can choose. Choosing adoption means choosing a better life both for yourself and for your child.
An adoption is also not a single event. Though closed adoptions do still take place in the United States, and as an expectant parent, it is your right to choose closed adoption if that is what feels right to you; most adoptions are open or semi-open.
Adoption is a triad: the child, the adoptive parents, and the birth parents. You, as an expectant parent, are a member of that triad. This means that, if you choose to, you will have a lifelong relationship with your child. That relationship may take the form of phone calls, video chats, letters, or even in-person meetings, and it will be up to you, your child, and the adoptive parents to decide on what level of connection feels best for all of you. Adoption is a lifelong journey. It is complicated, sometimes messy, but most of the time, it is filled with love—because that is the very foundation on which adoption is built.
2. Independent or Agency Adoption
When considering adoption for my baby, the idea of the adoption process, understandably, can be overwhelming. As an expectant parent, it is important for you to understand your rights, what resources and support are available to you in your area, and what you will need to complete your adoption plan. States vary somewhat in their laws regarding adoption facilitators, but if you choose to pursue an independent adoption, you will work with an adoption facilitator. An adoption facilitator is someone who does just that: facilitates. They work with you as the expectant parents to connect you with prospective adoptive parents in either your area or around the United States. Adoption facilitators are neither licensed social workers nor licensed attorneys, so you will need to employ both of these in addition to your adoption facilitator. Some expectant parents feel that working with an adoption facilitator generates a more personal relationship with the prospective adoptive parents, but that's not always the case. There are advantages to working with an adoption agency as well.
For the most part, adoption agencies can help you with the many aspects and complexities of creating an adoption plan for your child. Most agencies begin their contact with expectant parents by having you meet with an options counselor to discuss your current thinking and what your visions for you, your child, and your future involve. From here, an adoption agency will connect you to a social worker who will guide you through the process of adoption and who will either serve as your counselor or work to connect you with a counselor. Counseling during the adoption process is very important as not only are you on an emotional roller coaster due to fluctuating hormones, but you are also considering a life-altering decision. Another benefit of adoption agencies is that they have a larger reach to prospective adoptive parents. Large, nationwide adoption agencies, like The Gladney Center for Adoption, have hundreds of waiting families whose profiles you may look through to find which parents you feel are right for your child.
Whether you choose to work with an adoption facilitator or an adoption agency, take some time and do your research before committing. When you initially speak with an adoption facilitator or an adoption agency options counselor, ask any questions you may have. Be sure to inquire as to what kind of support they offer during your pregnancy. What kind of financial resources are available to you? Remember as an expectant parent, it will cost you nothing to place your child. Costs associated with your living expenses, medical appointments, legal appointments, and counseling may be covered by the prospective adoptive parents or Medicaid (check with your adoption agency as this may vary).
What about emotional support? Is there someone you can talk to when you need to? (One tip: a good way to gauge responsiveness is how quickly someone contacts you after your initial inquiry.) Ask how many children the facilitator/agency placed last year. Are there any birth parents with whom you can speak to learn firsthand about their experiences working with this organization or individual? How are prospective adoptive parents vetted? How are they matched with you? How will the agency/facilitator support you in developing your relationship with prospective adoptive parents? What about legal help? Is there a specific adoption attorney with whom the facilitator or agency works? What happens if you choose to parent your child? And if you choose to place, what kind of support is available to you post-placement?
The number of questions and considerations may seem overwhelming but take a deep breath. There are many resources available to you, and listening to other birthparents firsthand can be a great way to decide how best to move forward.
3. Prospective Adoptive Family
As you are considering adoption for my baby, one question a lot of expectant parents have is this: Can I choose my baby's adoptive parents? The answer is yes, but only if you want to do so. As we explored above, there are many different forms of post-adoption contact, one of which is a closed adoption. In a closed adoption, you—like the expectant parent—would choose a child-placing agency and then that agency would choose the prospective adoptive parents. You may suggest some parameters you would like the prospective adoptive parents to have, but both pre-and post-placement, you would have no contact with them.
Far more common in the United States is open and semi-open adoption. In these two forms of adoption, you as the expectant parent would select the prospective adoptive parents. Your counselor or adoption facilitator will help you think through some of your questions for the prospective adoptive parents, but consider where you would like your child to live. Is it close by or anywhere in the United States? Do you dream of your child living in a city or on a farm or somewhere in between? What is important to you? Is religion, race, ethnicity, access to the arts, or athletics important to you?
Pregnant and considering adoption?
Get your free adoption benefits and support bundle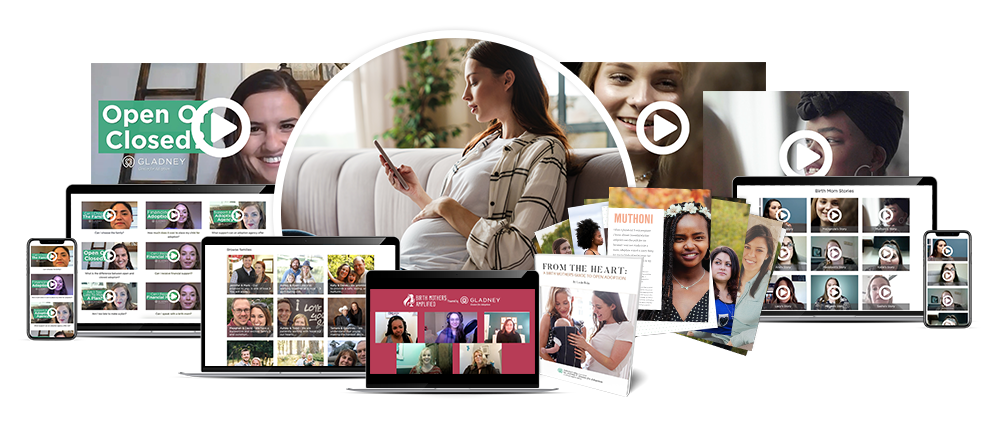 Know that every prospective adoptive parent will need to complete a home study before placement. Many adoption agencies require that prospective adoptive parents do this before listing their parent profiles. The benefit of a home study is that not only must prospective adoptive parents complete child abuse and neglect clearances and background checks, they must also understand their motivations for adoption. What are their (as the prospective adoptive parents) hopes for their child? What activities and experiences, values, and dreams do they hope to share with their child? You as the expectant parent can then view these parent profiles and see what resonates with you. Choosing an adoptive family for your child can be daunting, but reading prospective adoptive parents' letters and essays, viewing their photos, and even seeing their video message can give you a better idea of who they are.
Once a prospective adoptive parent has been identified, the next step will be for your adoption facilitator or adoption agency to facilitate a meeting. The meeting may take place in-person, over the phone, or via video chat. At your initial meeting, it is okay to be nervous—the prospective adoptive parents will be too! The meeting can feel a bit like a first date, but in many ways, that is exactly what it is. You will want to get a sense if you are a good fit, and if you are, you can make plans to continue the conversation and see if you wish to develop an adoption plan with these specific prospective adoptive parents. And if not, that is okay too. There are many other prospective adoptive parents out there, and you will find the one that is right for you.
4. Consenting to the Adoption
When your delivery day comes, you should have your adoption plan in place as well as your hospital plan. Your adoption agency or adoption facilitator will help you develop both plans so that you can concentrate on yourself and your child on your delivery day (which is the most important thing!). Once the child is born, states vary in their laws regarding the timeline for your consent to the adoption. Typically, at least 72 hours must transpire, but some ask that you wait until you leave the hospital or for a week. Once you consent to the adoption, you will relinquish your parental rights, which will be terminated, and the adoptive parents will assume the parental rights of your child. If the birth father is in the picture, he will need to consent to the adoption as well. If he is not, again states vary in terms of their putative father registry and the rights of expectant fathers.
States vary with their timelines between consenting to the adoption and the point at which consent may not be revoked. Once the window of revocation for consent has closed, you will join the ranks of other amazing birth parents and become a permanent member of the adoption triad.
Ready to learn more about adoption for my baby? A great place to connect and gather information is on the unplanned pregnancy portion of the Adoption.org website. Read, research, and don't hesitate to reach out.
Are you considering placing a child for adoption? Do you want more choices with your adoption plan? Do you want to regain more control in your life? Visit Adoption.org or call 1-800-ADOPT-98. We can help you put together an adoption plan that best meets your needs.