"Are there any other questions you might have?" It was our third and final visit with our social worker, Jen. She had been with us for the past four years and had successfully helped us navigate the adoption of my son from China. We had been waiting for this moment. Carefully saving all of Jack's clothes, anticipating the day when we would bring home a brother from China. "Just one question," I said, "A friend of mine is single and interested in adoption. Is India open to singles?"
Our social worker, Jen, launched into a description of the orphaned children in India. Per the terms of the Hague Convention each waiting child had been eligible for domestic adoption but, for whatever reason, was unable to be placed. Our agency was actively looking for forever families for the thousands of kids waiting in orphanages. China's intercountry adoption program was much more well-known. India was relatively small at only 5,946 intercountry adoptions to the U.S. since 1999, as compared to China's 80,162. But like China, thousands of kids needed forever homes. Our social worker left and my husband and I turned to each other. What if a child was waiting for us in India? We made a call that night.
Adoption in India
Switching programs was easier than we thought. Since we had not begun our country dossier compilation we could simply amend our home study to list India instead of China as our country of choice. India became a signatory of the Hague Convention in 2003 and much of the documents we would need to complete our adoption were similar to those requested by China. We gathered our dossier documents, authenticated our paperwork, submitted everything to the Central Adoption Resource Authority (CARA), then waited for a match.
CARA, formed in 1986, is designed to handle all intercountry adoptions and make sure they are Hague compliant. Each child is registered with CARA and, upon dossier submission, prospective adoptive families become registered with CARA as well. We learned that children eligible for adoption ranged in age from infants to teenagers and had mild to moderate special needs such as cleft lip/palate, vision impairment, hearing impairment, heart conditions, etc. Adoption of a healthy child was possible if we were OCI (Overseas Citizens of India) or NRI (Non-residents of India or Indian origin) but neither was true for me or my husband. We were open to either gender, a variety of special needs, and open to a child from anywhere in India. We got a call 36 hours later. There was an 8-month-old girl from Orissa.
What followed were months of court dates, more paperwork, confusion, and frustrations. Unlike China where all adoptions are processed through the CCCWA (China Center for Children's Welfare and Adoption), India processes adoptions at the district court level. Each state (there are 29 total and 7 territories) functions as its own country with a unique language and court processing system. We found ourselves in a region where the presiding district court judge did not know how to process an intercountry adoption case and was uncomfortable doing so. We transferred to another court but had to wait because of a judge vacancy. And then there were court holidays. Finally, after nine months, a verdict. During this time, I trolled Facebook looking for others whose timeline might be similar to ours. I was encouraged by stories of quick court proceedings and discouraged by stories that read similar to our own. But as many agencies caution, even two families adopting from the state can't compare because there are so many factors to consider. All we could do was wait.
Nine and half months after receiving our referral we boarded a plane to India. I still get chills when I recall the moment we got the call. We traveled to our daughter's orphanage and spent two days getting to know the incredible, loving staff who cared for our daughter during her first 18 months. We broke bread with the orphanage directors, drank tea with benefactors, and participated in a beautiful handing over ceremony. Then made our way to Delhi. Between medical appointments and trips to the U.S. Embassy, we explored temples and forts. We ate delicious meals, took rickshaw rides through the old city, and tried to soak in as much of our daughter's culture as we could.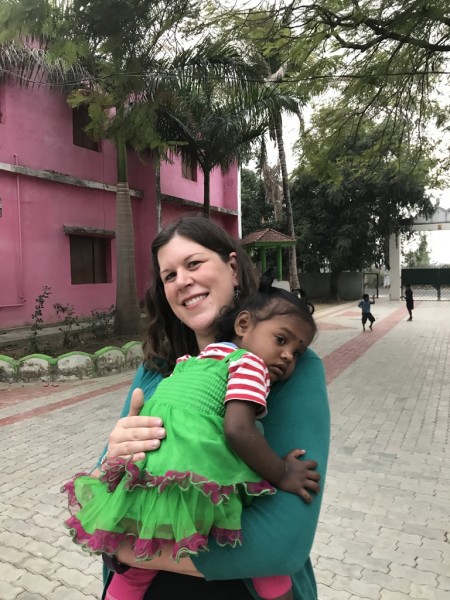 We have been home for just three months now and our daughter has already adjusted to her new life. We joke with our social worker that had it not been for my single friend, we never would have learned about the India program or met our daughter. Like all things in adoption, our journey was never a straight line, but a series of twists and turns that led to the completion of our family. It was not easy, and there were many frustrations along the way, but it's a path we would happily and gratefully walk again and again.
Have you adopted from India? What was your experience?
Considering adoption? Let us help you on your journey to creating your forever family. Visit Adoption.org or call 1-800-ADOPT-98.