Many influential people are touched by adoption. These influencers, especially with blogs, can be a powerful influence for good through adoption and in the world. Here is Adoption.com's list of current top adoption influencer blogs.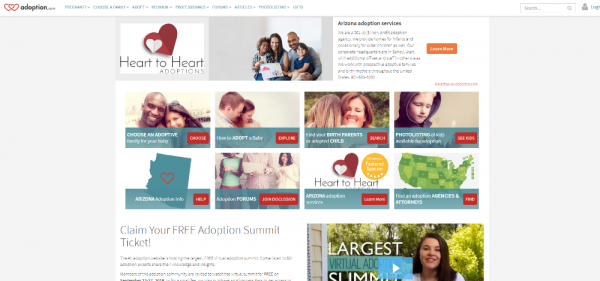 1 – Adoption.com is the most-used adoption site. It was founded by Nathan Gwilliam in 1997, and it has over 1 million pages of content. Articles posted are for all members of the triad, and they are written by people involved on all sides of the triad, birth moms, adoptees, and adoptive parents.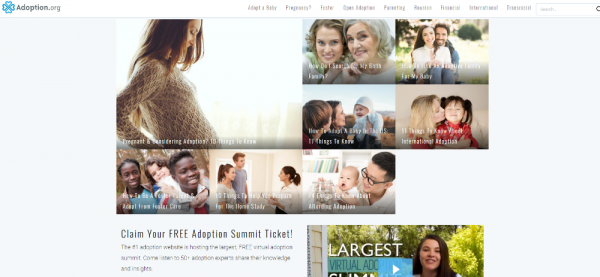 2 – Adoption.org is a question-and-answer site and one of the popular blogs. It has writers from all sides of the triad who answer questions that people involved with adoption may have. There are tons of articles answering questions on all different topics.
3 – Shelley Skuster writes her blog about infertility, adoption, recipes, and special needs. Through birth and adoption, she and her husband have four kids.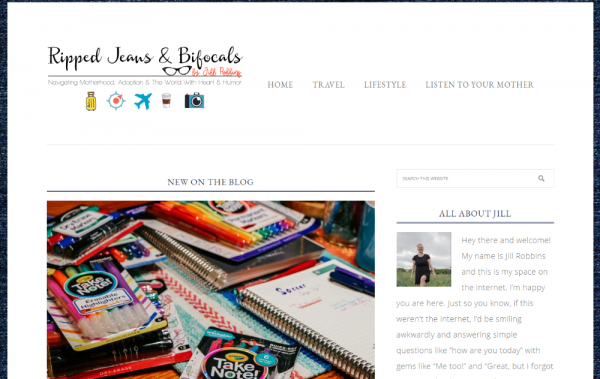 4 – Ripped Jeans and Bifocals blog is written by Jill Robbins where she talks about travel, parenting, adoption, and more. She and her husband have three children, some of them were adopted.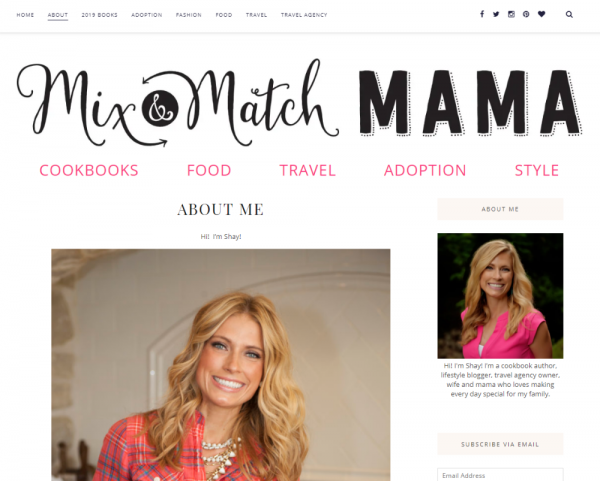 5 – Mix and Match Mama is run by Shay Shull, and she talks about, among other things, adoption, travel, and cooking. After struggling with infertility, she and her husband had two kids named Kensington and Smith. Then, they adopted two little girls from China (one in 2015, the other in 2016). Additionally, she has published multiple cookbooks and runs a travel agency.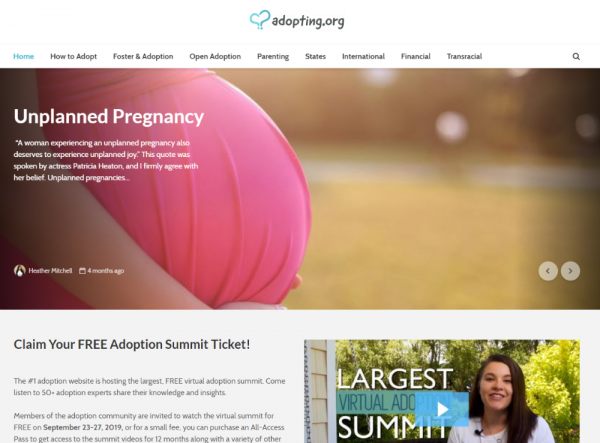 6 – Adopting.org is a blog site with multiple authors, who are involved in adoption, writing about adoption. Articles are about adoption, foster care, states, financing adoption, and more.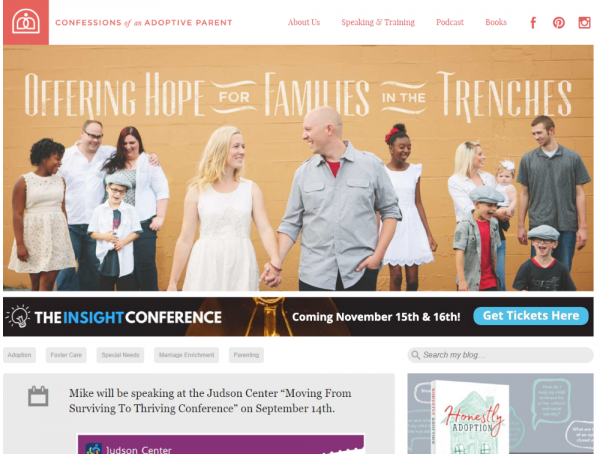 7 – Confessions of an Adoptive Parent is written by Kristen Berry and her husband Mike, wherein, they write to help other foster and adoptive families. They have adopted eight children and fostered 23 kids. They also have a podcast called The Honestly Adoption Podcast, and they have written multiple books about adoptive parenting.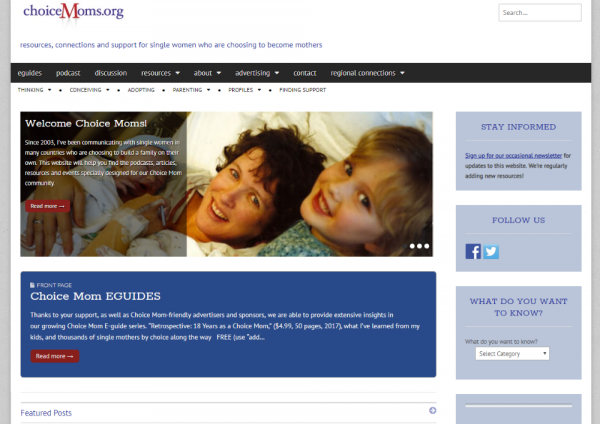 8 – Choice Moms was founded by Mikki Morrissette. All of the articles and material they provide on their site are available to help single women who want to become mothers. They also have a podcast called Choice Chat and multiple e-guides.
9 – Ni Yao Y'all is written by Stefanie Hanen. She writes about adoption, homeschooling, special needs, family, and more. She and her husband are parents to 13 kids.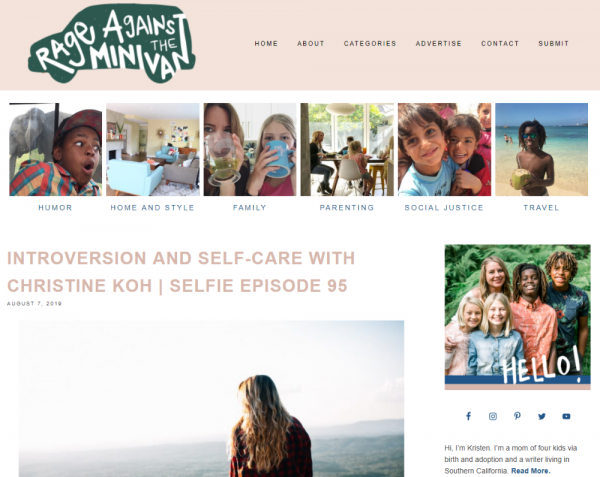 10 – Rage Against the Minivan is run by Kristen Howerton where she writes about parenting, activities for kids, photography, crafting, and more. She has four kids through birth and adoption.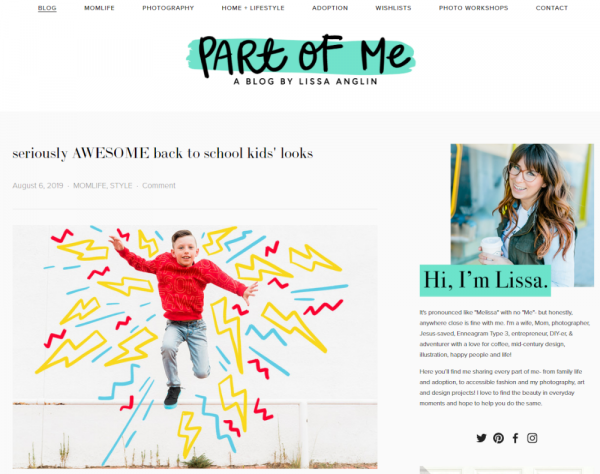 11 – Part of Me is written by Lissa Anglin. Her posts explore her thoughts on family, adoption, crafts, fashion, and more. She is a mom of three kids.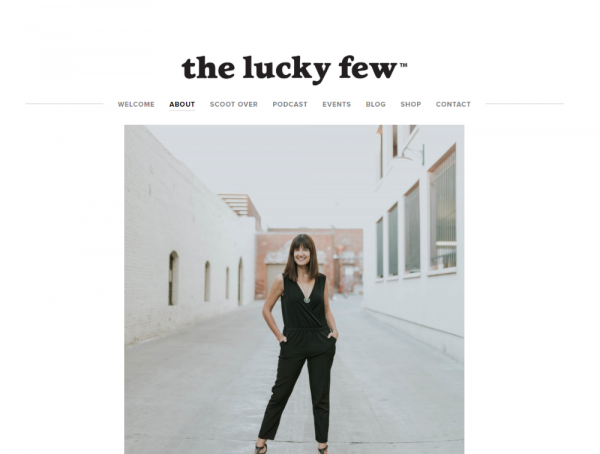 12 – The Lucky Few is written by Heather Avis about adoption, Down syndrome, and being inclusive, which she also highlights on her Instagram page: @theluckyfewofficial. She and her husband adopted their kids Macyn (in 2008) and Truly (in 2011). Their son August joined their family soon after in 2013. She also runs a podcast and has released two books.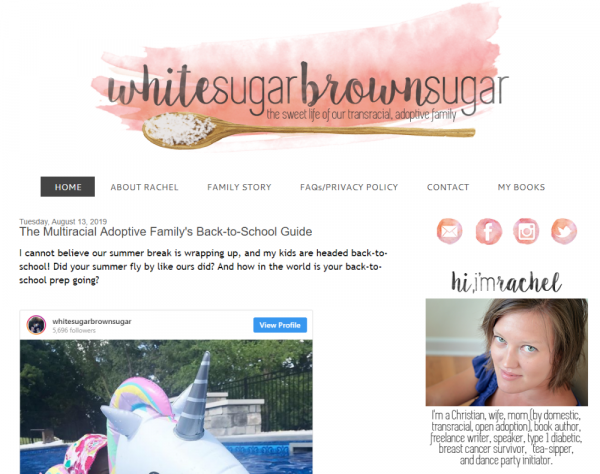 13 – White Sugar Brown Sugar is written by Rachel Garlinghouse about transracial adoption, open adoption, parenthood, and more. She and her husband adopted four children and they maintain open relationships with the birth families. Also featured on the blog, she has written multiple books.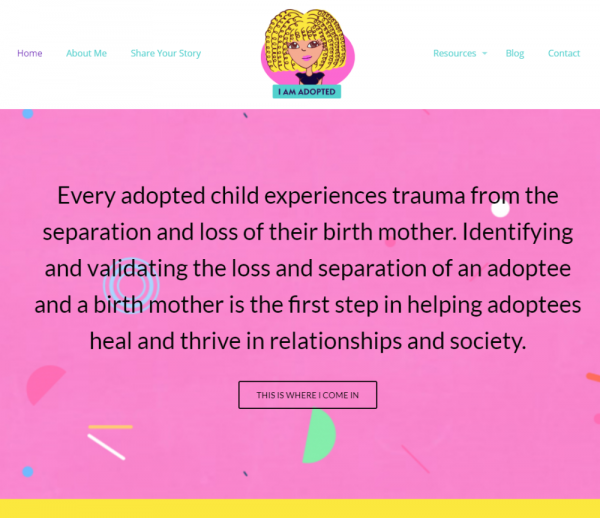 14 – I Am Adopted is run by Jessenia Aria. She writes about adoptees, search and reunion, and adoptive parents. She also offers her services in consulting adoptive parents on how to best prepare to raise an adoptee.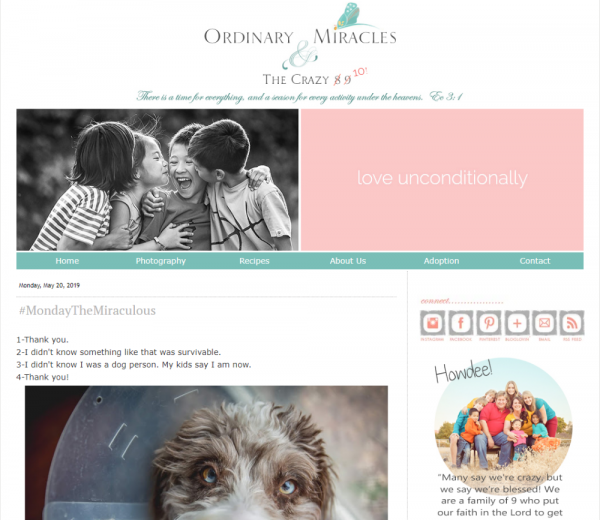 15 – Ordinary Miracles and the Crazy 10 is run by Nancy. Her posts are about parenting a large family, recipes, adoption, and more. They have eight kids through adoption and birth.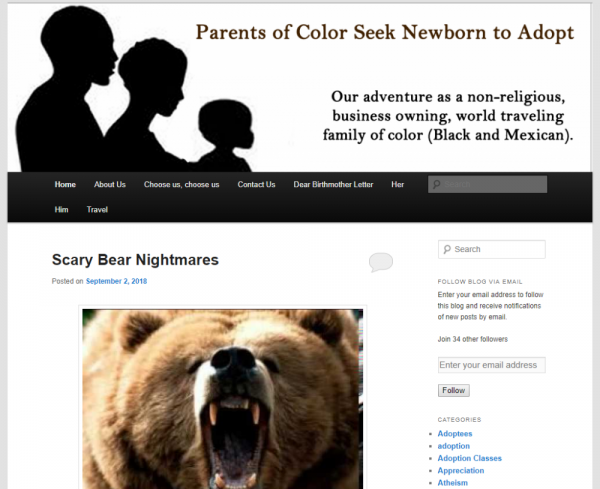 16 – Parents of Color Seek Newborn to Adopt is run by a husband and wife team. They write a lot about their travels around the world as a family. There are also tabs on their blog highlighting a little bit more about them as they are seeking to adopt.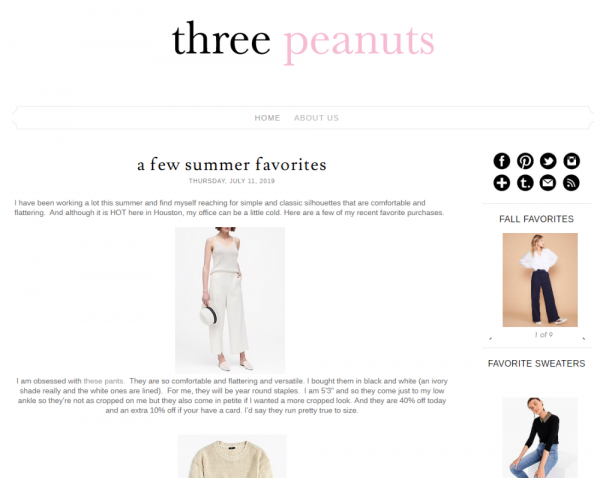 17 – Three Peanuts is written by a mother to three children through birth and adoption. She blogs about photography, fashion, family, food, and faith.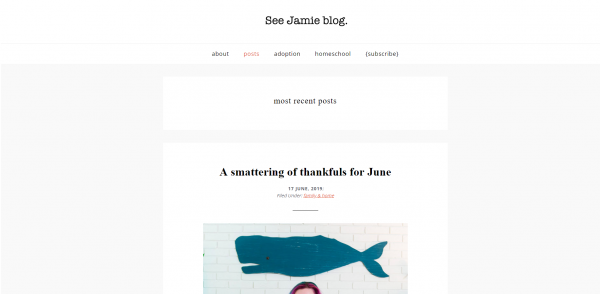 18 – See Jamie Blog is run by Jamie Worley. She writes about parenting, homeschooling, books, and more. They have five kids, some through foster-adoption and others through birth.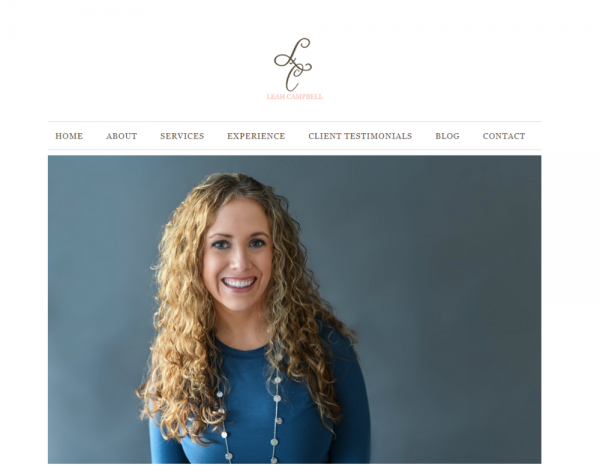 19 – Leah Campbell Writes is run by Leah Campbell. This is where she posts her writing for other sites like Glamour and Healthline. She writes about health, adoption, and a myriad of other topics. She is a single mom to her adopted girl. Leah Campbell has also written a book.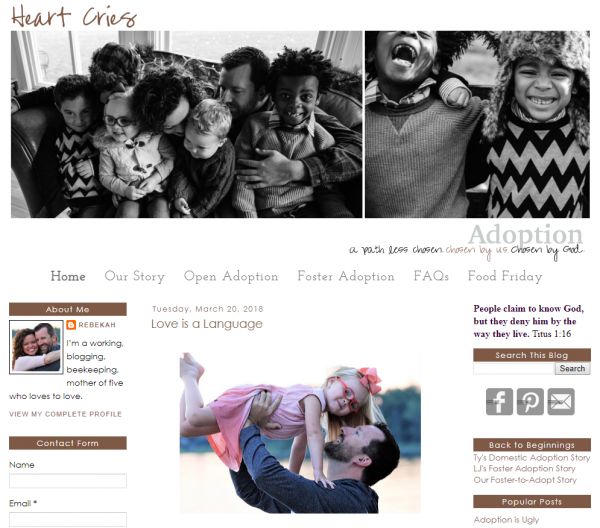 20 – Heart Cries is run by Rebekah Pinchback. Her posts are about open adoption, foster adoption, food, and family. They have five children who were adopted.
21 – On Loan from Heaven is written by Lindsay Smith where she talks about adoption, loss, infertility, and special needs. She also writes about her experiences with her family.
22 – Adoptive Black Mom is run by a single adoptive mom. She writes about her experiences as an adoptive mother, about older child adoption, and about her daughter's thoughts.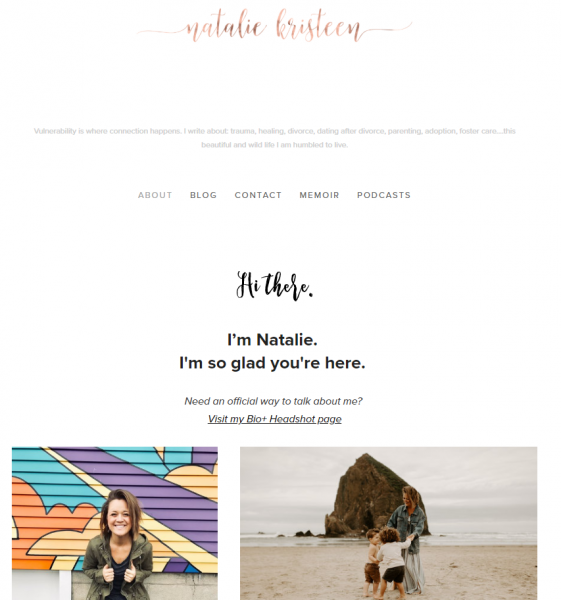 23 – Natalie Kristeen is written by Natalie Brenner. She has fostered and adopted children. On her blog, she addresses topics like foster care, adoption, parenting, and divorce. She has also published a book.

24 – Amstel Life was written by Amy Hutton where she talked about open adoption and being a birth mother. She now runs the Amy Sink blog where she talks about her life, faith, and open adoption.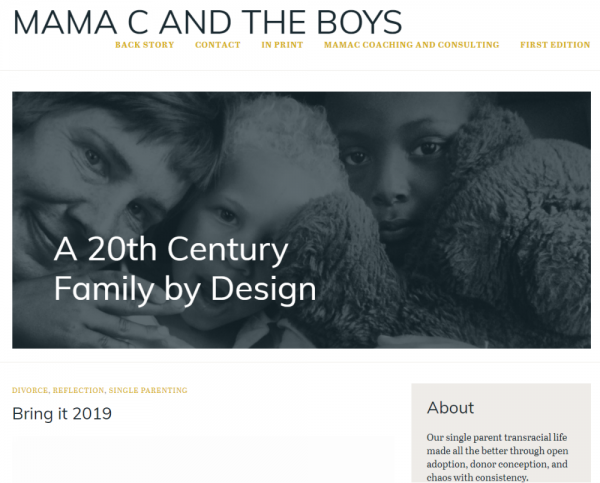 25 – Mama C and the Boys is run by Catherine Anderson, wherein she talks about transracial adoption, open adoption, being a single parent, donor relationships, and more.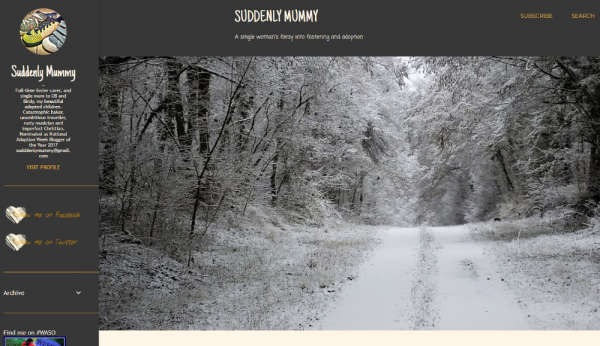 26 – Suddenly Mummy is run by a woman who writes about her experience with fostering and adopting her two kids as a single woman. Most of her posts focus on parenting and her family.
27 – Ethiopian Ties is written by Ellenore Angelidis. Her posts are about family, adoptive parenting, and Ethiopia. She has two sons and a daughter, who was adopted from Ethiopia.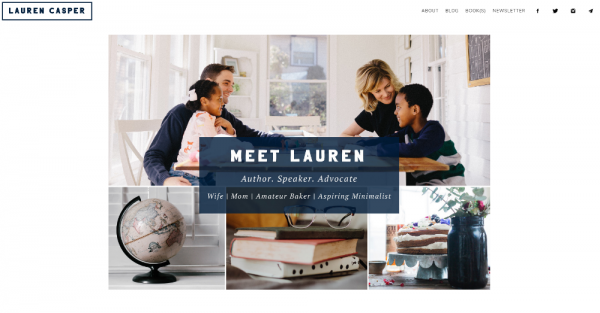 28 – Lauren Casper writes about crafting, parenthood, baking, and her family. She and her husband have two children. She has also published a book.

29 – Declassified Adoptee is written by Amanda Woolston, she is a social worker and an adoptee. On this blog, she talks about adoption, social justice issues, and more. She has also written and contributed to multiple books. The Lost Daughter is a website founded by her where adult adoptees write about their experiences.
Throughout the world, people share their stories through blogs and experiences with adoption through writing as bloggers. Here are some of our top picks of current adoption influencer blogs. Who would you add to the list?
Do you feel there is a hole in your heart that can only be filled by a child? We've helped complete 32,000+ adoptions. We would love to help you through your adoption journey. Visit Adoption.org or call 1-800-ADOPT-98. Are you considering adoption and want to give your child the best life possible? Let us help you find an adoptive family that you love. Visit Adoption.org or call 1-800-ADOPT-98.