In becoming an adoptive family, I never got to meet our daughter's biological mother. I often think about her and wonder if she planned on placing our daughter for adoption or if it was a last-minute choice. I wonder if she was scared or confident in her decision as she left the hospital that day. See, our daughter was a safe surrender baby, meaning that at the hospital, her birth parents signed over all rights to her, and she was considered a ward of the state. When they left the hospital, she stayed behind and eventually ended up in a foster home. She came into our lives when she was just a month old, and our lives have never been the same since. I am eternally grateful for the sacrifice her biological parents made. Whether they know it or not, their daughter was placed in a loving and happy home. She was the missing link to our family, and we are grateful for their sacrifice. However, her birth parents didn't have a plan in place before her birth. I don't know if they didn't have the time to consider all their options or didn't even know where to start.
I can't imagine the feelings you are dealing with right now. Deciding to place a child is not easy. You are handing over a piece of your heart. I am sure you are currently feeling overwhelmed, anxious, and confused about what steps to take next. Even considering placing your child for adoption is a big decision. You might even be testing the waters to see what options are out there for you and your unborn child. Or you may have known from the beginning this was the journey for you. No matter what your situation is, you've come to the right place!
Choosing Adoption
Speaking to a professional about all your options is the perfect way to start. Understanding what is available to you will help narrow down your ability to find adoptive families for you. Ask as many questions that you can think of and share your concerns. You are taking a big step right now; you need love and support to carry you through it.
Determining the type of adoption that is best for you can be tricky. You can explore open adoption, which is where you will be able to have a relationship with the child and his or her adoptive family. This is done by having a mutual agreement between both sides on how this relationship will play out. There are plenty of benefits to open adoption, although it is not for everyone. Also, keep in mind that adoptive families do not have to agree to share an open adoption.
Semi-open adoption may involve updates through letters or emails from the adoptive family, and sometimes includes yearly visits or phone calls.
A closed adoption means there is no contact between the biological parent and the child until the child reaches legal age. However, biological parents are allowed to put restrictions on contact even once the child is an adult. It would seem that adoptive families would be more comfortable with closed adoptions simply due to the fear that the child would want to return to her biological parent(s). However, "Research has shown (and it is widely accepted today) that adopted children do better with open adoptions because they are better able to understand how they came to be adopted. There is no mysterious puzzle to solve years later because open adoption lets children ask questions about their family background" ("Open Adoption," Adoption.com).
Whether you choose closed, open, or semi-open adoptions, it is important to make sure you understand your state's adoption laws. Once again, this is the perfect thing to discuss with an adoption professional.
How to Find Adoptive Families
There are roughly two million couples who are currently waiting to adopt a child in the United States alone. There is no way for you to contact each of those families one by one. There is much to consider. Do you want adoptive families to be local so you could have open visitation? Would you like there to be a distance to ensure no awkward run-ins? Would you like siblings? Dogs? Cats? The possibilities are endless. The main thing to remember is this: you are in control. You get to make the choice and decide what you think is the best situation for your unborn child. Take your time with this decision and make sure it is something you are fully comfortable with.
Likewise, take some time to check out Parent Profiles to see if any adoptive families or stories stand out to you. Try to narrow down what you think would be best for your unborn child. There are adoptive families from all walks of life, and each one of them is holding on to the dream of bringing home their new addition. Using insightful adoption guides to help as you narrow down your search will make the process go more smoothly.
Many agencies allow you to create a personalized adoption plan to help figure out what is most important to you. They understand that pregnancy is expensive. Financial assistance to cover medical costs can sometimes be covered. You are already making a major sacrifice out of love; finances should not be something you need to be worried about.
You Might Be Thinking, "Will adoptive families want my child?"
Speaking as an adoptive parent, I can tell you, I love my daughter as if she was always my own. Even though we have three biological children, not once have we loved our adoptive daughter any less. It's hard to imagine that a family would take in your child with fully open arms, but it is true. You can read success stories from other families who opened their hearts to a child to see how their lives have changed in the most amazing ways because someone trusted them with this precious gift.
Adoptive families have to make a lot of sacrifices to adopt. It takes a lot of time, expense, and patience as they wait for their future child. There are requirements that each adoptee must meet before he or she can be placed on an adoption list. Requirements vary from state to state, but the basics are usually the same. Adoptive families must first complete the initial application, which includes background checks on all individuals over 18 living in the household as well as submitting their driving record, financial reports, references, and a physical from a doctor stating they are healthy enough to raise a child. After all of that is completed, they must attend training. Topics range from state to state, however, most include basic parenting classes, CPR, and education that cover adoption and bonding. This step can take anywhere from 40-60 hours to complete.
Pregnant and considering adoption?
Get your free adoption benefits and support bundle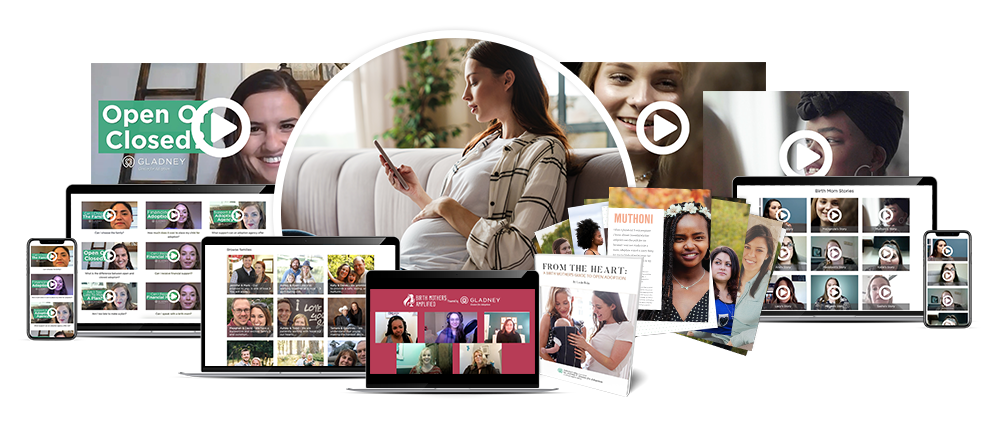 After all of that is complete, a home study must be done to make sure the home is safe, secure, and healthy for a new child. With a home study, the adoptee (if old enough) must also fill out a very in-depth packet that covers everything from his childhood, how he deals with anger and stress, and how he deals with intimate relationships. Adoptees are expected to be open and honest about all aspects of their lives and be willing to answer any questions or red flags that might come up. This home study also includes a walk-through with a social worker making sure that every aspect of the home is safe for a new child. Sometimes things need to be repaired, adjusted, and even remodeled to fit the requirements.
The entire process to become an adoptive family takes anywhere from one to two years. Why is it so intense? Because these families are being trusted with another life. Agencies understand that the well-being of the child is the highest priority. They do their best to make sure every child placed will be loved, supported, and cherished. So, you see, adoptive families work hard to bring in a child. Some are not able to have children of their own; some just want to expand their already loving family. But hopefully, for most adoptive families, it is never something that is taken lightly. Most adoptive families have been dreaming about welcoming a child into their home for years and will do everything to ensure the safety of a child and will love that child the moment he or she is placed into their arms. Although, of course, nothing can be fully guaranteed. Nevertheless, home studies are in place to help ensure—as much as possible—that your child is protected, safe and loved ("6 Reasons Why a Home Study Is Necessary," Adoption.com).
What Happens After You Find an Adoptive Family?
Prescreened adoptive families have already met all adoption requirements before you coming in contact with them. This should relieve any worries you have of making sure a family is qualified or not. Your social worker can arrange for you to view their adoption profiles, meet in person, and help mediate the process. This is where you need to express your desire for an open, semi-open, or closed adoption. If both parties agree, you can take steps to set up a birth plan. The possibility of the adoptive family is in the labor room during delivery falls in your hands. Some birth mothers want to have the delivery feel intimate and private as this is their chance to have some individual time with the child. Others want the adoptive families involved throughout the entire process so the bond can instantly be created. Whatever option works best for you, make sure you express your preferences to everyone involved. Overall, what is most important during this time is making sure you are comfortable and secure about the decision you are making.
A social worker will go over all the legal information before delivery. Depending on your state, the laws may vary. Your social worker will make sure you understand the process fully and make sure you are comfortable with your final choice before the legal process begins. Remember, the child is legally yours until relinquishment paperwork is signed. Take your time, ask as many questions as needed, and only when you are comfortable, move forward and sign the paperwork.
Life After Adoption
The most important thing to remember is that you are making a huge sacrifice. Allow yourself an opportunity to grieve for the child you are placing for adoption. No matter what your situation is or how sure you are with this decision, there will still be pain involved. Do not discredit your emotions. Seek out support and comfort during this time from others who have made the same choice as you. Many adoption agencies offer counseling services to be used after the child is placed with her adoptive family. Utilize this service and understand that you are not in this situation alone.
Moving on looks different to each individual. It will take time for your heart and body to mend. There are many ways to help prepare for moving on after placement. Don't push your emotions aside or allow false shame to push you away from others. Share your story and connect to other women who made this sacrifice. Do not allow yourself to fall into the belief that you have to go through this alone. Find a support system that works for you and remain accountable for it. Work on making your body healthy again. You've been through a lot and will need time to heal. Take walks, exercise, grab coffee with a friend. Slowly returning to your normal might be difficult, but it will happen.
I am forever grateful to the woman who made the ultimate sacrifice for our adoptive family. I will never have a chance to thank her for such a blessing. I think about her often and hope she somehow knows that her precious baby is loved and cherished. I'm especially reminded of her on Mother's Day, holidays, and—of course—my daughter's birthday. It's been almost five years since our daughter entered our lives, and not a day goes by that I don't appreciate the magnitude of the sacrifice someone made for her. Try to remember that you are giving someone a beautiful gift, and they will always treasure you in their hearts.
Are you considering adoption and want to give your child the best life possible? Let us help you find an adoptive family that you love. Visit Adoption.org or call 1-800-ADOPT-98.