Read the previous article in this series: How My Boyfriend Reacted When I Told Him I Was a Birth Mom

There are numerous reasons a woman considers placing a child for adoption. Whether she is single or married, a teenager or not, with a good support system or not so much, the ultimate decision to abort, keep, or place is one that will haunt her for the rest of her life. For me, I was 16 years old, with a loving, supportive family and an awesome boyfriend. I was simply too young. It was 1984 and choosing to place was a forever deal—closed and sealed with no choice about who the parents would be and with no option of ever seeing your baby again. This is my story about grief and healing but most of all, about love. I dedicate this series for all birth moms, whether their adoption was closed, partial, or open, for their sacrifice and grief and loss that is so profound and so deep and complex that even their closest loved ones don't truly understand. May you find healing and peace.
To find someone who loves and accepts you for your past, is crazy about you in your present, and you wants to be with you for your future, is pretty amazing. The day Barry and I got married was unforgettable. I had gone before my God and had gone through the repentance process and found myself in the most holy of earthly buildings to join in an eternal partnership with a good man. It was surreal. My spirit could not be contained in my body, and I had to be asked several times to not talk so loudly to keep the reverence of that sacred place. Generations of family and friends gathered, and it was a sweet day.
A loving Heavenly Father knew exactly what I needed, so nine months later, I became a mother again. This time there were balloons and gifts and I did not leave the hospital empty-handed. Even though I knew that he was mine, a part of me was terrified that he would be snatched from my arms, and I did not allow my baby, my own son, to be anywhere without me or my husband. Once while I was sleeping, the nurse came and took my baby to the nursery to be weighed. She found herself face-to-face with a crazed she-bear. Once I calmed down, I explained the loss of my first son, and she said, "Oh, honey, I didn't know. I promise that we will come to you from now on."
The joy and love for my son was as exquisite as the loss for my first had been. Even though I was elated with my role as a mom, I was not prepared to find out five months later that I was, once again, going to have another baby. Fifteen months later, I became the mom of another son. His personality showed through in that he was born too early. After almost losing him and spending some time in the neo-natal intensive care unit, I found myself the momma of two crazy, busy boys. Two and a half years later we welcomed a little girl.
Even though I had desired to be a mother more than anything else in my life, I did not expect to be a mother to three children in such a short period of time. During many periods of day after day exhaustion, I reminded God that we had done what we could to space our children, but He had overruled our plans, and I wasn't so sure that having three children in diapers at once was such a good idea, and He had better send some ministering angels or something because THIS IS INSANE AND HARD AND I DIDN'T THINK IT WOULD BE LIKE THIS AND I CAN'T DO IT ANYMORE!!!!!!!
I can just see Heavenly Father with His arms folded looking at me and saying, "Are you done with your tantrum yet?" Sigh.
One of the lessons I had to learn was to trust God with his timing. I had developed a severe heart condition and was told that I should not have more children. If I hadn't had my three children so soon after our marriage or so close together—if we had started our family the five years after our wedding as we had planned, I may not have been able to ever be a mother at all. I am so grateful for a patient Heavenly Father.
As I embraced motherhood and tried to balance being a wife, mother, and finishing up my education, my days were more than full. The years went by full of adventures and joy and sorrow and fear and silliness—just like everyone's life.
Darkness, however, always descended two times a year—Mother's Day and November. Mother's Day became my most hated holiday. I braced myself for Mother's Day church and was relieved when it was over. While I celebrated being a mother to the three best kiddos ever, I grieved over my firstborn. I tried to fake it each year for the sake of my husband and children, but the sorrow lingered around the edges.
Pregnant and considering adoption?
Get your free adoption benefits and support bundle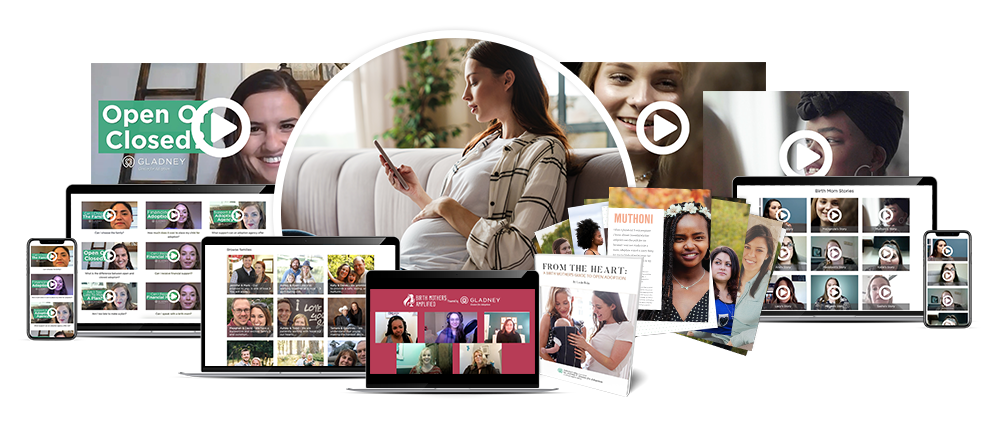 November was hard because it was my Joey's birthday month. From November 1st through the 18th, depression would take hold. Each November 17th, I would buy a cupcake and a candle and drive in my car someplace private, light the candle, sing "Happy Birthday," and cry and cry.
The pain of my baby's loss never dimmed over time, it just became duller so that as each year went by, I was able to deal with it a bit easier. As time passed, I was no longer defined and consumed by my decision to place my child for adoption, though it became a foundation for the woman I was becoming.
Read the next article in this series: My Experiences as a Birth Mom Have Enabled me to Help Others
Read this author's other series: "Silenced by Society: A Birth Mom's Tale."