I just watched my first episode of Birth Mothers Amplified. This awesome video podcast is co-hosted by birth moms, Emma and Muthoni, and is done in partnership with the Gladney Center for Adoption and Adoption.com. Emma and Muthoni talk about adoption topics and help give a voice to birth mothers like themselves, often hosting guest birth mothers.
Having been an adoptive momma for about five years, there is so much I can learn by listening to birth parents – even if their stories are different than those of my kids' birth parents. Episode Five was interesting and enlightening, as it covered one of my favorite topics: open adoption. As I watched Emma and Muthoni interview Katie and Lacy, I could not help but think about my own adoption experience and my "sister-mom" (as I call her) in particular. The birth momma of my kids holds a special place in my heart and this episode gave me an even greater appreciation for her.
The Topic: Open Adoption
As stated in the Youtube summary, in this episode, "Emma and Muthoni are joined by birth mothers Katie and Lacy for a panel discussion on open adoption. They discuss common questions about open adoption, how each of their open adoptions have developed over the years, and the benefits of open adoption."
Since the episode focuses on open adoption, host Emma provides a brief history of open adoption in the United States. According to her research, openness in adoption has been around for most of US History and laws were created in 1917 to close adoption for the privacy of birth families. It wasn't until the 70s that research began showing the benefits of open adoption and the movement towards openness in adoption began.
The Voices: Katie and Lacy
Guest speakers and fellow birth moms, Katie and Lacy, share their individual experiences with open adoption and determine that open adoption cannot be easily defined. It is as unique as every birth parent. It's also flexible and can evolve with the changing needs of the members of the adoption triad.
Katie is an adoptee and also became a birth mother in 2007. In retrospect, she sees that the trauma of not knowing her identity in her own closed adoption negatively impacted her, so when she found herself also needing to place her child for adoption, she wanted to do whatever she could to protect her child from the pain of wondering. She describes her first adoption as complicated and "messy" because her first desire was to raise her son on her own, but she soon found herself unable to adequately do so. She praises her parents for their support and willingness to parent her son while also allowing her to know him through open adoption. Naturally, with such a close connection to her son's adoptive parents, the roles were tricky to define. With the guidance of a caseworker, her parents determined a plan for her son to call them mom and dad while still knowing her as Mommy Katie.
As Katie tells her story of open adoption with her son, her appreciation for her parents (who are also his parents) is evident. Katie also experienced a second unplanned pregnancy and chose to place her daughter for adoption in another family. She was grateful to find a family who was open to whatever their open adoption "blossomed into" for them. Katie explained that in the beginning, the open adoption experience was very scheduled but has since evolved into a more organic and natural relationship between her and her daughter's mom. Though there have been some challenges along the way, she now enjoys frequent texts with her daughter's mom and video messages to keep her updated. The annual email updates and twice-per-year visits they started with have now morphed into casual and more frequent communication and visits.
Lacy's story is the opposite of Katie's in some regards. Lacy found herself in an unplanned pregnancy where she wanted to parent her daughter. When she and the child's father split up and her family advised against her trying to raise the child, she looked into and began to learn about open adoption. She wanted to find a family that could provide a better life for her daughter and who would be willing to allow her to be a part of that life. As she looked at adoption profiles, she was adamant that she only wanted to consider families who were willing to have an open adoption. She romanticized adoption and imagined being best friends with her daughter's parents and being involved in all of her daughter's daily activities and being a very active part of her life.
When she became a birth mom in 2006, her relationship with her daughter's family was much like she had imagined. She and her mom and extended family were able to spend time with her daughter's family and get to know each other a bit. Soon, their situation became more complex as her daughter's father returned to the picture. She struggled with wishing they could raise their daughter together and she felt paranoid that her daughter's family would expect her to be having those same thoughts. Because the emotions of the situation were just too much, Lacy decided the best thing for her daughter was for her to step back from the relationship. They stopped having in-person time together and shifted to a yearly exchange of emails and letters. With a smile, Lacy recalls the first time she received a letter back from her seven-year-old daughter.
Lacy's desire to take a step back from the open adoption she had so badly wanted is not unusual. As Emma wisely points out, "It's common for birth parents to take a step back and that is okay. Everyone involved needs to be able to express their needs and boundaries."
Depending on her daughter's desires, their open adoption may move back towards in-person visits again in the future and while it scares Lacy, she is eager to see what unfolds. Her daughter is now a teenager and has begun seeking more information, including contacting Lacy via social media. Lacy made sure her daughter's parents were aware of that and also were informed about her increasing online presence as a result of her involvement with the adoption community online. The respect and appreciation Lacy has for her daughter's parents is evident in her desire to honor their leadership in her daughter's life.
As Emma suggests, open adoption is "an awkward dance of respect" but it's healthy because everyone is very sensitive to the needs of the other. I can relate to this in my own though admittedly very different situation. The first time my daughter called me momma in front of her birth mom, my heart caught in my throat. As much as I love the title, I knew it would likely hurt her to hear it. The awkward dance of respect has been challenging for us to learn: two steps forward, one step back as we all seek to honor each other and, most of all, to do what is best for the child.
Pregnant and considering adoption?
Get your free adoption benefits and support bundle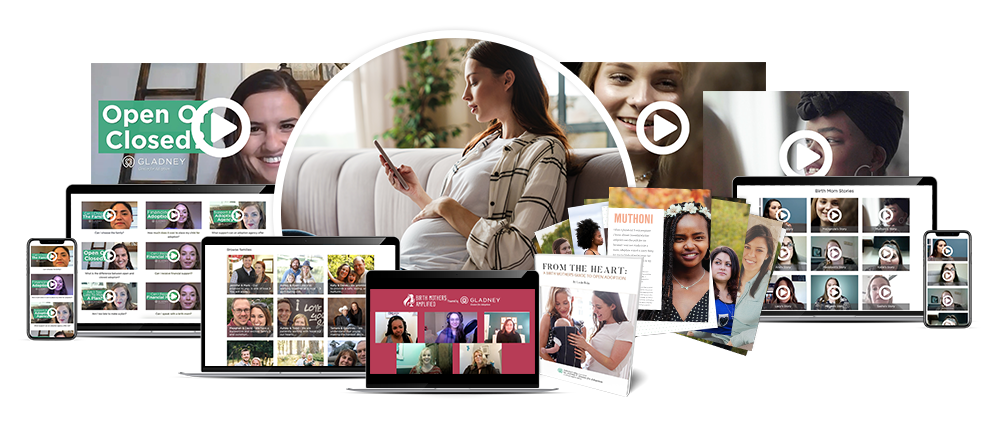 The ladies on the panel noted that open adoption really begins when the adoptee has a say in it, and as their children become teenagers, they anticipate continued changes and adjustments in the open agreement.
They also share the struggles they feel along the way. Lacy struggles to be authentic with her daughter while communicating in writing. She wants to show who she is, yet finds it difficult to do so in a relationship based on writing.
The Complexity: Beauty and Brokenness
When asked about the pros and cons of open adoption, the ladies agree that grief is a huge obstacle. Katie loves that her children get to know each other, as she takes her son to visits with her daughter, but she admits it's not all positive. Still, she feels that open adoption has helped her heal and process her grief. "You get to celebrate motherhood and grieve motherhood at the same time," she says.
Lacy agrees and says it's hard to distinguish pros from cons because so many things are intermingled. "My child is thriving in a life I would never have been able to provide her, but at the same time, that came at the cost of my heart," she admits.
These powerful testimonies about the beauty and brokenness that make up adoption are exactly the kinds of things the world needs to hear. Birth mothers need to have their voices "amplified' and shared; I'm so glad this podcast is allowing that very opportunity.
To wrap up episode five, the guests were asked to share advice. I have given my own open-adoption advice as an adoptive mom, but it was great to hear advice from Katie and Lacy to hopeful adoptive parents and expectant mothers planning to place their children for adoption. To hopeful adoptive parents, they say be open-minded and willing to adjust and communicate with the birth family about your feelings about the open adoption. To expectant mothers, they caution: expect complex emotions. The smallest things may be triggers for grief and you never know when it will hit. It's okay and it's normal. Also, have an open mind and communicate your feelings about the open adoption relationship. As with all relationships, communication is key. Lacy encourages all parts of the triad to "be authentic. Be yourself. Don't try too hard. Just be you and feel what you feel."
If you'd like to hear more (and I think it's worth your time), watch the complete episode Youtube or wherever you listen to podcasts. Check out the Instagram page @birthmothersamplified to learn more about Katie and Lacy. The duo has also started a group called "The Table," a place for birth parents to connect apart from an agency. It's for birth mothers and fathers and will eventually include in-person events. They will focus on providing education for birth families through casual conversation. You can find them on Instagram @thetabledfw.