The most vivid quote I've read about heartbreak comes from the Colombian novelist Gabriel Garcia Marquez. He said, "Perhaps this is what the stories meant when they called somebody heartsick. Your heart and your stomach and your whole insides felt empty and hollow and aching." If you are a human being, then you probably have felt this at some point in your life. One of the greatest emotional pains I've experienced came from placing my child for adoption, but it's been the most gratifying heartbreak I've ever endured.
I was 19 weeks pregnant when I met my birth son's parents, and they were by my side for the rest of my pregnancy. We immediately became very open with one another, and I never attended a doctor's appointment alone. They literally picked me up on the day of my induction, and we drove to the hospital together. It was very natural for them to be in the room during labor and for their son's birth. Despite the awesome aspects of the circumstances, I was very heartsick during those three days in the hospital. Similar to Marquez's description, I felt empty and crushed like I've never felt before. However, in the midst of all that pain, I was unbelievably pleased. How can someone be so miserable, yet elated at the same time? Let me try to explain.
Immediately after I gave birth, the feelings of fear started to flood me. I was so in love with my precious birth son, and I knew that I would have to say goodbye to him at some point. The thought was very scary in that moment, but something was more powerful than that feeling. The love that filled that room superseded anything else. A woman who dreamed of becoming a mother cried happy tears as she held her son for the first time. A man who was so ready to be a father held his son in great wonder with a huge smile on his face. First-time grandparents held their grandson with pure joy on their faces. Birth and adoptive family came together in that room devoting their love to the occasion. To be a part of this was so delightful to see and experience. These moments that came with the heartbreak made the pain completely acceptable.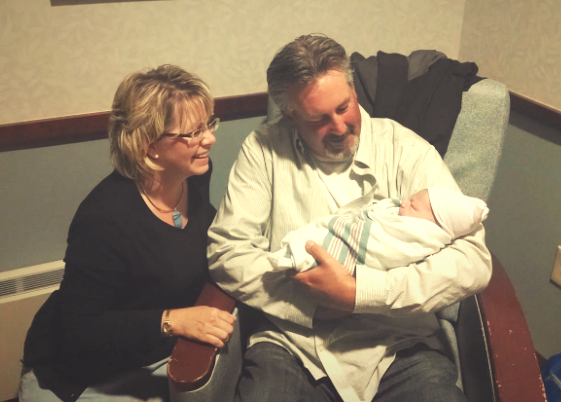 During the baby's first bath, I felt discouraged, and I can't even pinpoint exactly why I was feeling this way. Meanwhile, I sat in the hospital bed and watched my birth son's parents engage in his first bath. Dad was so happy and eagerly involved. He was already such a dedicated father, not wanting to miss a moment of his baby's precious life. Mom was talking her baby through his entire bath. I will always remember her saying "Good boy, stretch those legs!" as she rubbed them gently. She talked to him as if he understood every single word that she was saying, and I admired her so much! Even though I was an emotional mess, the goodness hovered over the depression like a rainbow after a storm. Being able to witness the love my birth son was going to experience gave me so much peace, especially because he was receiving exactly what I wanted for him.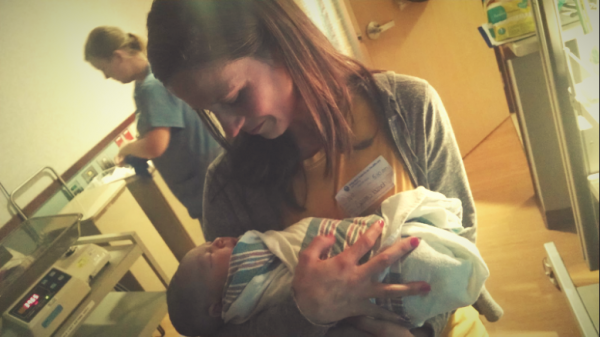 On the last evening in the hospital, I held my birth son as he slept in my arms. The aching heartsick feeling still never disappeared, and I began to realize it was my fate that I had to accept. This is what I signed up for. I was going to have a broken heart, but I just knew that it was going to be okay and that the good would outweigh the bad. That night, my birth son's parents and I talked for hours, and they opened up more than ever before. I listened to them talk about their journey, their struggles, their relationship, their beliefs, and their hopes for the future. Words cannot explain how much I adored them in that moment and still adore them today. Being the woman that helped them complete their family was completely worth those empty and hollow feelings. I felt so honored that, because of my decision, two amazing people were going to walk out of that hospital with a baby and begin their parenting journey together. They deserved it more than anyone I've ever known.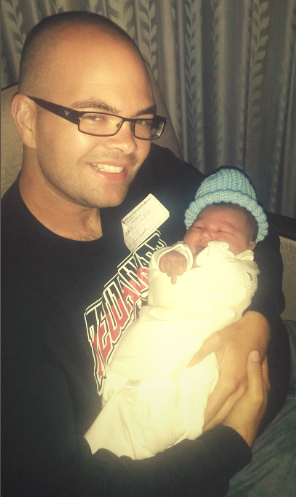 That is why I broke my own heart when I placed my child for adoption. I basically took a pen and signed myself up to experience extreme distress in a way I've never experienced it before. Yet, I've learned so much about resilience in the process. I've also learned a couple of things about heartbreak:
1. I believe there is no way to avoid such pain in this world that we live in.
2. Heartbreak is a lousy experience, but it has the ability to create survivors!
3. You can always strive to find a silver lining that provides emotional balance.
No matter what source the heartbreak comes from, you can find hope and peace if you look hard enough. If I had to break my own heart again to place my baby for adoption, I definitely would. It has been so completely worth it!
Pregnant and considering adoption? You don't need to do it alone. Click here to connect with a caring, compassionate adoption professional who can help you figure out what's best for you and your baby. All consultations and counseling are absolutely free.
Are you considering placing a child for adoption? Do you want more choices with your adoption plan? Do you want to regain more control in your life? Visit Adoption.org or call 1-800-ADOPT-98. We can help you put together an adoption plan that best meets your needs.