If you're expecting a baby but aren't sure you'd like to become a parent, one thing you can do is to turn to a crisis pregnancy center near you. There are usually not a lot of crisis pregnancy centers in rural areas. You may have seen billboards, tv commercials, and even brochures advertising crisis pregnancy centers. What is a crisis pregnancy center? A crisis pregnancy center is an organization that wants to educate women on pregnancy options and ultimately prevent abortions by educating women on the benefits of choosing adoption when facing an unplanned pregnancy. Currently, there are over 2,500 clinics in the United States. It should be noted that most crisis pregnancy centers are located in populated cities and close to homeless shelters.
The mission of a crisis pregnancy center is to persuade women to choose adoption instead of going through with an abortion. Crisis pregnancy centers are sometimes referred to as pregnancy centers and the majority of crisis pregnancy centers are typically run by religious staff members. The center doesn't perform abortions and offers counseling on both adoption and parenting. In this article, we'll look more into what crisis pregnancy centers do, the history of crisis pregnancy centers, the options that crisis pregnancy centers offer, the services that a crisis pregnancy center may provide, what you'll learn at a crisis pregnancy center, and what to look for to find a great crisis pregnancy center near you.
The History of Crisis Pregnancy Centers
Starting around 1880, hundreds of crisis pregnancy centers were in major cities in the United States. In 1967, a man named Bob Pearson planned the first modern crisis pregnancy center in Hawaii because of the state's liberal abortion laws. In 1969, he founded the anti-choice Pearson Foundation. The foundation, based in St. Louis, helps local anti-abortion organizations set up counseling services. In 1984, Pearson wrote a manual called How to Start and Operate Your Own Pro-Life Outreach Crisis Pregnancy Center. Towards the 1990s, more and more Christian and Catholic organizations have formed financial support networks to keep the crisis pregnancy centers running efficiently with the aid of funding and franchising groups. Today, there are over 2,500 centers; their primary mission is to prevent abortions and to help support mothers who either choose to raise their baby or place a baby for adoption.
Crisis Pregnancy Center Services
There are many different services that crisis pregnancy centers offer. The traditional services most commonly offered are:
Sonograms
STI Testing
Pregnancy Testing
Parenting Classes
Prenatal Services
Options Counseling
Baby Supplies
Financial Aid
Support Services
The services are free of charge and they not only serve expectant mothers but also mothers of infants too. Read this Adoption.org, "How Can a Crisis Pregnancy Center Help Me During My Pregnancy?" to know how a crisis pregnancy center helps you with your pregnancy. There are also medical crisis pregnancy centers. These centers are run by an M.D. and are licensed clinics that have services such as ultrasounds, prenatal exams, and STI testing.
The Staff Members at Crisis Pregnancy Centers
The staff members that work at crisis pregnancy centers are usually religious (Catholic or Christian), but some crisis pregnancy centers are run by non-religious staff members. Whatever your beliefs are, you won't be denied services. The staff members are often volunteers that have been trained to assist women and their babies. Staff members that work at the crisis pregnancy center that you want to go to should have these qualities:
Courteous
Respectful
Kind
Compassionate
Non-judgemental
Helpful
Supportive
Warm
Resourceful
Professional
Knowledgeable
Trustworthy
Empathetic
The staff members help talk you through your options of either parenting or placing your baby for adoption. They also help you decide the best choice for you and your baby. They won't ever pressure you into choosing because the choice is ultimately yours.
The Stigma That Crisis Pregnancy Centers Face
If you look up crisis pregnancy centers on any internet search engine, then you'll most likely find a plethora of negative articles about crisis pregnancy centers. Why? Pro-abortion groups and people who want expectant mothers to know that abortion is also an option to choose when facing an unexpected pregnancy believe that crisis pregnancy centers spread biased information.
There are several myths about crisis pregnancy centers. Some of these myths are that crisis pregnancy centers aren't qualified as real clinics, that they spread false information, and that they are dangerous for women that want to have an abortion. People that see the centers in a negative light think that crisis pregnancy centers don't really help expectant mothers. They also believe that crisis pregnancy centers use misleading information to persuade an expectant mother to deliver her baby.
However, crisis pregnancy centers aim to help as many expectant mothers as they can, and that's why you're more likely to find more than one in a major city. Several proven facts show the good that crisis pregnancy centers have done for expectant mothers and mothers of infants. Not only do they provide great services, but they help expectant mothers to choose the right abortion-alternative options of parenting or adoption for a child. Ultimately, it is completely up to an expectant mother to decide the best choice for her and her baby.
The Options That Crisis Pregnancy Centers Help You With
The goal of a crisis pregnancy center is to put an end to the crisis of an unexpected pregnancy. According to most crisis pregnancy centers, you have the option to either raise your baby or place your baby for adoption. Just know that you're not alone in facing such a huge decision. The staff at the crisis pregnancy center will walk through the options with you. To hear the story of one mother who, at different times, gained experience with all three options available to an expectant mother, read this article, "My Three Experiences: Single Motherhood, Adoption Placement, Abortionrticle" on Adoption.com.
If You Choose to Parent…
If you choose to parent your baby, the crisis pregnancy center will help you acquire items your baby will need, counseling services, and education on parenting. There are a lot of great services that crisis pregnancy centers can offer you when you choose to parent your baby including:
educational parenting classes and training.
encouragement if you're worried about parenting.
prenatal care services
free ultrasounds
a maternity home if you're facing homelessness*
referrals to social worker services.
education on health and nutrition.
training on important parenting life skills.
help with employment plans.
help with substance abuse.
help with baby supplies.
help with delivery.
help to find other resources outside of what the center can provide.
postpartum support.
Every service is typically free of charge for expectant mothers experiencing a crisis pregnancy.
*A maternity home is a place for expectant mothers to live as they get ready to give birth and a place for them to live when the baby is born. You'll also have access to prenatal classes, clothes, diapers, formula, car seats, and whatever else your baby will need. If you don't have anywhere to go or anybody to support you, a maternity home is a valuable option for you and your baby.
If You Choose to Place Your Child Up For Adoption…
Maybe you don't see abortion as an option. Perhaps you're thinking that parenting your baby isn't going to work out after realizing how much effort and money it takes to raise a child. Maybe you don't feel like you have the maturity to fully take care of a baby. Whatever the reason is, a crisis pregnancy center can help when you're ready to start the adoption process. Crisis pregnancy centers know that adoption is both a hard and wonderful choice for you and your baby. It can also be very beneficial for all involved. You can learn more about how to place your baby for adoption on Adoption.com. So, how can crisis pregnancy centers help with adoption? Crisis pregnancy centers can help you with
finding a referral to partnering adoption agencies or good outside adoption agencies.
finding a great adoption attorney if you don't want to go with an adoption agency.
accessing free counseling.
making a life plan.
educating you about the adoption placing process.
finding other resources to help you with your adoption journey.
Placing your baby up for adoption isn't giving up on your baby. It's one of the most courageous and life-changing decisions you can make for yourself and your baby. If you're still trying to decide if placing your baby up for adoption is right for you, read these great educational and inspiring adoption articles.
For more information on your options, read this article about crisis pregnancy center options.
What Will I Learn At a Crisis Pregnancy Center?
Crisis pregnancy centers aim to educate women on the negative impacts of abortion. They provide educational parent training classes and child development classes if you choose to parent. They also educate you about all the aspects of adoption.
Learning About Abortion
Crisis pregnancy centers don't provide abortions. They do educate you on the impact of abortion through informal videos, brochures, and books. Topics include the lifelong effects that abortions can cause women and post-abortion syndrome. Some centers even offer post-abortion counseling for women who've already gone through an abortion.
Learning About Parenting
Women facing an unexpected pregnancy that wish to parent their baby will learn many things about becoming a parent. Topics include infant development, formula and breastfeeding advice, labor and delivery, relationship advice, and goal setting
Pregnant and considering adoption?
Get your free adoption benefits and support bundle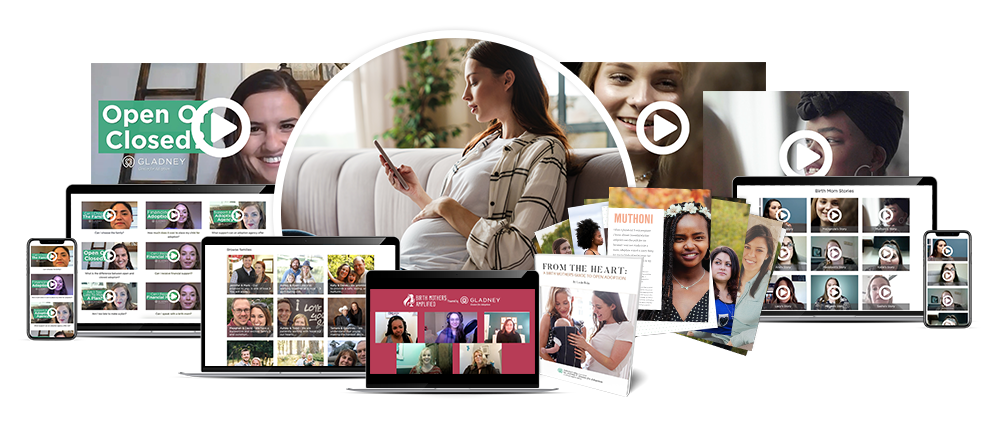 Learning About Adoption
Crisis pregnancy centers do give you an option to learn wonderful things about adoption if you decide that parenting isn't right for you. Topics include creating an adoption plan, finding an adoption agency, labor and delivery, and life after adoption.
What are some things to look for at a crisis pregnancy center near me?
Now that you know about crisis pregnancy centers, it's a great idea to do your research on the crisis pregnancy centers nearest you. You're probably thinking, "Just what are some great things to look for at the crisis pregnancy center near me?" Consider the following:
What does the crisis pregnancy center offer?

Are the staff friendly, caring, supportive, and welcoming?

Are the staff members cordial and polite when talking to you about your options?
Do you feel safe, comfortable, and heard when discussing your options?
Is the center completely confidential with not just your information, but the information of other women who go to the center?
Are all the services free of charge?
Is the center flexible with scheduling? (after office hours?)
Do they offer services for men? (Birth fathers should be included and are open to learning about the pregnancy and all the options that come with it).
These are just a few things to consider when choosing a crisis pregnancy center. There is plenty more information on how to choose a good crisis pregnancy center near you.
Crisis pregnancy centers have a rich history, are very educational and resourceful when it comes to your pregnancy options, have great services at no cost to you, and despite the stigma that crisis pregnancy centers face, they continue to be a reliable resource to expectant parents and parents of infants.
So, how can you find a crisis pregnancy center? You can find a crisis pregnancy near you by calling 1-800-395-4357. Keep reading to learn more information on what a crisis pregnancy center is.
To know which crisis pregnancy is the best one nearest you, read this Adoption.org article about how to choose a good crisis pregnancy center near me. The more information you can gather, the most confident you will be in your decisions.
Are you considering adoption and want to give your child the best life possible? Let us help you find an adoptive family that you love. Visit Adoption.org or call 1-800-ADOPT-98.