"She had the most beautiful smile," said Natalie Walsh about her 10-year-old daughter nicknamed Daisy.
Daisy had a rough start in life. As a newborn she was abandoned in front of a furniture store in Yang Xi in the Guang Dong Province of China. When she was eight months old she came home to her forever family in the US. Her parents named her Elliana, which means 'God answered my prayers.'
The Walsh's adopted their first daughter Isabella almost 13 years ago. With the rising costs of adoption they didn't know if a second child would be in the cards. But Natalie never gave up. "I asked God multiple times a day for another daughter," she said.
It wasn't until the adoption tax credit from their first adoption came through that they realized they had, almost down to the penny, what they needed to begin the adoption process. They started the process the same day.
With no known medical history for either of their daughters, the Walsh's lived life like any other American family, assuming their daughter's hardships were behind them. They didn't know that every two minutes a child is diagnosed with cancer. They didn't know what would lie ahead.
When Daisy was in kindergarten she told her mom her eyes felt funny. Like most parents the Walsh's weren't concerned. Six-year-old little girls often have a litany of complaints. When Daisy began vomiting every morning, their doctor said it was likely a virus. But after a week Daisy had become more and more lethargic and had a severe headache. Her doctor agreed to order an MRI.
On a Tuesday after school, in April 2013 they went to the Doctor. After spending nearly two and a half hours in the office the doctor told the family that she suspected a brain tumor.
"I remember leaning against the door thinking 'Kids don't get cancer,'" said Natalie.
What happened next would be a whirlwind. The Walsh's were told their daughter had a medulloblastoma, a malignant tumor in her brain. Daisy spent the next 6 weeks in the hospital undergoing treatment, which included a 10-hour surgery. Because of the swelling in her brain from the surgery she suffered permanent nerve damage that has left her unable to smile. "I miss it so much," said her mom, Natalie. "I could live with the cancer, but it took [her smile] from her."
They were also told that if the cancer returned, that it would take Daisy's life. Despite this knowledge they continued to celebrate their family and prayed for the future. Like many adoptive families they celebrate their daughters' adoption days and the Chinese New Year to help the girls keep a connection to their roots.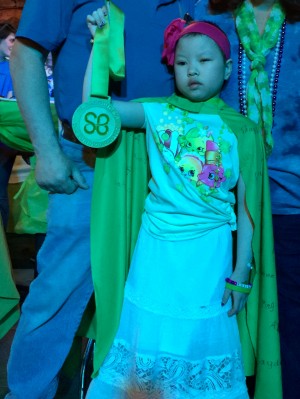 In early 2015 Daisy was selected to be an ambassador for St. Baldrick's, an organization determined to conquer children's cancer. Events are held nationwide and participants raise money and shave their heads to stand in solidarity with those suffering. According to their website, "St. Baldrick's has grown from one event in 2000 to over 1,200 events in 2016, raising critical funds for childhood cancer research. Events take place in pubs, restaurants, schools, churches, parks, malls, military bases, firehouses and any other place you can imagine."
In September 2015 routine scans showed that Daisy's cancer had returned, and had spread to her spine. The Walsh's were told that they had three options. Their first choice was to do nothing and the tumor would claim her life within six months. Their second choice was a drug that would possibly give her another 18 months to live. Or option three, which was a completely experimental treatment plan.
Last January Daisy finished her 14 month experimental treatment. And so far her scans show no evidence of the disease. Unfortunately the other child who was nine months ahead of her in treatment with the experimental treatment has since relapsed. The family continues to pray that Daisy won't follow in his footsteps.
According to Natalie, "St. Baldrick's is our hope."
The hope that researchers may find a cure to help their little girl. Last year their family raised $34,000 to support cancer research. This year Daisy wanted to not only attend the event, but also to volunteer herself. She alone has raised $4,000 and their family $23,000. Daisy attended their local event last week wearing a green cape with the handwritten names of the 62 kids she has chosen to honor. Events will continue at many locations across the US throughout the month. To learn more about how St. Baldrick's funds childhood cancer research, donate to this great cause or get involved please visit https://www.stbaldricks.org.
Daisy will continue to fight, with her family and supporters of St. Baldrick's behind her.
"I just want her to know how much she was wanted and loved," said mom Natalie. You can continue following Daisy's story and that of others on her Facebook page Hope for Daisy.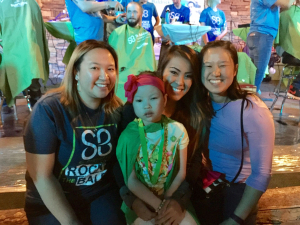 And Natalie, from one adoptive mom to another, Daisy knows she is loved and wanted. You prove it to her every day. Stay strong mama, you've got this!