Thought it might aid in someones search if there was a thread for siblings searching!
I am looking for my brother born in Cook Cook County Illinois may 14, 1976 5/14/76 5/14/1976 05/14/1976 05/14/76Birth Father listed was Wayne Shaever mother. Ingolls Hospital If anyone has any information please let me know. Thank you
Advertisements
I am looking for my brother Joseph W Kinsley. Born 1984 Galena Il. Adopted in North Carolina 1987. Married, red hair blue eyes. Mothers name is Carol, Fathers is Harry Wray. My name is James.
I am seriously searching for my adoptee half sister my my momma gave birth in either 1980 or 1981 in baton rouge Louisiana woman's hospital I believe she was 16 Amy Darlene Day her grandmother took away her rights to make any decisions or have any information except I'm guessing what she knew first hand but I only know the baby was a girl about the years and a possible hospital everyone left in that family that could know any information to help me are dead or too old to count on there shotty memories my mom passed away in January I'm left with the little information on the baby and a broken heart I need some guidance because this task I've taken on is very overwhelming to me I'm can't pay a pi so any suggestions would be greatly appreciated.
Hello, I just found out I have a little half brother and don't have much information about him. I do know our mom gave birth to him somewhere in June/July 2000 (I could be wrong but I know it's somewhere around there) in Franklin County, Missouri and posted him for adoption in a Kansas City, MO newspaper. I know his parents that adopted him were Turkish (I believe) flight attendants and resided in Florida somewhere near Disney after his adoption because they used to send me presents for Christmas and my Birthday as my "cousin". If you have any information about my brother I would love to hear. Anything helps. Thank you
I am looking for my half brother. He was born at providence hospital in Anchorage AK in 1981. Both birth parents were teenagers.
Advertisements
I am pretty sure we must be related. My mom is sherry...
I am looking for my younger brother. His birth name is Christopher Paul Henry, born 1/14/1969 around Ocala, Florida. Our mom is Margaret Ann Henry (Jones -maiden) and Jackie Lee Henry.
Searching for my half sister! BM was Ramona Jackson, forced to give her baby up at 3 months old. Family disowned her. Aleatha Diana Jackson, born November 2 1976., in St Louis Missouri. Father is listed John Kelly (my bio father) mother was 15-16 at the time. Adopted out to a teacher and a professor. Contact info for me is: jessicak78@yahoo.com. Thank You!
I'm looking for a younger sister, born probably sometime between 1968 and 1971. She was born in Omaha, Nebraska at Booth Memorial Hospital and immediately adopted by a couple. We believe the adoptive parents were a minister and his wife, probably Presbyterian.
Last update on March 16, 7:44 pm by Phoenix Caladrius.
Advertisements
Hi everyone!My name is Brittnee, I am reaching out from TLC's highly regarded docu-series, Long Lost Family, that traces and reunites family members. We are currently looking at potential cases for our upcoming season and we would love to hear about your searches. Our information is on the attached flyer, which I have attached to this post. I am happy to answer any questions you may have and can be reached at the phone number below or through our email address LongLostFamilyUSA@gmail.com. Thank you!BrittneeLong Lost FamilyShed Media323-904-4680
ISO sister Born in Kansas City, MO 12/25/1965 birth name Phillis Christine Appleberry. Was taken by Children Services around 8- 18 months and placed for adoption. Birth mom received a letter around her 18th birthday stating she grew up in Phoenix AZ and her name was Christine Sullivan.
There is book called finding family that I know can give some insight and guidance on how to go about it and also some helpful advice regarding the emotional journey as well My son is adopted and has a distant relationship with his bio family for various reasons that I will share at a later time. but I wanted to offer some help
Looking for aunts, uncles, cousins. After she died We found out my grandmother had children Noone knew about and gave them away. She lived in Springfield MO mostly. Also Nevada and California addresses. After about 1960ish to maybe 1980?
Advertisements
my half-sister (we share a mother) was born in Columbus, Ohio in late June or early, 1958. She may have been adopted by a Catholic family living in Cincinnati. maritimerme@gmail.com
Hello everyone, my name is Kayla, I am looking for my older brother that was put up for adoption, born April 9th, 1984 at West Penn Hospital. The birth mother was rehomed during the pregnancy at Zoar Home in Pittsburgh, PA. The records are sealed but should be a one way communication to be opened if the son wanted to contact her or the family that he could.I uploaded the only pictures I have with the only information I have access to. I have been searching for him since 2011, actively posting on adoption forums with no success. And as suspected, all agencies either don't return phone calls or suggest hiring a lawyer or PI to unseal the records, with the basis of a legitimate reason like a medical issue that the son would need to be aware of.The initials on the infants outfit was from a picture the adoptive parents sent of the boy at 6 months old, which looks to say STA.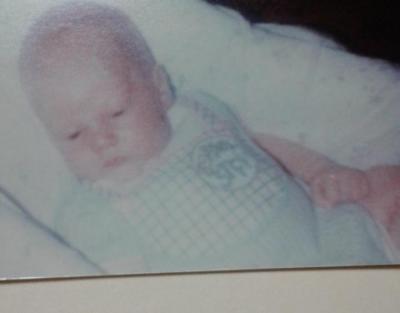 Last update on January 2, 12:06 pm by Kayla Black.