Thought it might aid in someones search if there was a thread for siblings searching!
Hello, I am looking for a sibling born May 24, 1992. His name at birth was Daniel Lee Cole. He was born in Ohio and I believe adopted out of Michigan. I would also like to meet my younger siblings. Briana was born Aug 4, 1995, Cortney and Cory were born Aug 9, 1997, and Rosealie was born June 15, 1999. I believe all were born in Ohio and adopted in Michigan. We were all placed in foster care. Daniel and I were in the same home for a while and the four younger siblings were in a separate home. I heard the four youngest siblings got adopted by the same family, but Daniel and I were separated. The way Rosealie's name is spelled makes me feel it would not be hard to find her (thus finding the four youngest siblings), however I am starting to believe they may have changed her name or she goes by a different name now as I cannot find anyone on Facebook with the spelling that would be her age. The rest of them it is a lot harder to find since their names are so common and I do not have a last name. Any help would be appreciated. Daniel, Cortney, Cory, Briana, or Rosealie, if you are reading this your brother Justin wants to be able to reunite with you and get to know his siblings. There are more siblings out there too. We have been able to find baby pictures of you if this is something you would want.
Advertisements
i know the birthparents name i know the names my half brother was supposedly given at birth ive used his birthdate i cannot get anywhere if some one can help please
Trish, it is a difficult and long process. Many people use social media or other online websites such as these to find their siblings, as there is no definite way to find adopted last names. Try including your brohter's biological name, birthdate, and location of birth/adoption. Someone on here may know your brother, or your brother may be on here searching for you
I have been searching for my brother Merritt . He was born in Flint Michigan to Wayne and Sally Matson on 11/13 or 15/1958. There were 5 other siblings. Floyd, Wayne, Anna, Myself, and Marsha. WE were taken from our mother in Lorain County Ohio. All family members have been found but him. Ohio , is no longer a sealed records state. Thought I was home free. But somehow I have to prove he is my brother before they release his information to me. Now how am I supposed to do that. One more dead end. Any suggestions?
Did you petition the state for your records? or if you could locate a biological family member that may have access to an original birth certificate? Although you may not want contact with birth parents, you may be able to find an aunt or grandparent on Facebook
I am looking for my half sister, she may not even know she has one. She was born May 2, 1967 in Durham at Duke Medical Center. She was adopted out of Raleigh NC I believe. I am in contact with her birth mom, Janet House. I have more information if anyone thinks this may be them. Thanks!
I am looking for my half brother, name at birth J R BROWN or J R HARPER, born/adopted possibly in Louisiana or Ohio. He would have been born between 1963-1966. We have the same birth mother, her name at his birth is ELIZABETH ELLEN (ERB) BROWN, birthdate 10-21-1934. J R's birth father is J R HARPER but may not be listed on birth certificate. Any info is greatly appreciated.
Last update on December 31, 1:39 pm by Brenda Guerrieri.
Advertisements
If you are looking for siblings, a child placed for adoption, a birthmom, etc please take a look at our Reunion Registry. Adoption.com has the largest Reunion Registry with close to 500,000 individuals in our database. Have you tried looking here?
http://registry.adoption.com/
It is currently free to register. Go ahead and get started. You just may find who you are looking for!Good Luck!
I am searching for my siblings who are twins, our mother was born in Miami beach 1954, and father was born Brooklyn New York 1953. They had intended to focus on raising you two, while putting me up for adoption in cocoa beach 1981. Our mother was in her third year of college and had the intention of finishing a degree in engineering, focusing in ecology and environmental protection. Our father was an oil company worker who had a rare talent of being a good jai lai player. He had 10 siblings, 3 of which were in Germany at the time of my birth in October 1981 one stationed in the USAF the other an RN and the third a housewife. Our grandfather on our mothers side was a 1st generation Russian American that worked at homestead Air Force base. I know mom was very proud of you two from the notes she left me, bragging how you both had a 60 word vocabulary at 18 months. If anyone has any information or fits this profile please don't hesitate to send a response
Last update on March 9, 10:26 pm by Nick Nick.
Looking for baby girl born in Albany new York march 1967! We share the same parents and you would be my ONLY sibling.Robin
My name is Frank Topete, my birth name is Frank Nicholas Carrillo. My birth father's name is Frank Carrillo Jr. I have four siblings, Daniel, Morgan, Chelsea, and Alexandra. They were born to Frank Carrillo and Bonnie Montoya Carrillo. My siblings have another brother, Mauricio, who was adopted out to the same family as Daniel. Mauricio was born to Bonnie Montoya and Harvey Hinojosa. I currently have contact with Alexandra and Chelsea. We were all born in CA. I was given the following information Mauricio DOB 8/4/94 and Daniel DOB 11/29/96 or 6/2/96 (not sure of birth dates) were adopted to a military family together and shortly after stationed in Japan. Morgan (DOB 3/18/99 unsure of birth date) was adopted out to a couple in Fresno.
Last update on April 16, 10:53 am by Frank Topete.
Advertisements
I'm Elisabeth. I was born with the name Lisa Marie Norris.I'm looking for my sister. She was born with the name Brandy Marie Norris on October 7th 1981 in Alabama. She lived with our mother for about a year I think before being given up for adoption in Florida. I was given up too, but our grandmother took me in. She tried so hard to get Brandy, but became aware too late that our Bio-mother planned to give her up for adoption. Brandy also has six younger brothers, (five are half brothers) two grandmothers and her Bio-father waiting to meet her.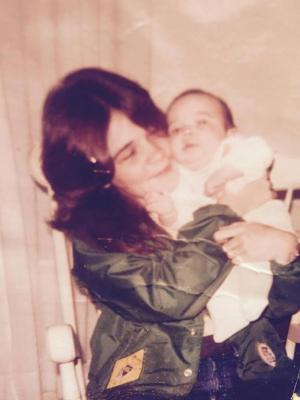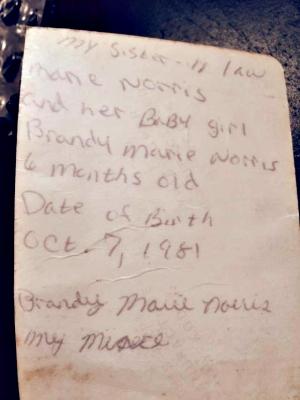 looking for a half brother born in may of 75 supposedly in missouri, but i heard some social service adoption agencies sometimes change the dates , so if anyone comes close please reply and we can compare notes,bm was 18 caucasian dark hair dark eyes
Looking for my half sister Birth name: Lauren GentryBirthdate: 02/27/1997Birthplace: Santa clara county, caBirthmom: Oksana Gentry ShavlachLauren was born addicted to drugs and was put up for adoption by social servicesHoping to get in contact with her because I would like to get to know her and let her know about her family. See how much we look alike or if we have any similarities as siblings
Last update on May 7, 10:02 pm by Katarina Gentry.
Advertisements
im looking for my half brother andrew harvey hes year of birth was 1989 in walthem forest in north east london i have been so busy searching and had no luck at all looked in records ive looked all round the internet ive put ads up and more andrews father was robert harvey robert was my step father ours mums name was sandra joan young she has now disceased through the illnesses she had ,andrew im your half sister please try and get intouch or find me andrew was adopted and we once was at the same foster carers till i took away and i was put up for adoption to chris and bill hunt along with my other brother brian phillip lange my other brother stephen terrance lange put hisself in a childrens home i was born 27 may 1982 my real dad was john stephen lange please if anyone can help me please email me millsclaire628@gmail.com
I recommend everyone register with registry.adoption.com and take a DNA test. I had very little info and was in a closed adoption. I found my family, including four siblings, within 24 hours of getting my Ancestry DNA results.