Father's Day has never held much significance to me. I never really had a steady father figure whom I could actually look up to. I generally picked out the obligatory card and shoved it in my biological father's direction on the years when I was required to be with him. I never enjoyed the holiday because it held very little meaning. This year, it's different. Not for me; I am still quite lacking in the father department, though I've made peace with that. My eldest son, too, does not have a father in the picture whom he celebrates.
But my birth son does. This year, he had a daddy to celebrate, even if he is too young to understand. And his father will finally got to be a dad on Father's Day. Waking up to his own little guy to love and play with, likely knowing how lucky and blessed he is. I know he knows. He doesn't take B for granted, he cherishes every day with him. And this day in particular was a milestone for him that I am so glad he had. I am so thankful he got to celebrate and be a dad on this Father's Day. He is a man who proves that DNA does not make someone a father. Loves does.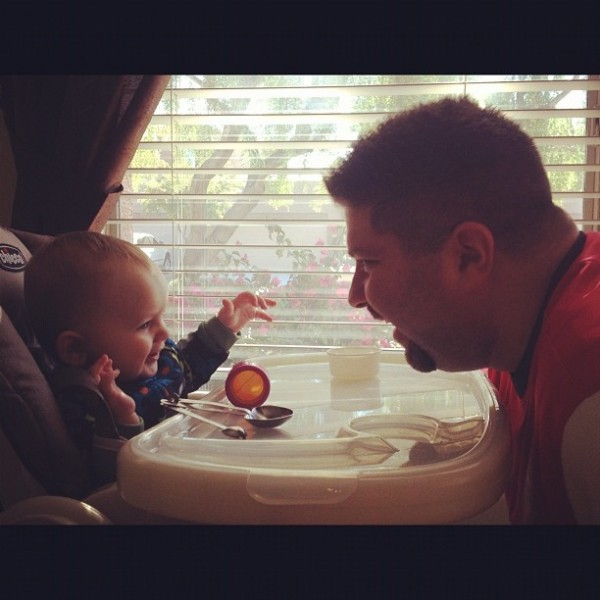 I'm grateful, for B's sake. One of the huge things that went through my mind when I chose adoption was a father for my son. He deserved to have a man in his life that would teach him how to be a man. Not just a man, but a good man. A strong, loving, kind, decent man of God. And I don't doubt for a moment that Jason is that for him. I don't think he'll ever doubt his dad's love for him. Or have to fear his dad. He will grow up knowing he has a dad that few kids are lucky enough to have. He will be one of those lucky little boys who happily follows his daddy's footsteps.
His father goes to work early in the morning and works all day to give him the life he deserves, yet comes home and still gets down on the floor to play. His father openly and genuinely loves his mother . . . and B will grow up seeing how a man is supposed to love a woman. He will have a first-hand example of what a marriage is meant to be. He will learn to ride a bike with a man who truly ENJOYS teaching him. And he will play soccer with a father who not only shows up, but likely coaches. And a father who will never raise a hand to harm him. He will be loved.
So even though I'm NOT a father, and even though I don't have a good father of my own to celebrate, this year I wholeheartedly celebrated the best father I have ever known. I hope he knows how grateful I am for him.