I remember a time in my life when I needed hope. I was knee-deep in sorrow. I felt unchosen and overlooked. I watched others be "blessed" with children and the family life I dreamed of. Over time, it began to feel unlikely such dreams would happen for me.
I found comfort in my faith. Day by day, I learned to slowly trust God again. But in my quiet moments, I still wondered what was in store for me. When would I experience joy after my sadness? How long was I to wait? I felt like the blessings of the big family I hoped for (even after adopting two boys) would come later or maybe not at all in this life.
In my own journey for peace, the hardest part to process was my confusion of God's plan for me. Why did God direct me to do certain things (apply for another adoption, complete another IVF cycle, or connect my child's birth mother right when she discovered she was pregnant again only to have someone else adopt this little girl instead of me) if the result was not to add a desired baby to our family? Did I really need to experience all of this loss? What was your plan for me, God? Why did you send me impressions to do things I would not have otherwise done? Why was I placed on a path unless it was to end up with my "happily ever after"?
Here's a story of hope, which came to me when I was asking these very questions to God.
Three weeks after our last IVF attempt was unsuccessful and we were out of cash and wrapped up in grief, I got a call from a friend who met a birth mother who, without meeting us or knowing anything about us, wanted us to adopt her baby. Her family had been praying to know what to would be best for her baby. God answered their prayers through visions, interpretations of dreams, and the Holy Spirit. They trusted God and believed my family was the family for their precious baby.
I spent the next 24 hours praying and crying, crying and praying. I needed to know for myself if this was God's desire for my family. I walked in circles around the house saying, "This is crazy!! Just crazy!!" I simply couldn't process this possibility. I had literally just completed the one thing I told God I would never do again: an IVF cycle in hopes of having more children. Yet, we felt God asking us, "How far will you go to have more children? Will you do whatever I ask of you?" We took the leap of faith, and after feeling guided and prompted to do this really hard thing, I didn't get what I wanted. Instead, I was still picking myself up from off the ground when this call came. All I could think about was how this could be. Was God really asking me to open my bleeding heart? How could I? What if I jumped off the cliff and landed flat on my face again? Could I bare coming home empty-handed again? Did I have the faith and strength to do this again? The truth was I didn't know if I do it. I was scared!
My prayer was softly answered while driving to apply for a passport (one of the many requirements necessary for this adoption to happen), when a clear thought came into my mind and calmed my troubled heart. "Trust me!" God was asking me to trust Him–not in man, not in myself, or in what others were telling me, but in what He had planned for me. From that moment on, I witnessed one of the most beautifully orchestrated masterpieces created specifically for me and my family by the hand of God.
Every detail of my daughter's (Malia) adoption story clearly showed me how Heavenly Father knows me individually and my family. I prayed to know how to prepare. We were not adoption-ready and had many documents to get in order. Processes which normally took weeks or months were completed in days. Money appeared at our doorstep. The day I bought our plane tickets, we still didn't know how we could pay for them due to our recent IVF payment clearing out our savings just weeks before. We watched a village (no kidding) of people step in to assist with our three children as we were told we would be on the island for two weeks to two months depending on delivery and paperwork. Then, God directed our travel dates. And I tell you. . . it was amazing!
Our birth mother was anxious to have us there for the birth of her daughter. When the doctor told her she could deliver any time at three weeks early, she started to get nervous. She called and asked if we would come earlier than we had planned. Keep in mind, we were separated by a 13-hour direct plane ride, and direct was not a likely scenario as there are only two connecting flights per week from Honolulu to her small island. Trusting God's direction and no one else's, we waited to travel on the dates He gave us previously. The morning after we arrived on the island, we had planned on a nice meet-and-greet with her. However, God's timing soon revealed how perfectly He had timed our arrival as we ended up meeting our birth mother at the hospital just in time for Malia's birth!
To top it off, all signs (dreams and ultrasounds) indicated Malia was a boy (which would have been fabulous!), but God knew I had secretly dreamed of a Polynesian girl since my college days at BYU-Hawaii. He showed me over and over in clear and undeniable ways that He was very aware of us and he cleared the way to make this miracle happen. This short version of Malia's story is missing a dozen other examples which witnessed to me God was in charge of this story.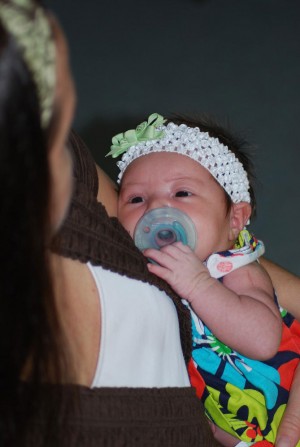 Three years later, I am not sure I have completely processed all of the lessons I have learned from this one adoption experience. But I can tell you without a doubt: Good things come! I have experienced joy beyond my previous understanding. And I have even felt compensated for my tears of grief, which I honestly didn't think possible. I can tell you that although God's timing is not what I hoped for previously, I can now see how divinely it was designed for me and my sweet family.
I am forever changed. I am more confident God will show up for me. I am more trusting of Him. I believe He wants to give me of the gifts specifically created for me and my family. I am more easily willing to surrender my will and align it to His. I now pray, believing I will receive answers to all my prayers. I lovingly open my heart to Him and all those around me. I feel God's love more fully. I embrace the goodness that comes to those who believe. And I choose to believe GOOD THINGS WILL COME to you as they have to me, and this moment is perhaps not the end of your story!