When a woman becomes pregnant, she ultimately has three options: raise her baby, abort her baby, or place her baby for adoption. When I became pregnant, I felt disgusting and selfish to put myself in a situation to become pregnant again. I was 24 years old and a single mother with two very young children. I contemplated raising my baby, but I just couldn't fathom bringing another baby into our fatherless home. I struggled and constantly felt like I'd never be good enough for my children. To spare this baby of a disappointing life, I scheduled an appointment at an abortion clinic. It blows my mind that I never considered adoption before scheduling that appointment. I guess I didn't have the heart to explore the thoughts of carrying a baby, falling in love with a baby, and giving that baby to someone else.
That's exactly when God showed up!
It just so happens that during that time in my life, a family member was constantly begging me to come to church. In my ignorance, I thought it was very annoying, but I agreed to go only because I was tired of this person calling and begging me to go to church with her. This was just a few short days before my appointment at the abortion clinic.
I didn't really believe in God. I thought if there was a God, he most likely didn't approve of me. I sat there in the church, observing everyone around me. I remember witnessing lots of love for Jesus, but I didn't understand why they loved Jesus so much, and I couldn't relate to their passion. As I listened to scriptures being read from the Bible, I remember thinking to myself that they actually made complete sense! I also felt ashamed of myself because according to the principles that were being taught, I wasn't just a sinner. I was undeniably a huge sinner!
The pastor opened the pulpit and invited anyone to come forward. "Maybe you are in a troubled situation and you need help. We will pray for you. Come, cry out to Jesus. Ask for forgiveness." Something definitely came over me because I wasn't the type to step out of my comfort zone. I walked to the front of that church as tears started to uncontrollably run down my face. For the first time in my life, I got on my knees and genuinely cried out to God. I started to feel so many different emotions as if all the walls that I spent decades putting up were forcefully being knocked down. That's what first made me believe that God is actually real and very powerful. I stayed there on my knees and wept in astonishment.
"Lord, I am such a sinner and a fool and I need help! Here I am—pregnant again! What am I going to do? I can't bring another baby into my foolishness. I am so sorry. Please, please forgive me." I thought about my upcoming appointment, and in that instant, I knew that I couldn't follow through with the abortion. I heard this loving voice say, "He will live." This was very overwhelming. "God, how can I raise another child alone? I want the best for all my children, and I can't give them the best because I am a failure!" I felt hands touching me, and I heard people all around me praying. That's when the most amazing feeling I have ever felt completely consumed me. I felt extremely loved and cared for, and it was the best feeling I've ever felt in my life. For years I couldn't find the right words to explain it until I heard a song from Rhett Walker's Band. In this song "When Mercy Found Me," he sings: "And in one moment everything changed. Who I was got washed away. When mercy found me. My Savior's arms were open wide. And I felt love for the very first time. When mercy found me."
I have no idea how long I was in that pulpit, but it felt like hours. As I stood up, I was in total amazement of God's love and for the new love I felt for the baby growing inside of me. Still, at that point, I was so confused at the thought of raising another child in a broken home, and I wasn't thinking about adoption at all.
As I walked back to my seat, I continued asking God for guidance. When I sat down, I immediately noticed the new family sitting right in front of me. They must have entered church while I was in the pulpit because they were not there before. This precious, newborn baby girl was looking right at me while curled up on her father's shoulder. Her parents were so in love with her and each other. I spent the rest of the church service absorbing what I had just experienced while admiring this family, and something became very clear to me. What I was witnessing was a perfect example of what every child needs and deserves. That's when I heard a beautiful voice say, "You will give this baby to a family who will raise him up in the Lord." All I could do was cry even more than before.
Pregnant and considering adoption?
Get your free adoption benefits and support bundle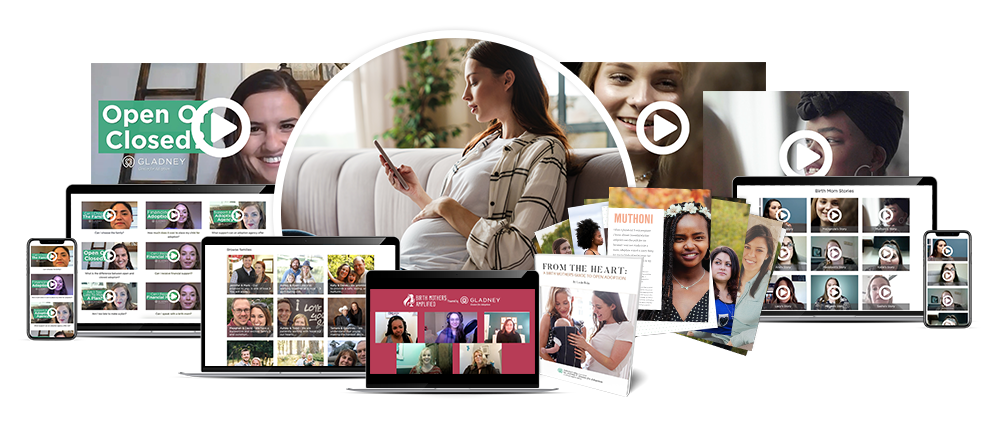 Finally. Adoption became an option for me. Not only did adoption become an option, it became the only option. Because of my stubbornness and lack of understanding at the time, I questioned the idea. "Oh, God! How can someone do that? You want me to carry this baby and willingly give him away? How could anyone do that?" The thought frightened me, and it just seemed truly impossible. Just as I was about to enter full panic mode, complete tranquility overwhelmed me. It was such an unbelievably peaceful feeling. This assured me that everything was going to be okay, and I knew—without question—that placing my baby for adoption is exactly what I needed to do.
Everything did turn out okay. Actually, everything continuously turns out to be more beautiful than I ever imagined. I walked into that church very troubled with a plan of my own. Everything changed within hours, and I walked out as a brand new believer on a mission to find my baby's parents! God's mighty and divine intervention kept my birth son alive and changed my life forever. I am so grateful and humbled by my experiences, and I will always give God the glory for this story. Because the truth is this: if it weren't for God, I absolutely wouldn't have this story to tell!
Are you considering placing a child for adoption? Not sure what to do next? First, know that you are not alone. Visit Adoption.org or call 1-800-ADOPT-98 to speak to one of our Options Counselors to get compassionate, nonjudgmental support. We are here to assist you in any way we can.