Jasmine Ellsbury joined her family just two weeks shy of turning fourteen, two weeks before she aged out and lost a chance at a family forever. Jasmine, who since coming home has been diagnosed with Type 2 Spinal Muscular Atrophy and uses a wheelchair, has learned that having a family is a very good thing, especially when it comes to having to deal with some very hard things. Those things would include learning that coming to America wouldn't fix her legs and allow her to walk and having to face the memories of trauma experienced in the orphanage. Through it all her family has been there for her, loving her and supporting her. Jasmine knows this is no small thing and remembers the children left behind.
Recently, while hospitalized, Jasmine needed some more surgery. The anesthesiologist told her that she could dream about anything she wanted as she was going under the anesthetic. Jasmine's dream? "That there would one day be no more orphans."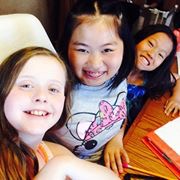 Once she was recovered and home, Jasmine's parents have worked to help Jasmine realize her dream. As a result, she and two of her sisters, Grace and Elyse, have started Jasmine's Dream with the goal of helping 1000 orphans receive the surgeries they need and to be able to stay in their families of origin, or find new families through adoption. These three girls have raised money and used their allowances toward this goal. They have helped with money towards adoption costs and with surgeries, and each month they send $50 to Reece's Rainbows' 5/5/5 plan to help five families adopt every month. They are also selling bracelets to support Love Without Boundaries' Unity Project, which helps families stay intact. To date, Jasmine, Elyse, and Grace have helped 110 children.
These are busy girls. Lisa, the girls' mother listed some of the things they have done to raise money. "They have set up stands at our [family's] garage sale to sell cookies and lemonade. They are selling bracelets. They have sold their artwork and are hoping to have a t-shirt drive sometime in the future. Elyse wants to make 1000 cranes and put them in a frame to sell to others so they can have a wish and children can get their wish. They are very creative in their ideas." Lisa and their father, Dan, also pay for extra chores if there is a specific child they are especially motivated to help.
So what would make three girls want to spend their time and money helping orphans? I think it is easier to let the girls tell you in their own words.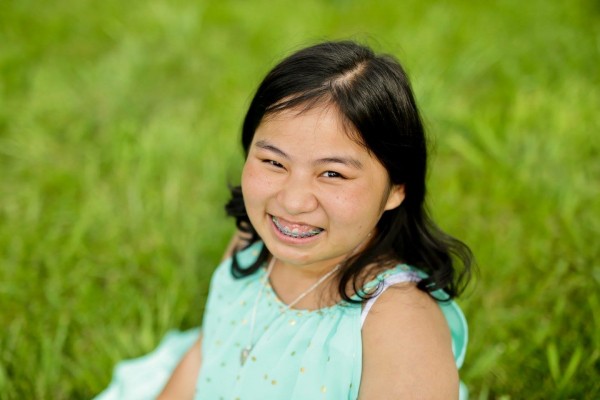 Jasmine (age 16): "I want people to understand about adoption and orphans. I know some people don't know about the orphans in China. It makes me sad that people don't know about all the children in the world that want a forever family. I want people to understand that life in an orphanage is not good. My dream is that I want to help lots of lots and kids get adopted. I want to help almost aging out kids get adopted. Aging out if you are disabled is scary. It is really good to have a family. Sometimes people need help staying together. I want to help pay for surgeries so parents don't have to give up their children. My dream is for orphanages to get really little and not be so big and so many of them. Some people think that orphans don't need family but children want a mommy and daddy to love them. I know what a mommy and daddy are like because I lived at home until I was 8, but even kids who have never seen a mommy and daddy know what a mommy and daddy are. Some orphanages are okay but some orphanages are really, really bad. My orphanage is a little bit bad. Sometimes the nannies would hit me. Sometimes they wouldn't give me food. Sometimes the nannies would say it was our fault that they had to work and didn't have lots of money. They were not happy because they had to take care of us. I couldn't go to school because I was in a wheelchair. But one day a year we got to go out for Children's Day. It was my one happy day a year. Most of the time I just sat in the corner and watched TV all day. I couldn't go upstairs because I can't move my wheelchair and the nannies say I am too heavy to lift. [She weighs 90 pounds.] The nannies don't care if the food is too hot for the little kids who can't feed themselves. I see the little kids cry. Sometimes if a nanny wants to hit a little kid, I make the nanny mad so she will hit me instead. Sometimes kids get very hungry. Sometimes they skip meals or only give the kids one meal."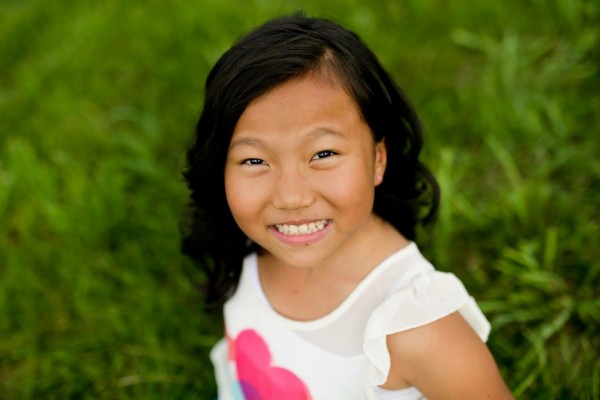 Elyse (age 9 ½, who has been home 10 months): "Because children really want a family and it makes me feel good to have love. To get adopted means you can have sisters and be really happy. It's good to adopt people and to help people. It makes me happy to do that. It's good to have family who loves you and sisters to talk to you and love you and share together. Lots of people want that. We family have lots of love so we want to help others have lots of love and be really happy. We should help people who are in wheelchairs, or who are bad, or who might be ugly, or really sad, because family will make them feel really good cause family loves you. You don't have to worry about stuff or fighting because mamas always love you and forgive you. I want to help people have love and family and don't be alone."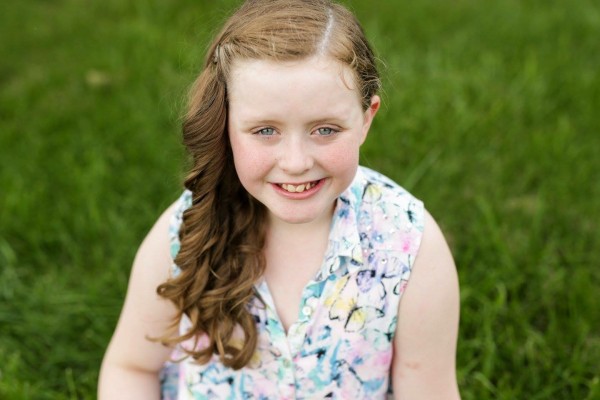 Grace (age 10): "I want to be a part of Jasmine's Dream because I love helping orphans find families and I want other people to understand about adoption. I love our large family and I want other people to know that too. Jasmine's Dream is a family for every child. I like that. We can help little kids stay with their families and help kids who don't have families find one. Orphanages aren't a home. No child really wants to be there. I hate what my sisters had to go through. I hate how sad they are about the past. I hate that they got hurt and have scars all over from burns. I hate that they didn't get treated like they should have been treated. I hate that they think they are worthless because they are in a wheelchair. I hate that they were told that it was a sin from the gods and they are cursed. It is not! I hate that my baby brother still has nightmares. My baby sister almost died because she didn't get fed. She weighed 6 pounds at 6 months. I hate that no one comforted Lainey [another sister] when she was mad. Just because you have a special need doesn't mean you shouldn't be loved."
Wise words from girls so young. What is your dream? What could you do to help Jasmine's dream come true?
Jasmine's family blogs at Seriously Blessed, and Jasmine keeps her own blog at The Flower that Blooms.