In 2017, Kristen was a 26-year-old single mother living in Delaware. She was struggling to provide not only for herself but also for her two daughters. Aside from the common struggles that are associated with being a single parent, she woke up each day with an overwhelming dark cloud of depression and a drug addiction she was trying to conquer.
Kristen recalled the experience of discovering she was pregnant again: "It was the most terrifying moment of my entire life; I felt like I got crushed by a wave."
At the time, Kristen was already parenting two young children, ages 2 and 3. When her family learned of her pregnancy, her ex-partner took their children away from her. Her family encouraged her to get help with her addiction at this point in her life. So Kristen began going to drug rehab meetings. At the time, she was twelve weeks pregnant with her son, Logan.
During this point in her pregnancy, Kristen was overwhelmed with her addiction, and she was putting her child at risk for neonatal abstinence syndrome (NAS); however, Kristen wanted to fight for her child and herself and went on methadone maintenance to treat her addiction. Nevertheless, even with this treatment, Logan was still at risk for contracting NAS.
A few weeks before Logan was born, Kristen decided to place her child for adoption; she felt that she was making the best choice for her child at this point in her life.
Before Kristen became pregnant, her sister was pregnant and had worked with an agency to place her baby for adoption. Kristen supported her sister throughout her experience, and because of the positive experience her sister had with the adoption agency, Kristen decided to consider placing her son through the agency also.
"When you have a good social worker and they make your feelings a priority, and when both parents are in agreement, it's just one step at a time and one day at a time," Kristen said. While Kristen had not yet met them, her son's future adoptive parents, Sam and Jeff, had been trying for three years to conceive a child and had suffered several miscarriages. They eventually decided to begin their family through adoption. Sam and Jeff selected the agency they did because their best friend had just adopted a daughter, and they became familiar with the agency's process.
After adopting their first son, Peyton, through the program, Sam and Jeff wanted to continue expanding their family and decided to adopt again. Kristen connected with them through an ad on Facebook and the rest is history.
"Meeting Kristen for the first time was nerve-racking even though we felt like we already knew her. We messaged a lot back and forth, and we knew that she had an addiction problem, but we didn't know much about drug addiction. Her parents came with her, and they told us they were very supportive of her choice so that helped our thinking," said Jeff.
When Logan was born, he experienced neonatal abstinence syndrome and was in the hospital for 21 days. His symptoms were mild and included sneezing, shaking, and crying. Logan underwent significant improvements and has continued to develop at a healthy rate. Currently, he is 3 years old and will be attending nursery school in September.
Kristen, Sam, and Jeff have an open adoption. Their level of openness goes beyond what the agency requires. Kristen visits her birth son's family at least four times a year. Sam and Jeff often share photos of Logan with Kristen directly and through Facebook. On numerous occasions, they have attended Kristen's other children's birthday parties.
"They make it so I don't have to question whether or not Logan is taken care of or loved. They make me feel loved unconditionally and like I am a part of their family. If it wasn't for our openness and how understanding and loving they are, I wouldn't be able to get through it. Our relationship is incredible, and I couldn't ask for a better one," said Kristen.
Pregnant and considering adoption?
Get your free adoption benefits and support bundle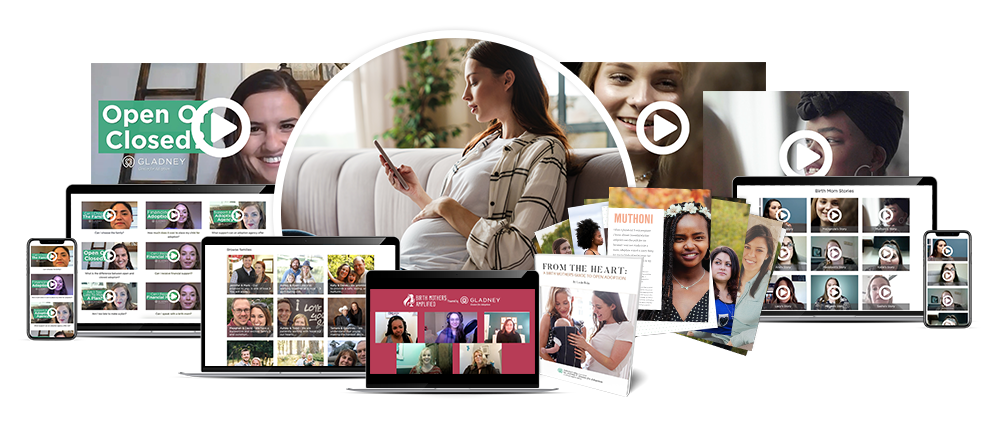 When asked about what life is like as parents, Sam and Jeff have described it as being "simply wonderful." "Logan is simply the happiest child in the world. He is just so funny, loving, and caring at such a young age. We know Kristen is happy seeing him grow and being happy, and that's very fulfilling to us because that is why she chose us to be his parents," said Jeff. Kristen has just celebrated three years clean from her addiction, and she feels that having Logan helped her to find the motivation she needed to turn her life around.
After Logan was born, Kristen was one of the first birth parents to attend the birth parent support groups led by her social worker, Amanda Aliberti. Both Kristen and Amanda have described the support groups as a safe place where you can open up and share your feelings without the fear of being judged.
"Kristen is a huge advocate for open adoption, and she has become a major mentor to others. She proactively uses her history of addiction by helping to educate and mentor others. I have such high respect for Kristen, and I am truly so proud of the transformation she has made over the years, and I am honored to be in her life," said Aliberti.
Sam and Jeff are also very proud of what Kristen has accomplished. "Kristen has been an amazing turnaround, and we are glad she shares her story. She was in a really rough spot, yet, she managed to pull through it. I always tell her that she is doing a really great thing and that she is surely not alone in what she has been through," said Jeff.
Kristen hopes that by sharing her story with others that she will reach other birth parents who have been in her shoes and provide them with the inspiration to not give up on their journey. "As a recovering addict, just be proud of how far you've come. To somebody else [your accomplishments] may seem small, but they matter to you. The milestones of being clean—it's one more year that I'm alive when I very well could have died. Just be proud of yourself and don't let your fear of being judged stop you," she said. "Even if this only reaches one person and makes them feel like they are not alone, that's what I do this for. Putting it out there and sharing your story could really make a difference."
Kristen continues to speak out about her adoption story and her past struggles with addiction through different mediums and platforms. Within the past few years, Kristen has appeared on a special series The Unheard Voices of Birth Mothers, and the TV season 5 ep. 2 "Considering Adoption Again: Different Circumstances Led to a Different Decision." Recently, Kristen was interviewed and featured in a short film titled Babies Amongst the Opioid Epidemic by New York University journalism student Kyla Milberger.
Are you considering adoption and want to give your child the best life possible? Let us help you find an adoptive family that you love. Visit Adoption.org or call 1-800-ADOPT-98.