The first word that comes to mind with my part in adoption from when I placed my child is 'roller coaster.' With every terrifying, scary, pit in your stomach downward spiral there is an exciting, giggly, fun uplifting moment just around the corner.
At 24 weeks and one day, I found out I was pregnant. That is a story in and of itself. The first emotion I remember feeling wasn't joy or excitement, it was sheer panic. As badly as I want to have children one day, the moment in which this was all happening couldn't have been worse. I was 23, the father and I weren't together and I was living in a small studio apartment barely making ends meet for myself. I wanted everything for my beautiful baby boy, and I knew that no life will ever be perfect, but he deserved more than I could give him. The struggles, hardships, and drama that would be this little boy's life just wasn't fair to him. I chose adoption, and after a few days I even had a family! I've been extremely good friends with this couple for a few years now. They were in their 30's, had been together since high school and unable to get pregnant. Without a second thought, it was decided they were going to adopt my son and we were going to have a beautifully open adoption.
They quickly helped me get my affairs in order. They found me a doctor, they got us lawyers to start getting the paperwork together, they came with me to some of my appointments, and they even gave me money each week for groceries, clothes, vitamins…whatever I needed. Now this couple and I, we share the same group of friends, we go to the same events, we're in the same circles and soon everyone knew what was going on. Some days, it was wonderful to know I had the support and excitement of so many people, and other days, I just wanted to crawl under a rock and hide from everyone.
I had four months until our little boy was due and it went by so quickly. I feel like I missed out on a lot, not only because I was unaware of the pregnancy for the first 6 months, but because I didn't allow myself to own what I was going through. From the start, it was always their baby, I was carrying him for my friends and I was chosen to bring them their son. But you know what? That's not true. This little man is, and always will be my son and I chose this path for him. I loved him so much that I admitted to the world I was unable to give him the life I wanted for him and the life he so very much deserved, so I chose two extremely amazing people to raise him, to love him, to complete their family.
It's okay to cry, to grieve, to wish, to be sad. You're dealing with a loss, but to me it's the most beautiful kind of loss
Almost eight months ago, I gave birth to the most precious human being I have ever seen. Although I don't regret the overall situation, there are some things I wish I would've done differently. I was trying so hard to pretend everything was perfectly okay, that this situation wasn't haunting me as much as it was, as it is, as it always will be. Things hurt more when you start pretending they don't. I was so concerned with showing my real emotion because I didn't want my adoptive parents to be scared I was going to back out. It's okay to cry, to grieve, to wish, to be sad. You're dealing with a loss, but to me it's the most beautiful kind of loss. Creating a perfect human being and giving them the life you so badly want for them, even if it doesn't involve you. That right there is unconditional, selfless love.
Pregnant and considering adoption?
Get your free adoption benefits and support bundle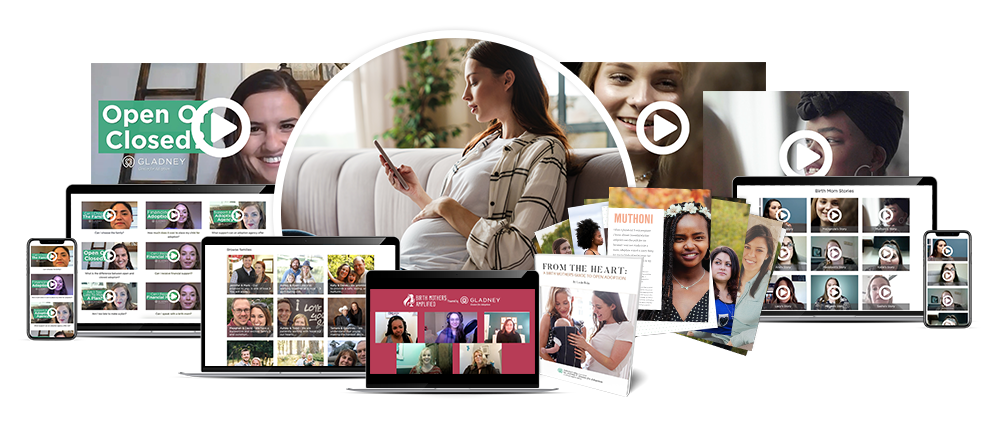 Originally, the adoptive parents were going to be there with me at the hospital, but about a month before he was due I told them I needed that time with him– where it was just us, where he was my son. There is so much I'll be missing out on with him, I needed that moment where it was just our moment. I needed that time to kiss him and hold him and cry with him. I needed that moment not to say goodbye, but to help transition from his mother to his 'aunt.' And they respected that. As excited and anxious as they were to meet their son, they let me have my couple days with him before coming to the hospital to take him home. To this day, I can see him whenever I want, get pictures sent to me whenever I want, text or call them for updates whenever I wish. I got to take him to see Santa for the first time, give him his first Christmas present, and babysit for them as they were getting ready for the final home visit. She took him to get pictures taken and made me a collage. As much as it hurts to see him, and know that although he is my biological son, he is not my son, it helps to see how loved he is. How they provide for him. How they care for him. How thankful and happy they are. I still get to be a part of his life and for that I am so grateful.
No part of this journey is easy. It is so important to own your emotions. It is so okay to have a complete and total breakdown at one moment and be happy and smiling and perfectly okay the next. Life does go on and you will learn to find ways to deal with it all. There is no manual for any of this, everyone will grieve in their own ways. True colors of friends and family members will show and some relationships will be broken while others are made stronger. Don't ever be ashamed to talk about what's going on; don't feel like this whole beautiful, scary process has to be hidden. You too are a mother, and a mother that loved so much, so fiercely, so strongly that you chose this path for your child. Placing a child isn't a sign of weakness or rejection. Remember to never be ashamed of your story, for it will inspire others. Never, ever forget that you are not alone.
"No one else will ever know the strength of my love for you. After all, you're the only one who knows the sound of my heart from the inside." ― Kristen Proby, "Fight With Me"
Did you like this story? Read more like it by downloading our FREE ebook, Stories from Birth Mothers. Get it here.