It was daunting to find myself in a situation where I was considering adoption. It was terrifying to consider that not only was I this child's future, but my every action would reflect on who this child would become. I was in no state to really support myself, let alone a helpless infant. After much thought, prayer, and support I turned towards adoption. It made perfect sense. This was a giant wake up call that I needed to make some immediate and dramatic changes in my life, but while I was making those changes I didn't want my child to suffer. I'm not on a soap box and saying that every woman who finds herself in a situation where adoption could be considered an option, should go that direction. I'm just saying that it was right for me and for my son. I began taking care of my body, I began counseling, and I began the intimidating hunt for the couple that would be raising my son. I eventually narrowed my reasons down to this:
I wanted someone who was as much like "Me" as possible.
I've had some people who are looking into adoption ask me what they need to put on their online profile, or how to act when they meet an expectant mother, or even what pictures and things they need to help get the word out that they're adopting. I cannot even begin to understand how sickening it must feel to display your life to the world and hope somebody finds you . . . but the only thing I know is what I've experienced. And what I've experienced is that I looked for somebody who was as close to me as in personality as possible. I'm an introvert, I enjoy soft music and romantic comedies. My idea of a perfect vacation is to travel overseas or hide under a blanket on my couch. Those were the types of things I looked for in a couple. I felt that if I wasn't going to raise my son, I wanted someone as close to me as possible to do it. So, I tell everyone to be themselves. That's how you'll find your match.
I wanted education.
When I found out I was pregnant, I had one degree and was working on my second. My life philosophy is that it doesn't matter what you do, it matters what you learn along the way. And I want my son to know how important education is. As I searched profile after profile, I found myself drawn to those with higher education. I honestly think I was drawn to them because, like I mentioned before, I wanted my son to raised by someone exactly like me. And education is one of the most important things in my life. My couple were (and still are) going to school when I placed my son with them. Since I was also going to school, I had an idea of what that meant, financially. But, I also knew that because of what they were both trying to accomplish, the ends would justify the means. To me, it was more important they they were getting an education than it was that they were wealthy and would be able to afford the "big house", or the "fancy toys" for him. The example of importance they placed on education had more of an impact than any material thing they could buy for my son.
I wanted to see a passion for life.
If I had the means, I would travel the world. I would see the original Seven Wonders, I would swim in a warm ocean, I would travel to Greece and see the ancient ruins of old theaters and cathedrals. I would see it all, I ache to see it all. When I searched for my couple I found people who loved what I loved. My couple that I eventually chose loves to travel, and makes it happen. When my son was less than a year old he had already seen more of the world than I had! And nothing made me happier. I looked for, found, and chose a couple that not only had a passion for life, but similar passions to mine.
I needed for them to be religious.
Religion has forever been my foundation. I was raised in a Christian based house hold and those principles and teachings have followed me throughout my life. They have brought me peace during times of turmoil, happiness at times of utter despair, and hope when there was no sign of light. Religion has always been a great source of peace and it was important to me to insure that my son had the option of the same peace. I found a couple specific to the religion in which I was also raised and they have been wonderful in making sure that he grows up knowing Jesus Christ and His role in our lives.
They needed to love one another.
The #1 reason I chose adoption was because I wanted my son to have two parents to love him, provide for him, and support him the way that I wanted to. I had no way of guaranteeing that if I raised him. The most important way to give that to him was to find him parents that loved each other, provided for each other, and supported each other. I decided on my couple for a lot of reasons, mostly because I feel like we are all similar and I love that, but also because they love each other more than anything else. When I read their online profile, they had questionnaires on there about themselves. But to make it more fun, they had answered one another's questions. There was one in particular that she had answered about him:
"What is your favorite movie?"
Pregnant and considering adoption?
Get your free adoption benefits and support bundle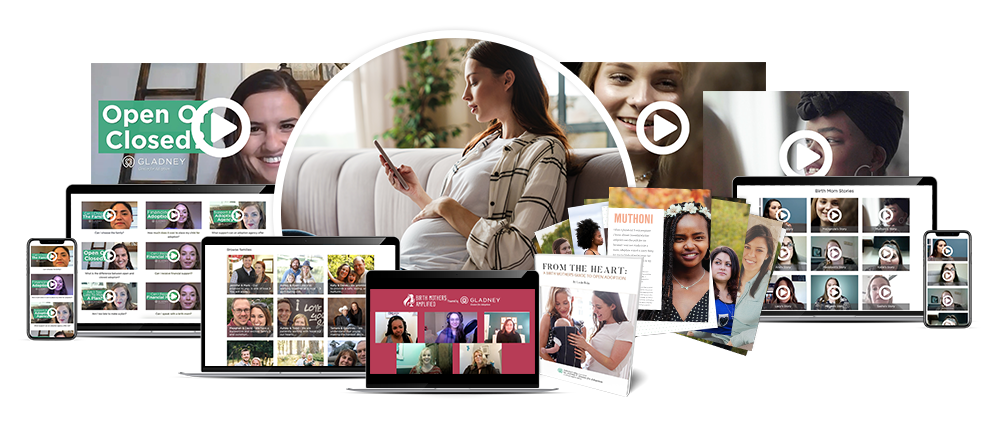 –The Notebook. He will deny it but I know the truth.
I have no idea why that stuck with me so much, but I laughed so hard and throughout the rest of the profile I remember thinking that if they were like that online, how wonderful it must be to watch them be in love in person. And it has been wonderful.