When Mike Stokes and his partner, Chris, decided they wanted to adopt, they started just like anyone else: they started researching different agencies. However, their most difficult hurdle was finding an agency that was open to same-sex couples adopting a child.
"One of the things when researching agencies was really locating an agency that was open and affirming," Mike explains, "not someone that I necessarily needed to call and say 'Hey, do you accept same-sex couples?' because that's often an awkward conversation."
Walking into Adoptions From The Heart's Connecticut branch seemed right for them. However, the expense and the paperwork was slightly overwhelming.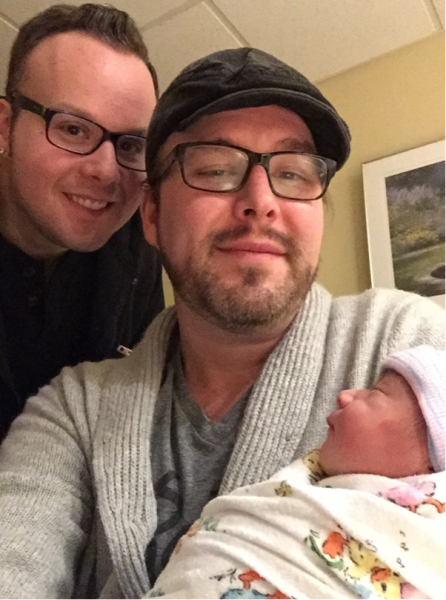 "We took all the information in and sort of sat on it probably a good two years and then decided to go to another meeting to see if there was any information that sort of changed," Mike says, "And from there, we started the process."
The couple first met their future daughter's birth mother pre-delivery. Mike and Chris believe building that relationship was key to their smooth adoption process and a great start for their relationship because ultimately, it led them to the opportunity to witness the birth of their daughter.
"She wanted us to be a part of labor and delivery; it was something she was open to. We were super excited to be a part of that because that doesn't happen with a ton of adoptions," Mike explains. "We were in the hospital with her for probably 16 hours of labor; we were in the room with her, so we got to know her more in terms of her story and her as a person."
Like many couples, Mike and Chris were nervous about having an open adoption, although they looked at it with an open mind.
"We had the opportunity to decide our level of openness. The birth mom decided in the hospital that she wanted not one visit, but two a year which was something we had not talked about before, but we were open to that," explains Mike. "And the birth mom also enjoys taking pictures, so one thing she asked in the hospital was to take Charlotte's newborn pictures. That really facilitated the next level of openness, and we got to exchange phone numbers."
Since then, Mike and his family have settled in a progressive part of Connecticut. But even after adopting their daughter, Charlotte, they still come across comments about their adoption and daughter that are unfitting.
"One example that I'll share," Mike reveals, "I was at the bank with my daughter, and a lady comes up and says how cute she is, and then says, 'Oh, her mother didn't want her?' It was a pretty shocking question, and it took me back."
The couple tries to use the incidents as teachable moments and a time to educate others.
"It really is an opportunity for us to educate other people around what open adoption is," Mike explains, "And also share that Charlotte does see her mom regularly, and we have a very open adoption with her, and it has nothing to do with Charlotte's mom not wanting her."
Mike says that same-sex couples, (or any couple) looking to adopt, should surround themselves with people who will be their support system.
"Have an army of people who get it to help you when you experience people that don't," says Mike. "You will experience those people. And to know that you have your support system that does get it, and having people to offer you advice and support when you need it the most, helps."
Do you feel there is a hole in your heart that can only be filled by a child? We've helped complete 32,000+ adoptions. We would love to help you through your adoption journey. Visit Adoption.org or call 1-800-ADOPT-98.