Having a baby can be such an exciting time, but for a woman who is not prepared, it can be very scary. When you find out you are pregnant and you are very young, single or just not ready for the choices you have, you are limited and have so many consequences to face.
I thought I had life figured out. I had a family, a husband and a beautiful home. When it all came crashing down, I had to deal with things I never would have imagined would be a part of my life. I became a single mother, I placed a baby for adoption, and then I had an abortion. Here are the feelings and experiences I had with the three choices I never thought I would have to make.
I found myself divorced with an infant son. I was a single mother and my darling baby boy would be raised very different from my other children. Trying to raise a baby, and my other children was extremely difficult. I had a job that required me to be gone all day and my baby was in day care or home with his older brothers and sisters. We did not have a lot of money and so things were extremely hard.
I was grateful to have this cute little baby but caring for him as a single parent was, at best, very challenging. In many ways, he missed out on so many things. He did not have a mother there most of the time. When I was there, I tried to give him the love and attention I knew he needed, but it was never enough. By the age of two, he could stand on his toes and cook his own food in the microwave. That says it all. This cute little boy of mine had to grow up very fast and missed out on so many wonderful mother-child moments. Oh, how I would have loved for him to have a mother and a father.
As my journey into single parenthood continued, I found myself pregnant. I was so scared and did not know what to do. I was having a hard enough time raising my children and the father of this baby was not the father of my other children. He, the father of the baby, did not want anything to do with this baby and I knew I would be raising this child alone. What would this cute little baby do when my children went with their father for weekend visits and this sweet little baby did not have a father to go with? I struggled with this decision for a long time, but finally came to the conclusion that adoption would be the best thing for me and the baby.
I held his little hand and knew that would be the last time I would hold my precious baby.
I told a few people about my decision and a family member knew a family that wanted to adopt. I found an agency and we got all of the paper work ready. I invited the adoptive parents to be in the delivery room when the baby was born. My sweet little boy was born with no complications and they handed him right to the adoptive mom. What an incredibly hard moment that was for me. I was so happy to see them hold their new baby and kiss his little forehead, but my heart was being torn right out of me. Later that night, I went down to the nursery and kissed my little boy goodbye. That will forever be the hardest moment of my life. I held his little hand and knew that would be the last time I would hold my precious baby.
The next day, the social worker came and we signed the final paperwork. Watching this darling couple with their new baby boy was amazing. The feelings of love and excitement for them were overwhelming. They were starting a new life that, without me, they would never have had. That precious little boy is now 12-years-old. I get pictures and letters now and then, and he has grown into such a fine young man. I am so grateful for this loving couple who took my son and raised him the way I could not have at that time in my life. I hope that someday I will be able to give him a hug and tell him about the experience in the nursery that night I said goodbye.
I am sometimes very slow to learn the lessons life tries to teach and two years after I placed my baby boy for adoption, I found myself pregnant again. I went to the father, who happened to be a doctor, and we talked about what we should do. He did not want to raise another child and I was still a single mother raising my other children. We went over all of the options and I decided to have an abortion. When I say that, in no way do I mean for it to sound trivial. This was a very difficult decision for me. My upbringing had been a very religious one and abortion was considered murder in the eyes of my church. However, I felt that I could not put my children through me being pregnant again.
I was alone and did not want to have to do this all by myself. She was wonderful and held my hand through the entire process.
It had been hard on all of us and that was not something I felt like I could do. I scheduled an appointment to have an abortion. The father of the baby did not want anything to do with it and just left the money for the abortion in his mailbox in an envelope. I never heard from him again. I was only 7 weeks along when I went in and I was very scared. The clinic had a wonderful counselor that sat with me and we talked about what I was going to experience. I cried and asked if she would please stay with me through the procedure. I was alone and did not want to have to do this all by myself. She was wonderful and held my hand through the entire process. I tried to be strong and kept telling myself that this was necessary. This sweet counselor held my hand while I cried and when the procedure was over she took me to the recovery room.
I felt empty. I felt more alone than I have in my entire life. What had I just done? How do I make this right? How do I ever acknowledge these feelings? These were just some of the thoughts I was having. When I walked to my car there were several picketers in front of the clinic and I tried to put my head down and ignore them. How dare they stand there in judgment of me when I had just been through this difficult experience. They did not know me, they did not know my situation. I went away very ashamed and angry. That was several years ago and since then I have dealt with the feelings of that day. It was a dark time for me, but something I felt was necessary.
Pregnant and considering adoption?
Get your free adoption benefits and support bundle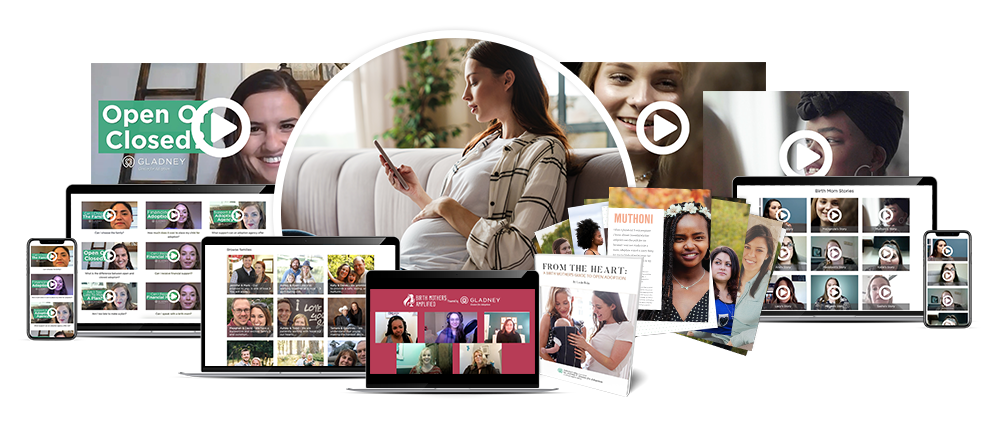 I know these experiences are just mine and I am sure there are many other stories that are very different than mine. When I look at my three experiences I have very different feelings. Being a single parent was very difficult. I loved being a mom, but we missed out on many happy moments because I just wasn't around. Placing a baby for adoption was one of the hardest things I have ever done, but by far the most amazing. Knowing that my precious baby is in a home with a loving mother and father and being given everything that I could not give is such a good feeling. I do have moments when my heart aches to see him, to play catch with him, to tuck him in at night, but I could not provide that when he was born and I am so grateful that he is a healthy, happy 12-year-old with a loving family. I hope that someday I can give my son a hug and tell him how much I love him.
I will never have a day when they'd give me a hug and say "I love you for your decision".
My abortion did not leave me with any of that. I will never know the sex of my baby. I will never know the feeling of that little hand in mine. I will never know whether they had blue or brown eyes or blonde hair. I will never have a day when they'd give me a hug and say "I love you for your decision". That is the worst part…I will never know.
What an interesting life this has been. I feel very fortunate to have been able to experience the things that I have. As my children have grown and become adults, I have had the opportunity to share my experiences and hopefully help them along their path. My beautiful daughter, at the tender age of 15, found out that she was pregnant. Through my experience, I was able to give her some insight as to what choices she now faced. She chose adoption. As a mother I cannot tell you the pain of watching your child go through the single hardest thing she will ever do. Her baby, my first grandchild, was placed in another couples' arms. I watch as my daughter has learned to deal with her decision in her most amazing way. She has become a very strong advocate for adoption and I could not be more proud of her. The choice she made has now impacted thousands of birth mothers, adoptive mothers and families dealing with adoption. This journey has been a hard one, but I would not change it. Life is joy.
Did you like this story? Read more like it by downloading our FREE ebook, Birth Mothers. Get it here.
Are you considering adoption and want to give your child the best life possible? Let us help you find an adoptive family that you love. Visit Adoption.org or call 1-800-ADOPT-98.