Ahmira from Texas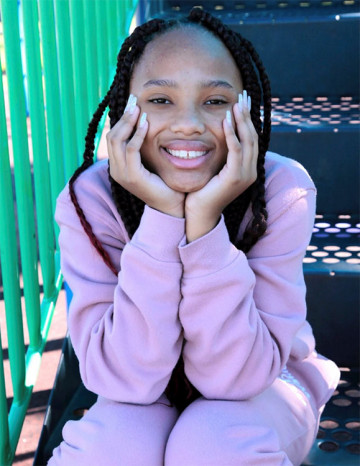 Age 13
Gender Female
Location Texas
Ethnicity African American
Case Number 90778
---
Ahmira has a very delightful personality. She loves having a lot of attention. Ahmira loves school and learning new ideas and tasks. Ahmira enjoys playing with other children her age. She can be bashful at times, but she loves smiling and laughing. Ahmira enjoys taking pictures and making others smile. She can be very active and energetic. Ahmira is very friendly and she loves having fun. She is likable and extraordinary. Ahmira enjoys making new friends. Ahmira has a charming and confident nature with a desire to be a big superstar one day. She is also polite and soft spoken. Ahmira loves being with her siblings having fun.
Ahmira, Alease, and Ayrianna are sisters who are very attached to each other. The younger girls look up to their eldest sister, Ahmira. Ahmira can be very active and energetic. She is has a friendly personality and all of the children love having fun. Alease is friendly and soft spoken. Ayriannah is smart and she loves having all the attention to herself. The sisters exhibit normal sibling behaviors, such as arguing back and forth about toys. Ahmira is very protective of her younger siblings. She attempts to redirect Alease and Ayrianna when they are misbehaving. They often give hugs to each other, play board games, and watch TV together. The siblings love going on outings, shopping, and meeting new people.
Ahmira will do well in a safe, consistent, and nurturing environment. Her forever family will be patient, loving, and nurturing. Her family will make her feel safe and secure. They will ensure that she receives any services she requires. This includes being an effective advocate for her educational and needs in the future. She will need a family to provide supervision, praise, and encouragement. She deserves a family who will love her unconditionally and be committed to encourage her to become all she can be. Ahmira would like to continue to live in Texas.