Amanda from Texas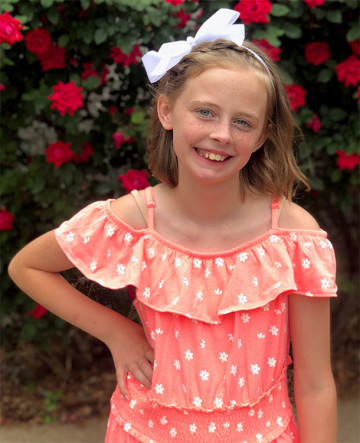 Age 11
Gender Female
Location Texas
Ethnicity NA
Case Number 91231
My Siblings Stephanie
---
Amanda is a very bright and funny girl who enjoys telling jokes to everyone. She describes herself to be smart, funny and pretty. She enjoys going on nature walks, swimming at the pool or riding bikes with her sister. Amanda wants to learn to cook more in her free time. She wants to be a veterinarian when she grows up as she loves animals a lot. She does well in school and has a lot of knowledge about dinosaurs. Amanda's favorite day would be going to the zoo with her sister and playing with or feeding the animals. Her favorite foods are breakfast burritos, hamburgers, and ice cream. She is creative and expresses herself through painting. Amanda is ready to share a new joke with you! Amanda will be a great addition to a loving and caring forever family.
Stephanie and Amanda are close sisters who enjoy doing activities together. Some events they like to do are going outside to play at the park or go to the library to get books for reading time. Both girls love to draw and make crafts together. Stephanie is a busy young girl who is always singing and dancing. Amanda has a more relaxed personality who enjoys playing with dinosaurs and reading. Both the girls are working hard in school to learn reading math and writing. The girls love animals and want to be in a home that will allow them to get a pet. The girls have bright, caring personalities, and will need to have structure and patient caregivers as they adjust. The two of them would be a great addition to a loving and caring forever family.
Amanda's family will be very positive, active, and participates in community activities. The family will need to have older children or no children in the home. The ideal family will have a stay at home parent or have an in-home sitter for after school and holidays off. Her forever family will be patient, kind, and committed. Amanda will benefit from individual time with parents to ensure she feels loved and accepted. Her forever family will be supportive and provide all of her needs.