Aubree from Texas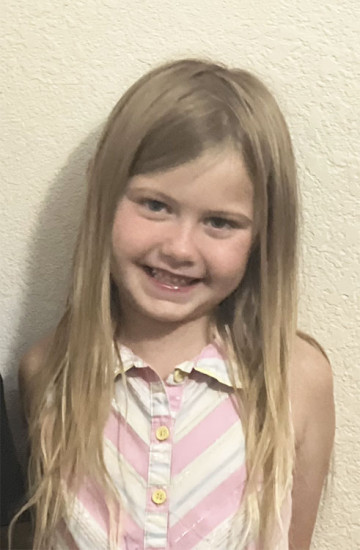 Age 6
Gender Female
Location Texas
Ethnicity NA
Case Number 104667
---
Aubree is a very loving, outspoken child who likes to be involved in all activities. She enjoys watching movies and playing house with her kitchen set. Aubree likes to keep her things clean and neat. Aubree may benefit from being redirected. Aubree enjoys the attention her brothers give her and often seeks that same attention from others. She enjoys playing outside, coloring, and swimming. Aubree's favorite toys are her Barbies and play kitchen. Her favorite foods are hamburger helper, peanut butter and jelly sandwiches, and fruit. She likes to keep her room clean and enjoys helping clean around the home. Aubree is very close with her older brother Jonathon and would do best if placed in a home with him and their older brother Aiden.
Meet Aiden, Jonathon, and Aubrey! They are a loving and bonded sibling group. As the oldest brother, Aiden has always been a parent figure and tries to take on some of that parenting responsibility. He has an outgoing personality and loves toy cars and has a collection of them that he enjoys playing with. Aiden is outspoken in what he feels or thinks is best and often needs direction to comply with adult requests and rules. Jonathon is very active and happy boy. He can be quiet, playful, curious, and affectionate. He enjoys playing with his little sister. Jonathon likes to be outdoors but also likes to be inside and have time to himself. Jonathon is working on expressing his emotions instead of keeping them to himself. He can be very independent and likes to be challenged. Aubree is a very loving little girl, she is very outspoken and is very artistic, enjoying painting and creating things. As the youngest out of her siblings, she enjoys the attention her brothers give her and often seeks that same attention from others.
Aubree will do well in a two-parent home with an authoritative male father figure and a female mother figure. Her forever family will offer patience, consistency, and careful supervision. Aubree's forever family will provide routine and structure. Her family will enjoy the outdoors but also enjoys down time indoors! She would like to be placed with his siblings. Her forever family will reciprocate her desire for positive attention and provide frequent reminders that she is loved and accepted no matter what.