Canashia from Texas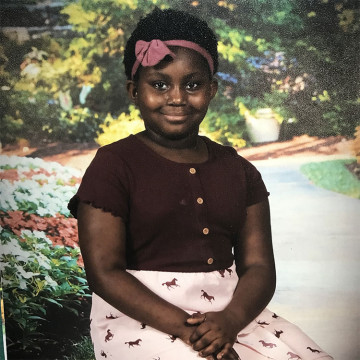 Age 9
Gender Female
Location Texas
Ethnicity African American
Case Number 95887
---
Canashia is a strong willed little girl. She has her ups and downs on days. She can be very caring and compassionate. She loves animals especially, puppies. She is a smart girl and loves to be loved and praised. She is a hard worker and loves hard. She enjoys praise and strives for her best. She is smart and witty and can be stilly at times. She loves animals and very compassionate towards them. She enjoys trying new things that show she is growing up and trying her best. She really loves holidays and helping in the kitchen. She enjoys movie nights and crafts. She enjoys her alone time as well as playing with others. she is definitely a leader and role model to her younger siblings. Canashia really loves holidays and helping in the kitchen. She enjoys movie nights and crafts.
De'Asha, Canashia, and Ziaysia are very charming and pleasant children. They enjoys playing dress up with each other as well as dolls. Both Ziaysia and De' Asha loves dressing up and pretending to be princesses. The girls enjoys family times; such as, movies nights. The girls love performing, dancing and singing together. They often make up songs to sing to each other. Canashia is the leader of the pack. She loves being the oldest and helping her young siblings with things. Ziaysia is a social butterfly and normally brings the girls together to socialize. De'Asha can be bossy sometimes but she does look up to her older sibling as well. She will often mimics their behaviors both good and bad. The girls usually plays well together but they do experience temper tantrums.
Canashia will do well in a two-parents' home with structure and routine. They would benefit from being the only children in the home as they all desire attention. Her forever family will be patient with her. She is very energetic and need a lot of attention , she is independent but yet need comforting. She would thrive in a family that is active and does fun outings and activities. She would love a home with animals, lots of space and energy. Canashia's forever family will be family- oriented and spend a lot of time with her. Her forever family will be friendly and energetic.