Cesar from Texas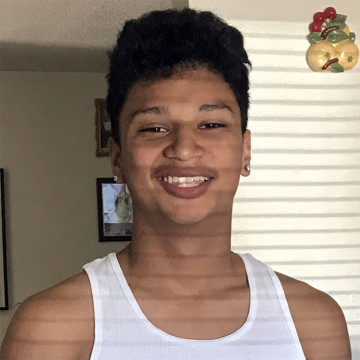 Age 17
Gender Male
Location Texas
Ethnicity Hispanic
Case Number 88264
My Siblings Juan
---
Cesar is a bright outgoing young man. He may be somewhat quiet at first but once he warms up to you, he will engage in conversations rather quickly. He tends to make friends rather easily and enjoys being around his friends. Cesar enjoys playing and engaging in outdoor activities or sports, such as football and basketball. He likes to try to new things, such as golf. Cesar enjoys going to school, but he must be challenged to get his work completed and his attention must be held in order to achieve his academic goals. His plans are to join the military once he graduates from high school.
Cesar and Juan are very close to one another and have a strong sibling connection with each other. They truly look forward to being together with a family who will help them launch into adulthood. The brothers love sports and video games. Cesar is the eldest and the protector of his brother. He is the more out-going of the two boys. Juan is more laid back and quiet until he gets to know you. He is the more reserved of the two, but trusts that his big brother will always look out for him. Both boys get along well with each other, even though at times they may disagree.
Cesar will need a family who will be patient with him. His family will also be his cheerleader and provide him encouragement. The family will also have structure for Cesar.