Cheryl from Texas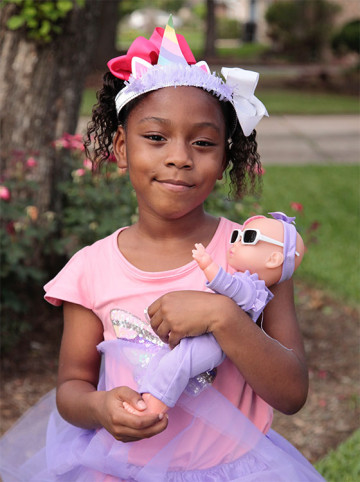 Age 8
Gender Female
Location Texas
Ethnicity African American
Case Number 96246
My Siblings Eyanna
---
Cheryl is a bright and bubbly little girl. She loves playing with her dolls and going to imaginary places with them. She would love to have and even live in a Barbie House one day. She gets a little lonely playing by herself, so it helps when her sister is around to join in when she is playing with toys. Cheryl also loves to get up and go! She likes going to the circus, amusement parks, regular parks and really with any kid themed activity she is a willing participant. Cheryl has a healthy appetite and there are not many things she does not like to eat. She is very loving, sweet and has a disposition where she can have a bright day even when situations around her may not be so. Cheryl will be a great addition to a loving and caring forever family.
Eyanna and Cheryl have a very close bond and enjoy being with one another. Eyanna is getting away from playing with dolls in the manner that Cheryl does. Cheryl would like to live in a Barbie house which sometimes leaves Cheryl by herself. Eyanna is learning to be big sister and she will still play with Cheryl, but she does tend to like to have time to herself. Cheryl is loveable, and she always welcomes the opportunity of playtime. Eyanna is a perfect little social bee and loves to be the center of attention. Cheryl tends to agree with some of the ideas Eyanna comes up with, even if she doesn't agree. She loves her sister so much that she will often times give in. The sisters do enjoy outdoor activities like skating, riding bikes, walking, and running but they also like to "go" and that can be to any kid friendly event anywhere.
Cheryl's forever family will be understanding. Her family will open their home and hearts to Cheryl and her sister, who may look alike at times, but are very different girls. Her family will be outgoing, activity driven. They will also understand, the same method of discipline does not work all the time. Importantly, this family will provide love and understanding to Cheryl's individually and as part of a sisterhood that deserves a forever home.