Eddie from Texas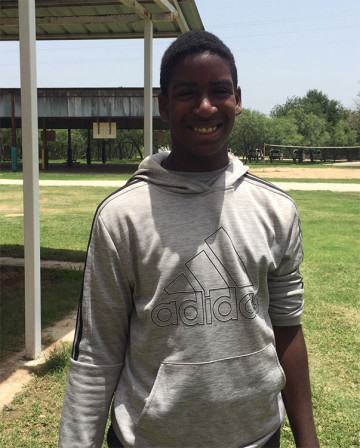 Age 13
Gender Male
Location Texas
Ethnicity African American
Case Number 90345
My Siblings Rayne
---
Eddie is a very social, caring, and funny 13- year old boy. Eddie is into superheroes, while Marvel is his favorite character. He enjoys listening to music, singing out loud and dancing. While in school, Eddie often participates in extracurricular activities (e.g., karate, football, tumbling) and has mentioned he would like to join in even more events to remain involved. Eddie likes to watch television, and his favorite shows are Anime, and anything related to cartoons. He does well with his hygiene, showering, getting dressed, getting up for school, brushing his teeth, and doing his hair in the morning. Eddie has a good relationship with his sibling and wants to have a forever home for them both.
Eddie and Rayne display a close sibling relationship and tends to be a very close-knit unit. While spending time together, they often finish each other sentences while laughing uncontrollably at random jokes. Both are incredibly protective of one another and oddly gives the exact answers to questions. Eddie is older, but Rayne often offers advice to her brother from a mature mindset. The relationship between Eddie and Rayne is stable and doesn't display any sibling rivalry. Both are courteous with others and tend to encourage one another to do great things. Eddie and Rayne demonstrate a healthy relationship that is described as best friends.
Eddie's forever family will be healthy role models that provide a loving, understanding, and supportive mindset. A two-parent household would be best for the sibling group that will offer structure and guidance daily until adulthood. Preferably, no animals in the household. Eddie will enjoy a family that displays unconditional love and laughter in the most needed moments. He would be an excellent addition to any family that's willing to adopt and provide a forever home him.