Jamarion from Texas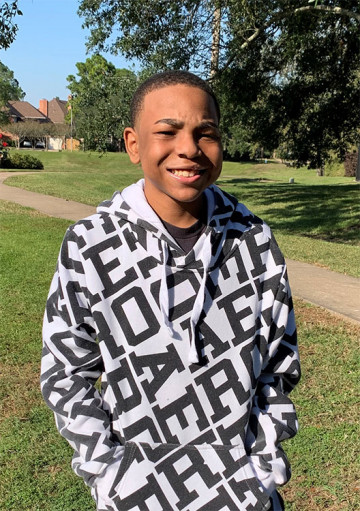 Age 13
Gender Male
Location Texas
Ethnicity African American
Case Number 90663
---
Jamarion is a fun-loving, confident and outgoing adolescent boy. He's in middle school now, and enjoys school. He is very bright and particularly enjoys the social aspects of school. He plays the tuba in band and he enjoys all types of music. He likes to skateboard, play basketball, spend time with his friends, hang out with his brothers and of course, he loves videogames. He is very optimistic and upbeat, and has a positive outlook for his future. He has displayed incredible resilience through the past year as his life has been upended. Jamarion looks forward to finding an adoptive family and hopes to be adopted with both his brothers.
Jamarion, Zack and Leeshun are very close as a sibling group. They have been raised by their grandmother since they were very young. When she passed away recently the family came into CPS care. Jamarion and his brothers want to all be adopted by the same family. Jamarion is very open, honest and easy to talk with. Leeshun is a typical 16 year old boy who is a little more reserved, and clearly the voice of reason in the sibling group. Zack is the youngest and looks to his big brothers for acceptance and guidance. The boys are all very good kids who do well in school and care about being successful. They seem to take the big changes in their life in stride and have a great attitude about the future.
Jamarion wants to be with a family willing to adopt him and his brothers, Zack and Leeshun. He really wants to be back in the Central Texas area where he grew up. His ideal family has a mom and a dad, hopefully a dog. But he could also be successful in a single parent household. He would like a family who loves sports, playing games and being active. He and his brothers would do well with structure and attention but with a laid back atmosphere. They want a family that will be active in their lives, attend sporting events, allow them to participate in UIL sports at school and would attend their games. He and his brothers want family that can provide them with stability and acceptance for the long term, no matter what.