Jorge from Texas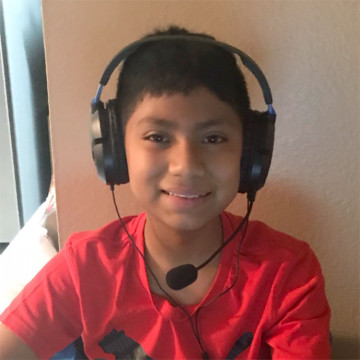 Age 12
Gender Male
Location Texas
Ethnicity Hispanic
Case Number 91018
---
Jorge is an intelligent youth who enjoys learning and doing fun activities. He tries his best in school and reports his favorite subject is math. Jorge is a well-mannered and social youth. He likes to make friends, enjoys sports, and has an interest in several sports. Jorge likes playing football, basketball, and soccer. He also spends his down time with the Xbox and playing Fortnite and Roblox. Jorge likes having a good time in all the things he does. His other pastimes include watching TV, Netflix, and he enjoys watching funny YouTube videos. He prefers to look at the world with a glass half full perspective and make the best of each situation. Jorge has fun on road trips, playing with his siblings, and going to the movie theater prior the pandemic. He is a funny, smart child who is good at sports. Jorge is ready to see his family encourage him at improving in whatever he chooses to play.
Karla, Ana, Miguel, Jose, and Jorge are looking forward to joining their forever family! Although they have individual interests, they interact well with one another and enjoy playing with phones or tablets together and spending time outdoors. The children enjoy traveling together as they continue to make fun memories. The road trips they take allow them to sight-see and learn together. Ana is the eldest and likes to be the leader of the group while being protective of her siblings. Miguel maintains good communication with the siblings. Karla is the more athletic sibling, but she also likes to make the siblings laugh. Jorge is the reserved one of the bunch but will open up as he gets comfortable. Jose looks up to his brothers and takes pride in informing everyone that he is the neatest of all the siblings. They all enjoy spending time at parks and the beach. The siblings keep a busy schedule with participation in school sports. They all enjoy celebrating any occasions, have a fun time on outings and celebrations. Together, the siblings have a good connection with each other. They enjoy spending time together, catching up, and sharing stories.
Jorge wishes to be adopted by a two-parent household who will be encouraging of his interests. He wants a dad who he can toss the ball with and practice the sports outdoors. He is interested in a mom and a dad for himself and siblings. Jorge envisions himself celebrating all special moments with his forever family. Jorge will benefit from a family who is open to him continuing contact with siblings who are not a part of this adoption. A family who is active and encourages him to participate in community activities such as sports will be ideal. He wishes for parents who will provide an environment with structure and stability.