Juan from Texas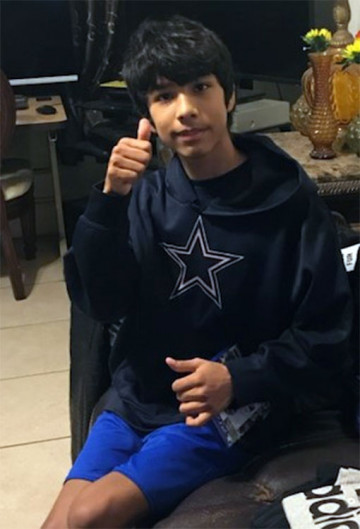 ---
Juan is a reserved and friendly boy. He is a quiet person, but will open up when discussing his interests. Juan has a loving and affectionate personality, and tends to look to his brother, Felix, for approval. Juan is happy, outgoing, and has a good sense of humor. He is usually seen playing on his phone or computer games such as Madden NFL and Minecraft. Juan is a fan of the Dallas Cowboys football team and enjoys playing outdoor soccer. He and his brother tend to get along, but can play rough with one another. Juan has a loving relationship with his siblings. He seems to enjoy himself on outings, errands, and celebrations. Juan also likes to be at the beach, waterparks, or out shopping.
Felix, Juan, Irma-Sophia, and Jazminka desire to live together with their forever family. The siblings share many common interests such as creating artwork, playing video games, or listening to music. They each have their own individual style. Felix focuses more on dancing while his siblings cheer him on. Juan prefers to kick the ball outdoors and play video games. Jazminka enjoys reading and playing the piano, but she and Irma work well when painting or using chalk outdoors. The children interact well with one another and enjoy playing with phones or tablets, being outdoors, and creating art projects. The children enjoy celebrating all occasions, have a fun time on outings to the beach, water parks, shopping, and celebrations.
Juan desires to be adopted with his siblings by a two-parent household who will be an advocate when it comes to his education. He would like a mom and a dad who will be sensitive to his and his siblings' feelings towards processing the adjustment of a new home environment. Juan will benefit from a family who is active and encourages him to participate in community activities. His forever family will possess or be willing to find knowledge of community resources which can aid him and his speech. Juan recognizes he has to work hard to achieve personal goals, but hopes for parents who will provide an environment with structure, understanding, and stability.