Kamyah from Texas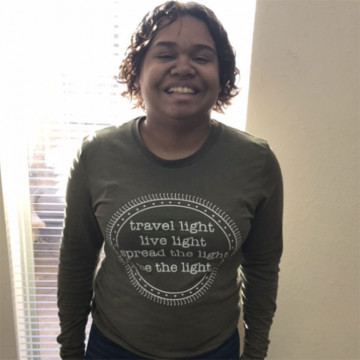 Age 15
Gender Female
Location Texas
Ethnicity African American
Case Number 95487
---
Kamyah is an upbeat teen with a positive attitude and outlook. She is generally kind and friendly. She enjoys sports and has fun playing basketball and football. She is especially excited about being an athletic trainer in high school this year. Kamyah is enjoying school and is doing very well so far this year. She is motivated by athletic training to keep her grades up and turn in all her work. Kamyah enjoys hanging out with family and friends and doing anything, as long as it's together. Like many teens her age she also like to watch videos on her phone and getting her nails done. She is a smart and determined girl. She is also caring and sympathetic towards others. Her goal is to become a nurse when she grows up so she can continue to do this. She listens well to adults and can be redirected. She is also good at adapting to changes without getting frustrated. Whatever she puts her mind to she will do it and will ask questions until she figures it out.
Meet siblings Jakayla, Kamyah and Jamyah! They have a loving sisterly bond. They laugh and joke when they are together. Jakayla is always happy to see her older sisters. She will sometimes be sassy or laugh at their antics. She does not feel as close to her sister due to Jamyah and Kamyah being twins. Jakayla is very social and outgoing. She demands a lot of attention and will sometimes get upset when she doesn't get it. Kamyah always has a positive attitude and outlook. Kamyah is the one who tries to keep the peace between her and her sisters. She does not demand lot of attention. She is quiet and likes to observe before she talks. Jamyah is motherly and appears to have a sense of responsibility for her sisters. She is outgoing, expressive, kind, and funny. She tries to correct her sisters and sometimes they are receptive. All three kids love to play sports and playing with their pigs.
Kamyah will do well in a two-parent home where they are able to provide the attention and love that she has lacked and deserves. Kamyah's forever family will be good role models, patient, understanding, and willing to teach and discipline. Her family will encourage her and push her.