Martin from Texas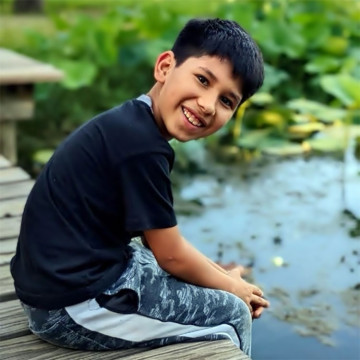 Age 8
Gender Male
Location Texas
Ethnicity Hispanic
Case Number 86383
---
Martin is a boy who has very good manners and enjoys reading. He has a fun and loud personality. He is often found playing with his brother and usually has a big smile on his face. He is a playful young boy who shows affection to all of his siblings. He likes to flip through books, color, and play with all types of toys. He enjoys playing outdoors, riding his bike, watching television, dancing, and laughing at funny movies. Martin likes to play on the trampoline and ride in the tractor with his foster parents. He spends most of his day outside and always finds something fun to do with others. He is the life of the party whenever he goes places. He also enjoys participating in church youth groups and singing with them. Martin has also expressed interest in learning while playing computer games.
Mya, Alinah, Jenissa, Andrea, Martin, and Matthew are ready to find their forever family. Although they have individual interests, they enjoy many activities together such as playing with toys, enjoying the outdoors, and visiting parks and restaurants. This group of siblings enjoy celebrating all occasions, having fun times together on trips to the beach and zoo, and love competing with one another in bowling. Martin and Matthew are the youngest of the group and spend a lot of time with their oldest sister, Mya. Mya takes care of them and guides them through their daily activities. Mya is usually in charge when it comes to games or leading in tasks with her siblings. Alinah, Jenissa, and Andrea have a close bond and usually helps Mya with caring for Martin and Matthew. Mya, Alinah, Jenissa, Andrea, Martin, and Matthew are close to one another and can usually be found entertaining each other with games and activities.
Martin desires to be adopted by a two-parent household along with his siblings. His forever family will be active and encourage him to participate in community activities such as track, soccer, and baseball. Martin likes having fun, is respectful, and enjoys singing. His family will provide him with a structured and stable environment.