Michael from Texas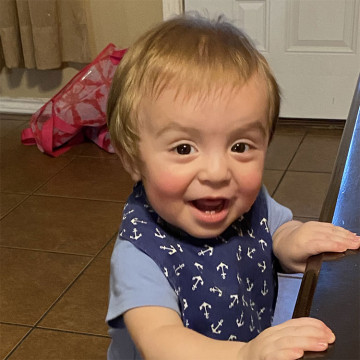 Age 1
Gender Male
Location Texas
Ethnicity Hispanic
Case Number 94127
---
Michael is a sweet, jubilant, affectionate, and an adventurous baby boy. He is a bit shy at first, but warms up to others when he's comfortable. He likes to explore his surroundings but will only do so if his siblings or current caretakers are behind him. Michael is very attached to his siblings. Once Michael feels reassured he becomes outgoing. Michael loves to receive endless amount of physical affection such as hugs, kisses, and being held for long periods of time. Michael is always encouraged and supported by his siblings. Michael is learning to stand up on his own and walk with the assistance. Michael responds well to be loved and cared for. Michael and his siblings would be a great addition to a nurturing and loving forever family.
Valeria, Javier, Lina, Hailey, Gracie, Mia, and Michael are all part of a sibling group of seven children and love each very much. Valeria, Javier, Lina, Hailey, Gracie, Mia, and Michael have a healthy sibling relationship and the children are very much attached amongst each other. Valeria is the oldest sibling in the sibling group and takes on the role of the big sister to heart, and loves to care and spend time with all of her sibling. Javier is the second oldest and enjoys playing with his siblings and has become close with all of his siblings. Javier loves to play toy cars with his siblings but also enjoys spending time by himself, as he mostly has sisters. Javier enjoys engaging in more male oriented activities such as playing video games, playing with toy cars, and playing sport such as basketball and football with is male caregiver. Lina is the third oldest and is the jokester of the sibling group as she enjoys making her siblings laugh and playing harmless pranks on them. Lina enjoys to express her charming personality through dancing, singing, and posing for photos. Hailey is the fourth oldest in the sibling group and has a very spunky attitude as well as being out spoken just like her older sister, Lina. Hailey is timid and shy at first, but once she feels comfortable with someone, she enjoys expressing how she feels with ease and is an excellent at articulating her thoughts and feelings. Gracie is the fifth oldest and has a personality that resembles that of her older sister, Lina, as Gracie is a very funny and silly little girl that also enjoys making her siblings laugh. Gracie is close to all of her siblings and gets along with Lina the most as they are similar in nature and personality. Mia is the second youngest in the sibling group and is closest to her younger brother, Michael as the children are very close in age, and play with the same toys and enjoy socializing and making each other laugh. Mia is a sweet little girl and is the most timid of her sibling group, however, Mia also expresses her love and affection the most of the sibling group by giving hugs and kisses on her caregiver's cheeks, as she enjoys being loved and cared for. Michael is the youngest child in the sibling group and is closest to Mia as they are close in age. Michael is shy like his sister Mia, but is more adventurous when meeting new individuals and enjoys to socialize more with others than his sister, Mia. Michael is very young but he has a sweet and charming personality and enjoys building blocks and spending time with his current caretakes.
Michael's forever family will be very active, patient, and able to match the same energy as his. His forever family will be able to balance in caring for his six older siblings. They will ensure that Michael receives the attention and love he needs. Michael's forever family will be self-sufficient as it relates to community resources in the event Michael and/or his older six siblings are in need of any support services.