Phoenix from Texas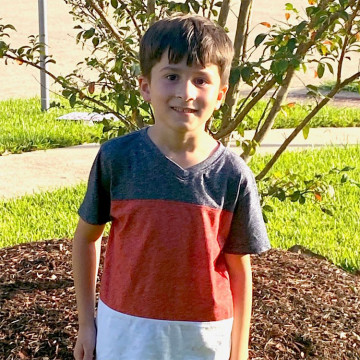 Age 8
Gender Male
Location Texas
Ethnicity Hispanic
Case Number 94926
My Siblings Lincoln
---
Phoenix is very polite, well mannered, kind, and has great communication skills. He is very articulate for his age. He loves to draw stories of his family and friends. He likes to play with his Legos, enjoy playing outside, and watching TV. He spends time reading books and playing board games. He likes all food, but his favorite is spaghetti and cheese pizza. He is just like any average child his age that loves to wrestle and horse play. Phoenix is very adventurous and loves doing flips. He is a risk taker and enjoys conquering new challenges. Behaviorally, Phoenix at times can become hyper. He is learning to express his feelings in a healthy manner. Phoenix has a very kind heart. Phoenix will be a great addition to a loving and caring forever family.
Lincoln and Phoenix are very close with one another. Lincoln is over protective of Phoenix and would do what it takes to make sure Phoenix is safe and does not get in trouble. They both love summer camp when school is out. Lincoln and Phoenix favorite sport is basketball. They both are very articulate and loves to draw. The boys do well in school and maintain many friendships. Behaviorally, the boys like to wrestle and sometimes one or the other become upset. When Lincoln is in trouble Phoenix likes to insert himself into the situation, so his brother does not be alone. Lincoln and Phoenix are very kind and have big hearts. They want a family who is not going to give up on them, provide them nurture, care, love, comfort, and a safe environment.
Phoenix will do well in a two parent home, with a strong female role model. He will do best if he is able to grown-up alongside of his brother. His forever family will be structured and will maintain a good daily routine. His forever family will be very patient and provide him with praise when he does something well, and consistent re-direction when he breaks a rule. He would love to have a family that is active, and will encourage him to participate in activities that will improve his sport abilities and social skills. His forever family will be nurturing, caring, provide love, comfort when he is down, and a safe environment.