Valeria from Texas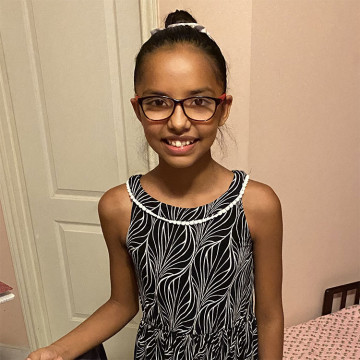 Age 11
Gender Female
Location Texas
Ethnicity Hispanic
Case Number 94126
---
Valeria is an extroverted, energetic, caring, and sweet young girl that enjoys playing with her dolls, her younger siblings, and loves make-up and perfume. She is very social and a true extrovert. She socializes well with others, is not shy when meeting new people, and enjoys talking to others about herself and likes to hear about others. Valeria is very honest about who she is, what her likes and dislikes are, and is vocal about wanting to become a successful adult as she grows up into young adulthood. She takes school very serious and enjoys learning from school. She enjoys drawing and coloring, has her own sketchbook of all the cartoon characters she likes, and has drawn them in and colored them. She gets along with other children easily and would like to expand on having more siblings through her adoptive family. Valeria enjoys being the oldest sibling in her sibling group and is very protective of her younger siblings and wishes to be adopted with all of her siblings into a good forever home.
Valeria, Javier, Lina, Hailey, Gracie, Mia, and Michael are all part of a sibling group of seven children and love each very much. Valeria, Javier, Lina, Hailey, Gracie, Mia, and Michael have a healthy sibling relationship and the children are very much attached amongst each other. Valeria is the oldest sibling in the sibling group and takes on the role of the big sister to heart, and loves to care and spend time with all of her sibling. Javier is the second oldest and enjoys playing with his siblings and has become close with all of his siblings. Javier loves to play toy cars with his siblings but also enjoys spending time by himself, as he mostly has sisters. Javier enjoys engaging in more male oriented activities such as playing video games, playing with toy cars, and playing sport such as basketball and football with is male caregiver. Lina is the third oldest and is the jokester of the sibling group as she enjoys making her siblings laugh and playing harmless pranks on them. Lina enjoys to express her charming personality through dancing, singing, and posing for photos. Hailey is the fourth oldest in the sibling group and has a very spunky attitude as well as being out spoken just like her older sister, Lina. Hailey is timid and shy at first, but once she feels comfortable with someone, she enjoys expressing how she feels with ease and is an excellent at articulating her thoughts and feelings. Gracie is the fifth oldest and has a personality that resembles that of her older sister, Lina, as Gracie is a very funny and silly little girl that also enjoys making her siblings laugh. Gracie is close to all of her siblings and gets along with Lina the most as they are similar in nature and personality. Mia is the second youngest in the sibling group and is closest to her younger brother, Michael as the children are very close in age, and play with the same toys and enjoy socializing and making each other laugh. Mia is a sweet little girl and is the most timid of her sibling group, however, Mia also expresses her love and affection the most of the sibling group by giving hugs and kisses on her caregiver's cheeks, as she enjoys being loved and cared for. Michael is the youngest child in the sibling group and is closest to Mia as they are close in age. Michael is shy like his sister Mia, but is more adventurous when meeting new individuals and enjoys to socialize more with others than his sister, Mia. Michael is very young but he has a sweet and charming personality and enjoys building blocks and spending time with his current caretakes.
Valeria's forever family will set healthy boundaries. Her forever family will help her to learn how to be be taken care of without taking care of her younger siblings. Her forever family will be parent and care for her younger siblings allowing Valeria to experience the best teenager years that an adolescent should experience. Valeria's forever family will always encourage her and continue to nurture her hobbies. Valeria appreciates good communication, humor, love, and nurture.