Zoey from Texas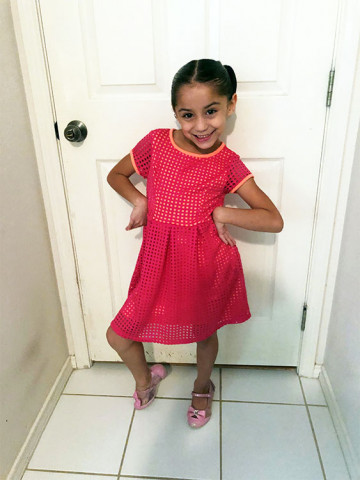 Age 7
Gender Female
Location Texas
Ethnicity Hispanic
Case Number 90102
---
Zoey is the life of the party! Zoey can talk to anyone at any place about anything. She's smart, and loves being a social kid. She enjoys making friends, and spending time with her friends. Zoey likes to laugh and to joke around. She likes to sneak up on people to and yell "boo" to see their reactions. Zoey is known to be a prankster and is always joking around. Zoey makes funny faces and enjoys singing and dancing! Zoey loves to be told she is pretty and often requests to be taken to have her hair cut or her nails painted. Zoey likes to pick her own outfits and is really outspoken. Zoey likes to try need things and is not afraid of new adventures. She is full of life, spunk and entertainment.
Hayle, Jon, and Zoey have a unique sibling bond and love each other very much. Hayle as the oldest loves setting an example for her siblings, by being a leader. Hayle is often creating TikTok videos and likes to shop. Jon, as the middle brother, is the protector of his sisters. Jon is creative and often asking where he can help. He especially likes to cook and bake. Zoey as the youngest, is the energizer of the group. Zoey is sassy and enjoys doing her hair and her nails. Zoey also enjoys Disney sing alongs where she can sing and dance.All of them have similar interest as a family. Zoey and Jon have a tight bond and often want to be around each other, as they tend to be able to visit with each other more often. Both Jon and Zoey do also enjoy the time they get to spend with their sister Hayle. All the siblings enjoy outdoor play and enjoys keeping themselves busy. Together they form a loving and fun trio, and look forward to finding a family that will be able to help them be able keep them together forever.
Zoey is ready for her permanency goal of adoption. Zoey is looking for a family where she feels loved, secure, and accepted but especially a family that is willing to show her all the attention she so desires. Zoey does have a strong willed personality therefore a family that is structured with strong boundaries would be best.