Choosing adoption was a difficult decision for me. But once I made the decision, it became an amazing, life-changing experience for me. Pregnancy and birth were experiences that my child's adoptive family did not have a chance to experience. With that in mind, I decided that I wanted to include them in as many parts of these experiences as possible. This created a unique bond with them that I will forever cherish.
Since my child's adoptive family couldn't always see me or the baby growing, I decided to start taking baby bump pictures. My first baby bump picture was when I was 16 weeks pregnant. It was late enough in the pregnancy that I was feeling the baby kicking and moving around.
When I went in for my ultrasound, I decided to invite Kara, the prospective mother. At my first ultrasound, my mom was the only one in attendance and it was such an emotional experience for us that I knew we had to include Kara. As we watched the screen, Kara suddenly grabbed my shoulder. I looked up at her and could see happiness in her eyes, and I became even happier than I already was.
It was at that ultrasound that we were ready to find out the sex of the baby. Kara had never experienced seeing an ultrasound done before, since her first adoption was closed, and she didn't know what she was looking for. My mom told her that there was nothing between the legs, so that meant the baby was a little girl. All of us were very excited! The adoptive family and I were both hoping for a little girl.
The adoptive parents asked me what girl names I liked. I had a whole list, but my favorite was Emma Claire. Over the next few months, I continued to invite the adoptive mother to ultrasounds and send the family baby bump pictures. When Kara couldn't attend the ultrasounds, I sent pictures by email.
I wanted Nate, Kara's husband, to be involved in some part of this experience, so I asked him if he would cut the cord after she was born. He said that he would be honored.
By nine months, I was excited that my little girl would be coming soon. As time came closer and closer to my due date, I started counting down the days. I had packed my bag when I was nine months along just to be sure that I was ready. I was having Braxton Hicks contractions pretty frequently now that I was nine months, but still no baby.
Then on March 27, it was time to go to the hospital. My doctor's appointment that morning confirmed that I was 5cm dilated and 80% effaced.
When I arrived at the hospital, I wasn't feeling any pain. In fact, I felt very perky and giggly. Then my water broke and I could really start to feel those contractions.
One second the pressure was incredible, and the next she just slid right out. Mom was next to me crying the whole time and told me that she had a full head of hair and how beautiful she was. Her new father cut the cord after Claire was born.
Pregnant and considering adoption?
Get your free adoption benefits and support bundle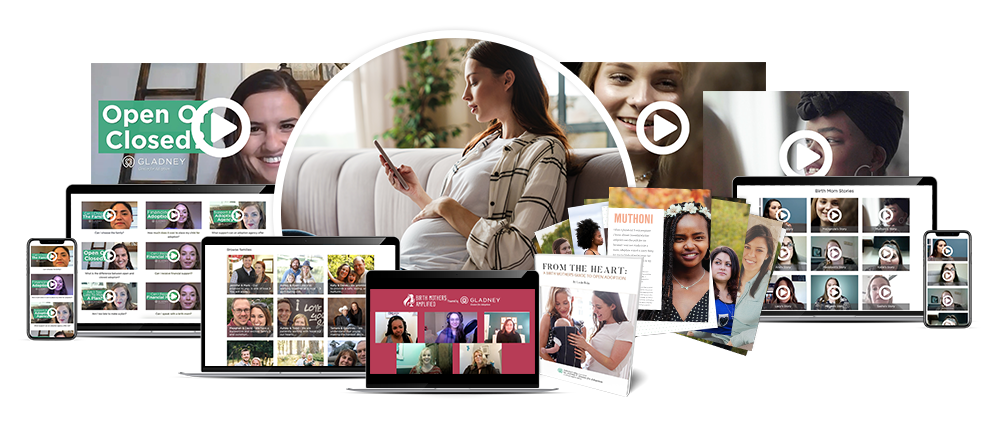 Claire Louisa was born March 29, 2013 at 1:08 a.m. When she was born she was wide awake and bright-eyed. They gave her a bath, which of course made her cry, but when they started combing her beautiful hair, she calmed down. She had this look on her face like, "Ahh that feels nice, I like that."
After they cleaned me up, they handed her to me. She was so beautiful. Then I handed her to my mom. She was so overwhelmed. She brought her to her new adoptive parents and they looked so in love.
Easter Sunday was discharge day for Claire and me. It was the hardest day for me. I still choke up thinking about it.
That's the story of how she was born, but there's more to the story of being a birth mother. Granted I'm only a little more than a year into it, but it was a roller coaster of emotions and struggles. The heartache and pain didn't end when I handed her over. I still live with it today, although it's become much more manageable as time has passed.