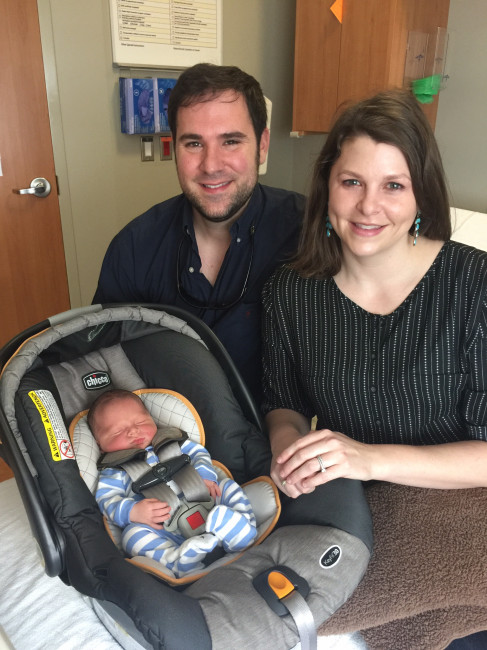 The day we brought Eli home
Dear friend
We have been praying for another child for a long time now.
God knows having another child is a desire of our hearts, and we are so ready to love and welcome another child into our family. We are Andrea and Kris, and we have one adopted child, our son Eli. We have an open adoption with his birth mother and family. They are incredibly special people to us, and we are grateful to be connected to them through adoption. Our family lives in an urban area in Texas, but we are also close to many of the more beautiful parts of the state. Our neighborhood is family-friendly, with many kids on our street, and our church has a dynamic children's group. We also live near museums, the zoo, and our son's school, which we love. As a family, we love riding bikes, going to the neighborhood park and pool, playing games, and walking our dogs. We enjoy exploring new parts of our city but also love getting out in the country on long weekends. We are currently trying to explore more rivers, lakes, and small towns around us. Individually, Andrea loves to bake, read mystery books, and do home projects, like painting and decorating rooms. She also loves the beach and just being near water. Kris loves to hunt and fish, play guitar, grill, and watch football. Kris comes from a large family and has over thirty cousins. We met in law school and have been best friends since. We absolutely could not imagine life without each other. We are both attorneys and have built a flexible practice that allows us to work from home and take time off when needed. Andrea stayed home with Eli for several years, and we are always able to spend quality time with Eli and accommodate his needs.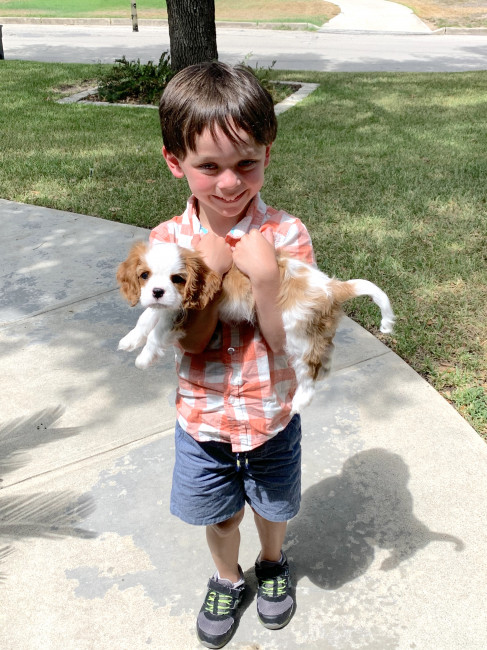 Eli and his puppy
Our son Eli
He is an answer to so many prayers, and we know he is a gift from God.
Our son Eli is so precious. There is not enough space to write about him. He has a huge heart and is just so dang funny. He has a wild imagination, a great sense of humor, and loves making people laugh. Right now, he is into dinosaurs, Transformers, Power Rangers, basketball, and reading new books. Eli received a puppy last year and has done a great job of taking care of him, so he feels he is totally big brother material. We agree! Eli would be a loving, protective, and nurturing big brother. He already has amazing relationships with his seven cousins. He is an answer to so many prayers, and we know he is a gift from God. Our family and friends are completely supportive and ready to welcome and love another child. Before we adopted our son, adoption had already touched both our families in special ways. Kris has two adopted relatives, and Andrea has one, as well.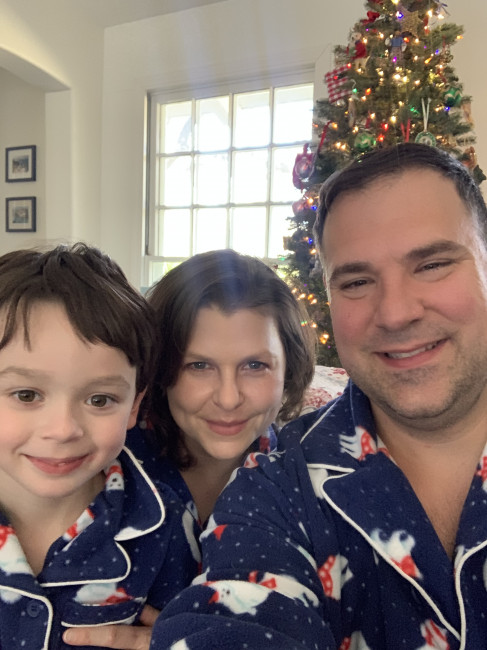 Christmas
To You
Thank you for reading our letter and for considering us to love your child.
Not only have we been praying for another child, we have been praying for you for a long time because we know adoption is bittersweet. One family's joy comes from another family's loss. So we pray for your well-being, protection, and future, which are the prayers we still say for Eli's birthmother. We respect the love you already have for your child in your decision to explore adoption. As parents, we hope to give your child a future that exceeds any plans you may have for your child. And as parents, we can promise we will love your child unconditionally, forever and always. Our love for our son is beyond anything we have ever experienced, and we want to give that love to another child. Thank you for reading our letter and for considering us to love your child. We will do everything in our power to make sure your child has a happy and healthy life, and one in which they will thrive. We fully trust that God will guide both of our journeys through adoption. We know that He is in control, His timing is perfect, and He always has a plan. We are grateful you took time to learn a little bit about us. Thank you from the bottom of our hearts. Sincerely, Kris, Andrea and Eli