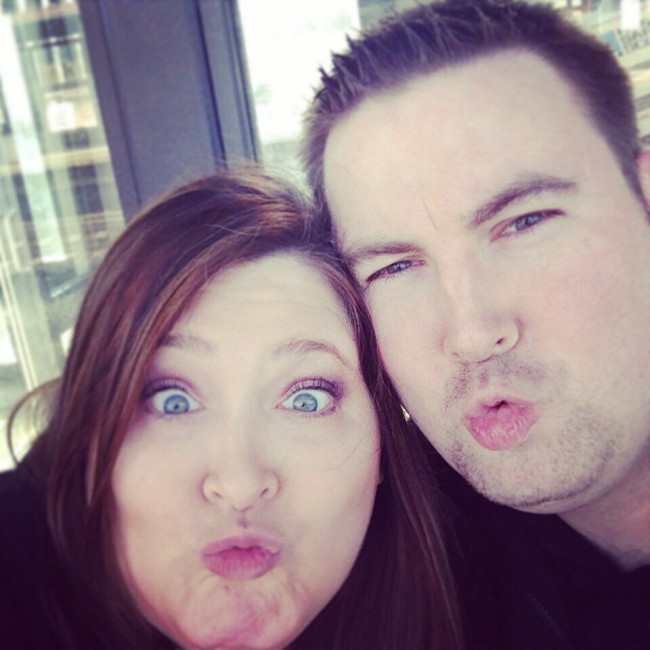 Andrew and Laura
Greetings
One of the greatest titles in the world is parent, and one of the biggest blessings in the world is to be one.
Hello, we are Laura and Andrew and we want to start by saying how grateful we are to you for considering us to be the adoptive parents of your child. We understand this adoption journey and the decisions you are making are extremely important and we are humbled that you are considering us. We believe that only a strong and brave person could choose to make this decision. We view this adoption as a journey that we are taking together. We would love to share more about ourselves, in an effort to help you in making this decision. We want you to feel comfortable with who we are inside and out. We are a loving couple that just absolutely adores children. We are happily married and ready to start our family. We are devoted to provide a loving, fun, genuine, and secure home for your child. Our relationship is based on trust and understanding so we have a strong bond. We have a stable family income and are financially secure. We have an adorable tree shaded, 3 bedroom ranch style home in a calm and quiet neighborhood in New Jersey that is just waiting for a child to make it complete. We chose our home with a child in mind. We are a short walk to schools, parks, and community pool. Our promise to you is that your child will feel safe and loved every day. Both of us have dreamt of being a mom and dad our whole life, and wanting to have a family together. It is our hope and dream to expand our family through adoption. We want you to know that if you choose us to be the adoptive parents of your child, we will cherish and honor you by providing unconditional love, guidance, patience, and unlimited opportunities to foster his or her growth and development into adulthood and beyond. Your child will always know what a brave and courageous person you are to have chosen an adoption plan. We are established in our careers, are in the position to be able to provide a financially and emotionally stable, nurturing, and loving environment for your child. Laura works in the banking field as an operations/internal support manager. And has the ability to work remotely some days giving her the opportunity and flexibility to work from home. Andrew is in management on the retail side and his schedule allows for him to be home earlier. We look forward to sharing our hearts and home, with your child. Our neighbors are friendly, and Andrew can often be found outside cutting the grass and often chatting. Our neighbors are helpful during the winter months with snow plowing the sidewalks in the neighborhood. We look forward to having in our yard a swing set, slides, and play sets for your child to grow up with playing on. The best part is we live close to Laura's mom and step dad, and they have a pool that all the family loves to enjoy in the summer months.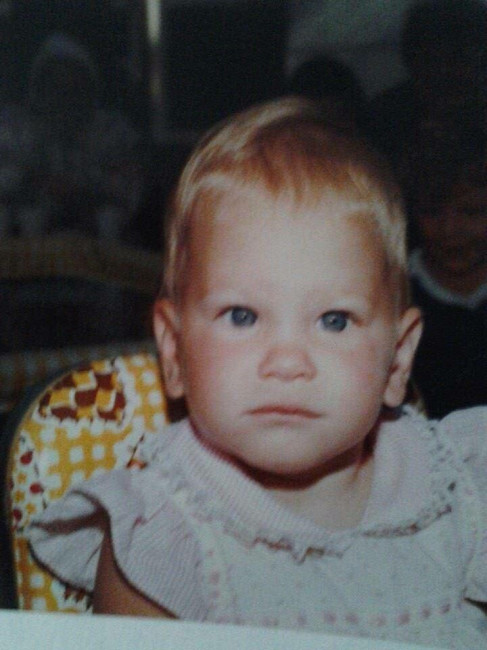 Little Laura
About Laura and Andrew
Andrew and I hope to carry through with this same tradition when we become parents
Laura grew up New Jersey and lived in the same family home throughout her childhood. She grew up with two sisters, Erica and Jessica. Laura is the middle child, and as the middle child she got to have her own unique special relationship as she was both the older and the younger sister. Laura was able to learn and grow from both her sisters and share many memories growing up. From holidays, to playing Barbie's, sharing clothes, dance parties, bike rides, and playing at the park. Laura's parents Cathy and Dave divorced but were both extremely attentive parents when raising Laura. Cathy remarried and Laura also has a step-dad John that helped raise her. Her parents have instilled in Laura respect, trust, hard work, and lots of love. Her family was very close and would have dinner together at night to regroup and discuss each other's day. Andrew and I hope to carry through with this same tradition when we become parents. This special time together was something my sisters and I looked forward to. This quality time together was also evident with her extended family around the holiday and vacations. Laura has a large extended Italian family that loves to get together for just about any reason. Laura was involved in many activities growing up such as cheerleading, and playing softball. Laura was smart and applied herself in her academics. She prides herself on getting accepted and attending Penn State University. She grew and learned a lot throughout the 4 years away at college. Not just academically but individually, and emotionally. Andrew grew up with a single mother Kathy who remarried when Andrew was 4. Andrew also has an older brother Josh who was your typical older brother, they would play outside, and enjoyed playing sports, football, baseball, basketball, wrestling, and hockey. Andrew loved baseball and played throughout his childhood and into high school. Andrew and his mom would have special time together in the evenings playing cards and just talking away. Andrew's dad loved to take him on vacations, to the beach, Disney, and day trips. They would spend a lot of time hiking, biking, and fishing. They would laugh and talk during this special time spent together. Andrew still loves being outside and enjoying the little things. Laura and I look forward to sharing these types of activities with a child as well. Although growing up with divorced parents Andrew learned his independence early on. He was hardworking as a teen and helped to establish himself financially. Because of this he was able to attend Community College.
Wedding
How we Meet...Engagement...Wedding
Andrew and Laura's dream is to one day pass the ring onto their children as a family heirloom
We met online through a dating website, and both liked each other's profile. We started emailing and then talking, and immediately hit it off. We spent every day texting, and talking and learning so much about each other. At the time Andrew lived in West Virginia and Laura was living in New Jersey. We were about 4 hours away from each other, but we both knew we needed to meet in person and see where this would take us. Andrew had never been to New York City and Laura was living in NJ which was a short train ride away from the NYC. So we set a date to meet in person. Andrew drove to NJ for the weekend and we met at the local Applebee's for the first time and had dinner. We connected immediately and the next day took the train into NYC and walked around, Laura was a tour guide showing Andrew the sites. We ventured to the Madame Tso wax museum and had a blast touring the wax figures. We had a great dinner at an Italian restaurant in Times Square and took lots of pictures and selfies together. On the train ride back to NJ we both knew we didn't want the night to end so we went out for ice cream (and learned we have the same favorite….Cookies n Cream!) and then to a late night movie. Conversations came easy and the time just flew by, we just couldn't seem to say good bye. On our last day together we ventured to the local St Patrick's Day parade. Laura was a little nervous because her family and friends were also going to be at the parade and she didn't want it to be too soon for Andrew to meet them. But Andrew instantly said if they are important people to your life then I better get used to them because they will be a part of mine. Andrew came to NJ most weekends and we just continued to grow in love. Andrew than made the decision to move to NJ to be closer to Laura. A few months later we got engaged. Andrew surprised Laura by blind folding her and bringing her to the park where they first shared "I love you." He designed the engagement ring for Laura to be a part of him as well. Its diamond setting has side sapphires which is meaningful because the sapphire is Andrew birth stone. Andrew and Laura's dream is to one day pass the ring onto their children as a family heirloom. We immediately shared the news with our loved ones and the wedding planning began. Our wedding was one of the best days of our lives. We met on March 8th and two years later got married on March 7th. We had a lot of family and friends flying, and driving in for the wedding, and two days before we had a 10 inch snow storm. Thankfully everyone was able to change plans and still make the wedding safely. We were married in Laura's childhood Church, in the presence of 150 of our closest family and friends. Although the snow was initially an added stress, it made for a beautiful back ground for wedding photos. . We ate and danced the night away and soaked up every moment we could. Everyone commented on what an amazing wedding and an amazing couple!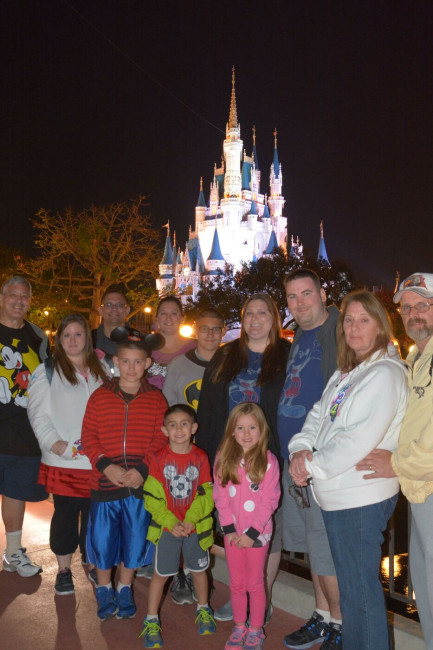 Family
Our Family...
. We look forward to the family vacation each year and it is great memories. All that is missing is a child of our own to share these activities with.
The Christmas Holiday season is all about being with family and creating amazing memories together. We love to be festive and to decorate our home inside and outside. We have three nephews Jared, Brian, and Lucas and a niece Rebecca that love to come to Aunt Laura and Uncle Andrews to help decorate. It is a special day spent decorating the tree, hanging the lights outside, and putting all the decorations throughout the house. There is always a "discussion" about who gets to be able to be the one to put the star on the tree. When the decorating is complete we all cozy up with hot chocolate, homemade cookies and watch Christmas movies with the kids. We love to create everlasting memories for the kids as they grow up. For Birthday and Christmas gifts we ask the kids to pick experiences they want to do, and we then pick an experience as their gift. We feel that spending quality time and creating lasting memories are the greatest of gifts. Laura loves to find creative ways to "wrap" the experience gift. We love to see their surprised faces. We have taken the kids on cruise vacations to the Caribbean, water parks, Trampoline Park, movies, painting party, zoo, whale and dolphin watching, sporting live events, circus, Disney on ice, Broadway shows, concerts, special sleep overs, and so much more. We look forward to being able to incorporate the experience gift giving to your child as they grow up. And the cousins can't wait to join in all the fun. Birthdays are a time to celebrate with our families and friends. There is always Birthday cake and candles to blow out and make a wish on. Laura loves to bake and has made specialty cakes for her nephews and niece throughout the years. It takes planning and the kids would be involved, by getting to choose the theme and help Aunt Laura to design what the cake would look like. The cake was always the highlight of the party and all the guest look forward to seeing what the cake was going to be. Laura looks forward to having themed birthday parties and creating birthday cakes for your child to grow up with and have great memories. Laura has cherished being an aunt from the moment her sister Erica told her she was expecting. Because of her closeness with her sisters, Laura has spent countless hours loving on her nephews and niece. Laura would spend her days off and weekends visiting the kids and just enjoying spending time with them. The little things from playing with toys, cuddles and snuggling at nap time, playing with them during bath time, and lots of kisses and hugs all day long. Then when Andrew came into Laura's world he easily transitioned into being an uncle and they both now love spending time with kids. Laura and Andrew are trusted so much by her sisters that they are left to be legal guardians to their nephew and niece if ever needed. Laura is also the godmother to Lucas and Rebecca. We are very proud of our nephews and niece and make the time to attend their special events and celebrate their accomplishments. From school concerts, to award ceremonies and graduations. On the weekends we make sure to catch a football, baseball, lacrosse, basketball, and dance/gymnastics events for the kids. We are their biggest cheerleader, and look forward to having our child involved in activities to keep us busy on the weekends cheering him or her on. In the fall we enjoy going to college football games, and going apple and pumpkin picking with our families. We are big Penn State fans and love to take a trip to the games spending time with our friends. We love to spend the time on the hay rides, corn mazes, pony rides, apple cider donuts, and jumping in the leaves. After apple picking Laura goes home and makes her famous homemade apple pie, which is her nephew Jared's favorite. And after picking out the best pumpkin we will get together and carve pumpkins together. We can end the night with a fire pit, making s'mores, and lots of laughs. We work hard all year, so we make sure to plan a few vacations throughout the year. We love to cruise and have been on bunch of cruises as a couple. We love to explore the local Caribbean islands that we visit, snorkel and see the beauty under the water, go sailing on sail boats and catamarans, and put our feet in the sand and float the day away in the crystal clear blue Caribbean waters. It is special time for us to destress from work, enjoy quality time together, and there is always some new to try on a cruise. We look forward to bringing our child on a cruise one day and hope they enjoy it as much as we do. We are driving distance to the beach. Each year we get away with our family to the beach for the week. The cousins love to play in the sand, ocean, and beach activities. We love to be in the ocean, and enjoy the waves. We also enjoy just sitting back in our beach chairs and read a good book. The hotel we stay at each year has an amazing pool we enjoy in the afternoon to de-sand. Often you will find us playing volleyball with the kids. At night we will go play mini golf, and or go on the boardwalk, watch the kids go on rides, and play games in the arcade. End the night with an ice cone and fireworks. We look forward to the family vacation each year and it is great memories. All that is missing is a child of our own to share these activities with. One of our most memorable vacations was going to Disney World. We planned the trip with our family and it was pure joy to see Disney in the eyes of our nephews and niece. Taking pictures in front of Cinderella's castle, the themed rides, parades, firework show, meeting the characters and princesses. It was a fun packed week visiting the different parks. We cannot wait to bring our child to Disney and see it through their eyes.