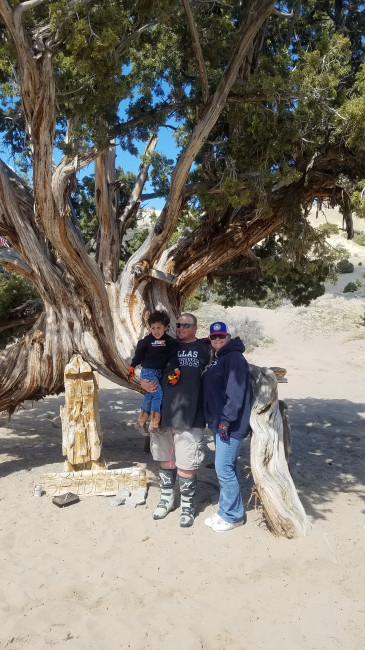 When the wind blows the sand out from below this cedar tree, the trees roots dig deep to stay alive. We love riding out to this cool tree when we are at the sand dunes. Sometimes the wind blows at our feet and we need to dig deep.
Our Family
"Ohana means family and family means nobody gets left behind or forgotten".
Hello, We are Cody, Trisha, and Colston. We have been blessed through the miracle of adoption, and would love to add to our family by adopting again! We are a fun family who love being together and spending time with our extended family and friends. We are lucky to have a close family that loves to go camping, have BBQ's, travel, and share lots of fun traditions together. Family is very important to us and we cherish each one of them. One of our favorite quotes is, "Ohana means family and family means nobody gets left behind or forgotten".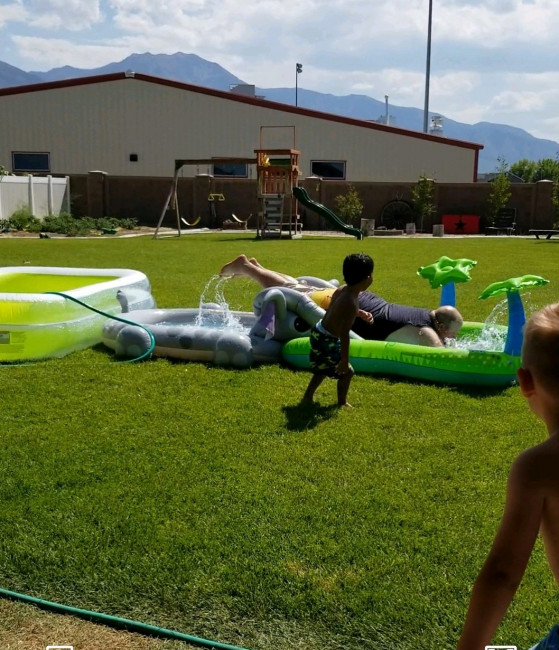 Cody wasn't going to let the little kids have all the fun.
About Cody written by Trish
Cody is so much fun to have around.
Cody is my Big Teddy Bear! He is such an amazing person with so many good qualities . He is a wonderful husband and an even better father. He is always thinking of our family and works very hard to provide for us and to make our lives full of fun. Cody is so much fun to have around. He is the favorite uncle to the little kids and to the older nephews. He enjoys running the pattern shop at the foundry where he has worked for many years. He also likes working on projects around the house and likes to work in the garage with his little helper Colston. He can fix about anything. Cody loves watching, talking, reading, and playing sports. His favorite teams are the Dallas Cowboys, the New York Yankees, and the Utah Jazz. One of his favorite vacations is when we went to Dallas Texas to watch the Cowboys play and eat real Texas BBQ. This where his love of smoking began and he came home and bought a smoker. I'm not complaining, I love his new hobby! Cody learned to speak a little Spanish in high school, but became fluent in Spanish while serving a two year church mission in Costa Rica. He loves Costa Rica and still has a close relationships with some of his friends there. Colston and I are Cody's biggest fans. We are really blessed to have him in our lives. I am super lucky that he picked me to be his wife and has stuck by my side through the ups and downs.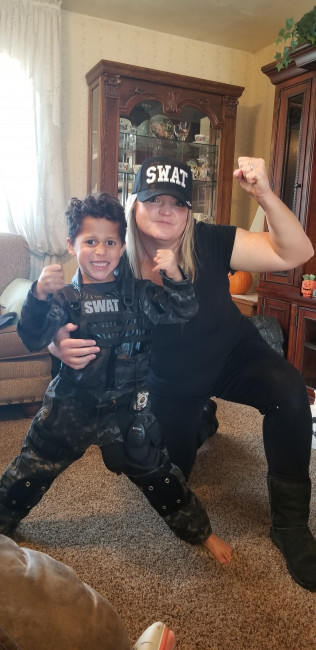 SWAT may stand for Special Weapons And Tactics, or does it stand for Sweet Woman At Times. Trish love Halloween and she loves dressing up with Colston.
About Trish written by Cody
"She is a very loving wife and mother..."
If I am Trish's "Big Teddy Bear", then she is my "Care Bear". She is such a caring person and is loved by everyone. She is very outgoing and likes to meet new people. Sometimes I joke with her about, "running for mayor", as I call it. She has a very upbeat personality, and that's what drew me to her. She is always smiling. Trish loves serving the youth and kids in our community. It has prepared her to be the mom that she is today. She is a great mom to our son. She loves him very much. Trish has always pressed forward through adversity, and I admire her for it. Trish and I get along extremely well, and I think that it stems from having so much in common. She loves to go fishing, camping, and riding four-wheelers. She also loves hanging out with the girls doing crafts, going to plays, and getting pampered at the salon. She is a very loving wife and mother, and we love spending time with her. We were always meant to be together and I'm so thankful that our paths finally crossed!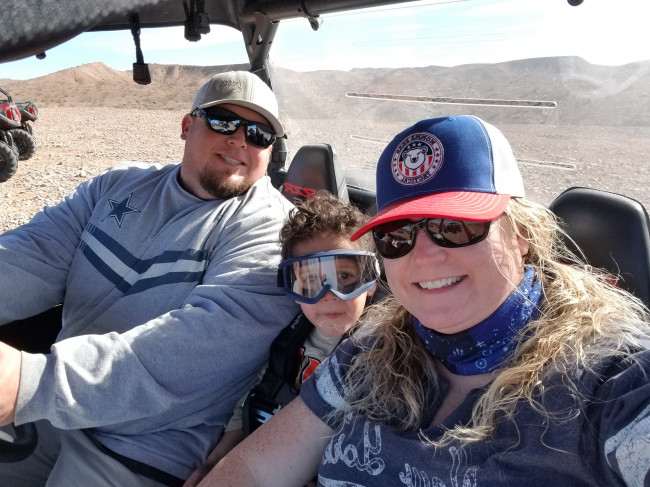 Ready, Set, Let the adventure begin!
What we are all about
"A family that rides together, stays together"
Colston has brought so much fun, love, excitement, and energy to our home! We were able to be with him and his beautiful birth mom in the hospital when he was born. It was amazing! We have loved watching him grow, learn, and experience new things. You can say our favorite thing to do as a family is ride, whether it's 4-wheelers, side-by-side's, or motorcycles. Our family motto is, "A family that rides together, stays together". We always have so much fun on our rides. We love to pack a cooler and head out for day adventures and explore new areas. Our house is always open to our family and friends, and on the weekend's your pretty much guaranteed some kind of BBQ meal. We have taken trips close and far from home and have loved the experiences, and memories we have made. We look forward to going on more adventures and making more memories as our family grows. We hope that you have enjoyed getting to know a little about us! Our experience with adoption has been very positive and we are overwhelmed with gratitude for Colston's birth parents and family. All three of us are excited to grow our family through adoption. We hope that you feel loved and supported as you make the right decision for you and your baby. Love, Cody, Trish, and Colston