Profile not found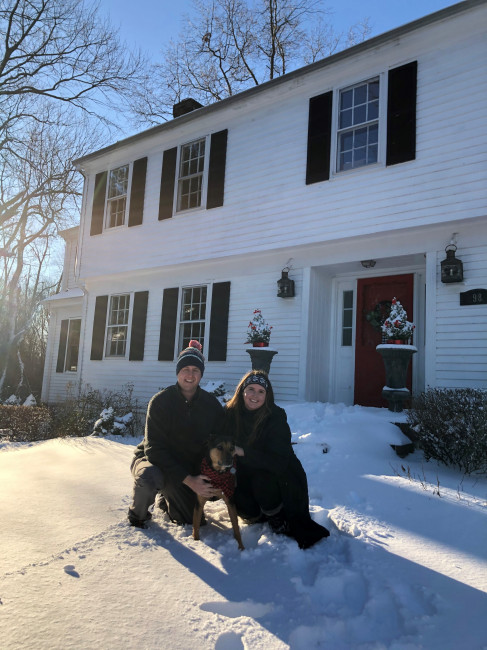 This is us in front of our new home with our sweet dog Lola.
Hello!
Words cannot express how grateful we are that you are bringing this child into the world!
Words cannot express how grateful we are that you are bringing this child into the world and considering us as adoptive parents. Although we have not yet spoken, we can say that we are truly inspired by your selflessness and strength of character for pursuing adoption. We are sure that you have many choices when it comes to your child's future, and it must be difficult to try to pick an adoptive family. Still, we hope this gives you a brief glimpse into our lives and the life we hope to provide for a child. If after reading this, you think we might be a good fit, we would love to speak with you to begin our relationship, answer any questions you might have, and hear about your hopes for your child. We love children and are so ready to become parents together. Should you choose us, we would make your child the center of our world!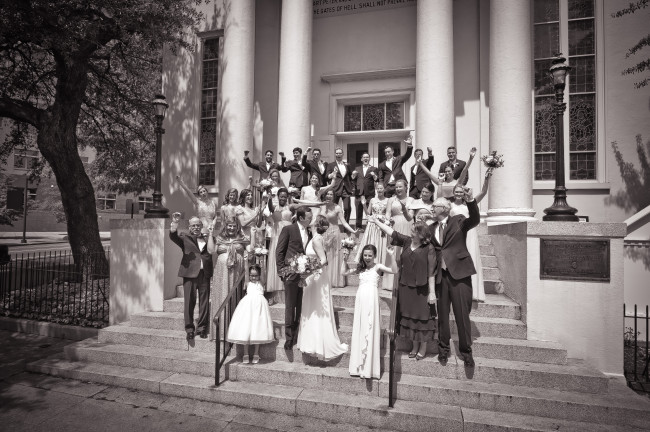 This is us on our wedding day, surrounded by our closest family and friends.
Our Dream for a Family
We are ready to begin what is sure to be the greatest chapter of our lives: Parenthood. We have always felt certain that we want a family, and even in the early days of our relationship we talked about how we wanted to adopt.
Danny and I have been in love since our early 20s when we were both living in Washington, DC. Since then, we have gotten married, moved to new cities, traveled, continued our education, and advanced our careers. We have made new friends and grown closer with old ones, and maintained close ties with our family. We thoroughly enjoyed our young adulthood, but we are ready to begin what is sure to be the greatest chapter of our lives: Parenthood. We have always felt certain that we want a family, and even in the early days of our relationship we talked about how we wanted to adopt. Having both grown up with close cousins who were adopted, we have always thought adoption was beautiful. We know that parenting will not always be easy, but we also know it will be the best decision we will ever make. We want a child because despite how much we love each other, our families, our friends, and our precious dog Lola, we still have so much more love to give. We want to raise a child to watch him or her grow, knowing that there will be times when we're immensely proud and happy, and also times when we're exhausted and frustrated. We don't think we'll be perfect parents, but we will work hard to be really good parents. We plan to raise a child to be kind to others, but to know how to stand up for themselves. We want to teach them the importance of family—both their birth family and adopted family. We want to help them to be confident in themselves, but never look down on others. We will prioritize their education and do our best to provide them with the necessary support so that they can thrive in school and their everyday life. We will encourage them to play sports and get involved in after-school activities, but we won't push too hard if it's not for them. We want to travel with our child so that they can learn about different parts of the world and appreciate other cultures. If our child has a racial or ethnic background different from ours, we will ensure that they maintain strong ties to their racial or ethnic community. We will offer them access to the city's museums and theater, but also help them to appreciate the beauty of nature. Most importantly, we will make sure they know that we will love them unconditionally and that they can always come to us with any problem they face. We're sure that we'll make plenty of mistakes, but we will do everything in our power for your child to have a happy and fulfilling life.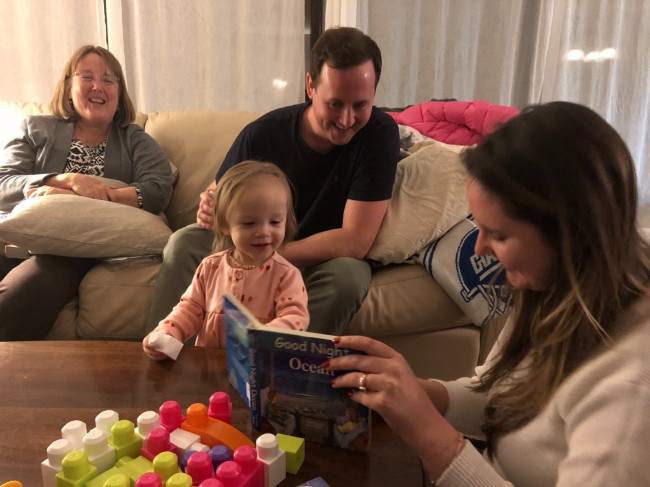 This is us reading to our niece Susan. We look forward to reading to our child every night before they go to bed.
About Us
We can't help but recognize how lucky we were to have such happy childhoods and have parents who did everything they could to prepare us for life's many challenges. We will do everything we can to create the same environment for your child.
Danny and I grew up in different parts of the country and, at first glance, it might seem like we had very different childhoods. I was born in Brooklyn, New York and spent my early childhood playing in New York City playgrounds with my brothers, riding the subway to museums for school trips, and setting up lemonade stands on the sidewalk with my friends. Danny grew up in a rural part of Chesapeake, Virginia, where he spent his childhood exploring the fields and woods in his backyard, playing soccer and basketball with his brothers, going to the beach anytime he could, gardening/farming – both at work on a blueberry farm, and helping an elderly neighbor who had a large vegetable garden. I like to joke that he grew up very much like Huckleberry Finn or Tom Sawyer. However, despite growing up in different parts of the country, our upbringings were the same in all the important ways. We were both raised by parents who have been married for decades and worked hard to provide a loving and stable environment for their children. Our parents stayed up late to help us with homework and woke up early to bring us to countless soccer tournaments or swim meets. We both have two brothers—Tim, Patrick, James, and Liam— who we played with every day (and occasionally fought with) as kids. As we've grown up, our brothers and their significant others—Alice, Kendall, Grace, and Jillian—remain our closest friends. We don't want to paint the picture that our childhood and adolescent years were perfect, because they weren't. We both were grounded by our parents for missing a curfew, had to go to detention for misbehaving in school once or twice, had our hearts broken by a crush, felt the disappointment of not making the varsity team or getting the lead role in the school play, and mourned the loss of relatives who passed away. However, looking back on it all, we can't help but recognize how lucky we were to have such overwhelmingly happy childhoods and have parents who did everything they could to prepare us for life's many challenges. If you choose us to raise your child, we will do everything we can to create the same environment for your child. Danny and I both ended up in Virginia for college. We both loved college. It's where we made some of our best friends and where we had our first taste of independence. We are both extremely grateful that our parents provided us with the opportunity to go to college, and this is certainly an experience we would encourage and support for your child. Danny and I met shortly after we graduated from college when we were both living in DC. We were set up by our mutual friend, Maryam, who would one day be a beloved bridesmaid at our wedding and remains one of our closest friends. The first time we met was at a restaurant where we were quickly introduced, but then ended up sitting on opposite ends of the table distanced from each other. Maybe it was because of how much Maryam had talked up Danny or maybe it was "love at first sight" (as cheesy as that sounds), but I honestly felt from the first time I saw Danny that we were meant to be together. Despite not being able to talk to each other at dinner, Danny found his way over to me at the end of the night and got my contact information. The next weekend he invited me to a fundraiser, and a concert the weekend after that. Then I asked Danny over to my apartment for dinner. I wanted to impress him so I decided to make a big seafood feast. It did not go as planned! The dinner was definitely overcooked and tasted horrible, but Danny ate every bite with a smile on his face. From that point on it became clear that we were "boyfriend and girlfriend" and, lucky for him, my cooking has since improved. Our first couple of years dating were fun and easy. We both lived with our respective roommates, but spent as much time together as possible. We brought each other home to "meet the parents." We went to sporting events, concerts, and plays. We hosted "FriendsGivings", backyard barbeques, and just enjoyed being young and relatively carefree. After being in the same job a few years though, I started to feel like I was ready for a change and wanted to pursue a career in public health. Danny was incredibly supportive and encouraged me to apply to graduate school, even if it meant moving to a new city. After many anxious months, I was accepted to a graduate program in New York City. We weren't sure if we would like living in "the city," but quickly realized that we absolutely loved it! Not long after I finished graduate school, Danny popped the question. I knew it was coming, but Danny threw me off guard the night of by his cool and calm demeanor. We went to a restaurant that was a little nicer than one we would typically go to, but it was New Years, so I just thought we were celebrating. After a great dinner laughing about old times and talking about future plans, Danny got down on one knee and asked me to marry him. The answer was, of course, Yes. I knew that he is the love of my life. I knew he would always be there for me and that, even through all of life's ups and downs, he would always be able to make me laugh. We got married the following Spring surrounded by our closest family and friends! It was truly the best day of our lives! Our first apartment together was a TINY studio in New York City. Despite a total lack of space for two humans, we decided to adopt a puppy. When we first picked up Lola, she was malnourished and had kennel cough, but quickly grew into a strong and sassy pup who has us completely wrapped around her finger (or, paw). She LOVES people, especially my parents, her "Uncle James," and her little "Cousin Susan." Living in the city, she was able to interact with children on a daily basis and we have no doubt that she will be sweet, gentle, and playful with a "little brother or sister." After living in New York City for seven incredible years, Danny and I finally decided that it was time to move to the suburbs in Connecticut. A big part of why we moved was because we wanted more space for a family. Every house we looked at we tried to imagine what it would be like for children to grow up there. After looking all summer we finally found our home. It is a classic colonial-style house, with a big front yard to garden or play games in, a pool to swim in during the summer, a beautiful pond to watch the sunset over, and a cozy living room with a fireplace that is perfect for curling up in to read a book or watch a movie! There are a ton of children in the neighborhood, and it is located in one of the best public school districts in Connecticut. Shopping, restaurants, beaches, lakes, and hiking trails are all nearby, and New York City is only one hour away. Danny and I love to travel. Whether it's going to see our family in Virginia, San Francisco, or Miami, swimming on a beach somewhere, discovering new cities and their histories abroad, or hiking to see natural wonders of the world, the ability to travel is something we really cherish. We would love to share these experiences with a child when they are old enough. Probably one of the first trips we will take with a child will be down to the Outer Banks in North Carolina, where both of our families have spent summer vacations since we were little. Typically our family will rent a house that's roomy enough for us to all stay in, and we just hang out and play on the beach all day, take turns cooking dinner, and play board games or watch a movie at night. During our last family vacation in the Outer Banks, we not only had our niece Susan in the house, but also Danny's little cousins Grayson and Harper. The aunts, uncles, and grandparents are certainly ready for more children! In addition to traveling, Danny and I love to spend our free time hanging out with our friends and family, hiking with our dog Lola, cooking, going to New York City to see Broadway shows, concerts, and museums, going to baseball games, and going out to restaurants for lunch or dinner. We also enjoy down time to read more or watch a new TV show. We are excited to add Disney and Pixar movies to our "must watch" list once we have a child! Danny and I are fortunate that we both have rewarding careers that offer the flexibility to work from home. When I first started working from home, our friends would ask, "don't you get sick of each other?" Maybe we're crazy, but we love it! It is so nice to be able to take a quick break from work to tell Danny about something that just happened or ask for his advice. I think this work-from-home environment will be great for having a child. We will of course hire great people to help us with childcare so that we can focus on our jobs for parts of the day, but it will be so nice to take breaks from work to check in with our kid or be around to greet them when they get home from school.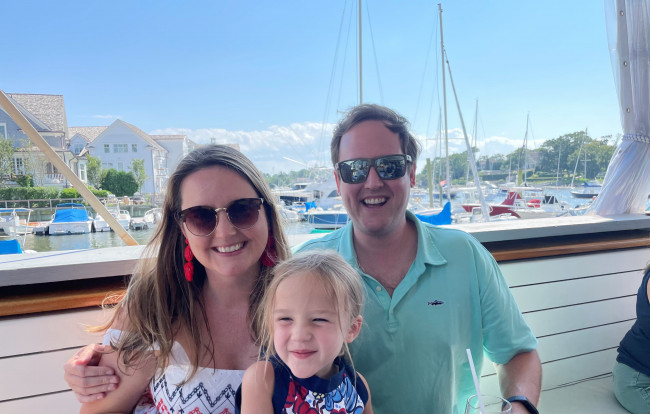 This is us with our precious niece Susan. She can't wait to have a cousin!
Thank You
We would love to talk to you over the phone so we can get to know each other better and hear about your hopes and dreams for your child.
We hope that this page gives you a small idea of who we are and the life we want to give to a child. We would love to talk to you over the phone so we can get to know each other better and hear about your hopes and dreams for your child. Please feel free to call or text us at 475-529-5592 or email us at DannyandGennaAdopt@gmail.com. If you have any questions about the legal process, please feel free to contact our attorney, Suzanne at 1-800-255-1415. Thank you again for all that you're doing to bring this precious life into this world. Regardless of who you choose to be your child's parents, we wish you the very best of all good things. If we are fortunate enough to raise your child, please know that we will remind them every day how much you love them, how much you sacrificed for them, and what great care you took to find them a loving family. Best Wishes, Genna & Danny