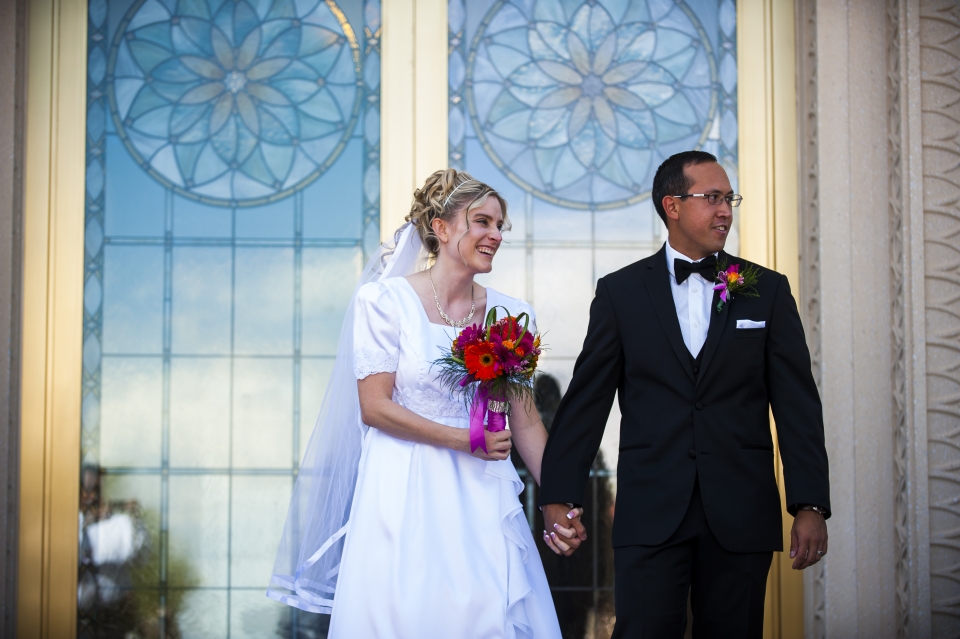 Husband and Wife at last!!!
Our Family
This is a snapshot of our family
Dear friend we have never met, First, we want to say how much we admire you. We hope you find strength as you face whatever challenges come. We wish that we could give you a big hug. Thank you for taking a moment to read about us. We don't want to portray that we are perfect. We hope our letter gives you an idea of the love we have to share. Hannah sharing: I grew up in Wyoming. I have 1 younger brother. We were best friends growing up and continue to be close. My family owned a motel and we also had a ranch that we ran cows on. My parents were supportive and encouraged me to do a variety of things. I have many fond memories of being on the ranch in nature and learning life lessons. Education was very important for me and my brother growing up. I also grew up loving animals and music. I had cats, dogs, rabbits and fish and I loved them so much! I love playing the piano and want to share this with our children. I have been working as a counselor since 2003 for the same company and I love my job. Greg sharing: I grew up in Minnesota. I have 1 older brother. I grew up loving music, I played guitar and participated in some sports including tennis and did some surfing too. I was also a skateboarder at the time. I loved the snow activities in Minnesota and spent a lot of time with my friends camping. I finished a Bachelor's degree in Public Health and was studying medicine this past year. Hannah and I made a decision to have Hannah work full time and I stay home with our children, Claire and Lex. Her income is stable and she has good benefits so we felt this was the right move for our family at this time. As far as things I like to do, I enjoy movies and staying active. Hannah and I like to exercise in many different ways. We like going on hikes or doing HIT workouts or doing the elliptical. Of most importance to us is our spirituality and faith. We go to church every week (when it isn't Covid), pray together and look for opportunities to help others. When I first met Greg one of my first questions for him was , "How do you feel about adoption?" He quickly said, "I know families are created in many ways. I am good with adoption." That was very important to me because I wanted someone who could love adoption like I do. We were married in September of 2014 and adopted Claire in September of 2015 and Lex in February of 2017.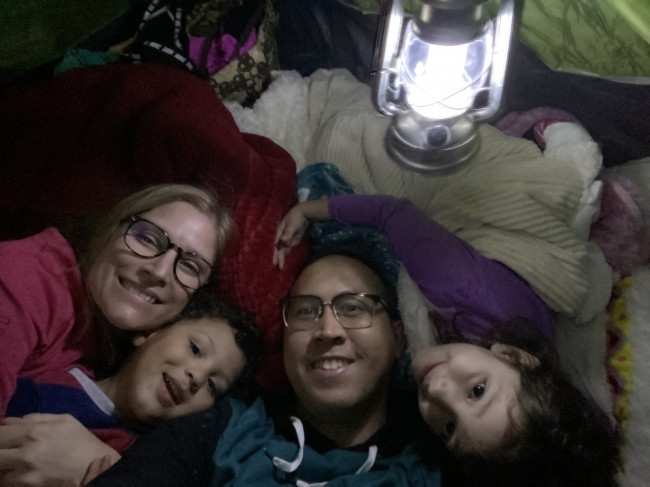 camping fun!
Camping adventures
This was our first camping trip.
What we do together: Greg and I feel that our children are our highest priority. We want them to always know that we love them and will help them as much as we can to be successful in whatever they pursue. We also look forward to camping with our children and taking trips. Claire and Lex love "road trips" We moved to Alabama in June from Arizona. We are excited to explore the South and visit fun places. We have a pass to the zoo and the children's museum which are places we go regularly. We love the time that we spend together. We both love cooking and trying out new restaurants. We also want to give our children opportunities to try things and find what they love and are passionate about. Probably our children's favorite time is "Daddy time." They love wrestling and playing chase with Dad. They exclaim, "Daddy!" and jump into his arms for a hug and a kiss. We are a family of hugs and we spend most of our time doing things as a family. We have a unique scenario because Hannah works from home so we can be together and see each other throughout the day. This was our first family camping trip in November. Claire and Lex loved it!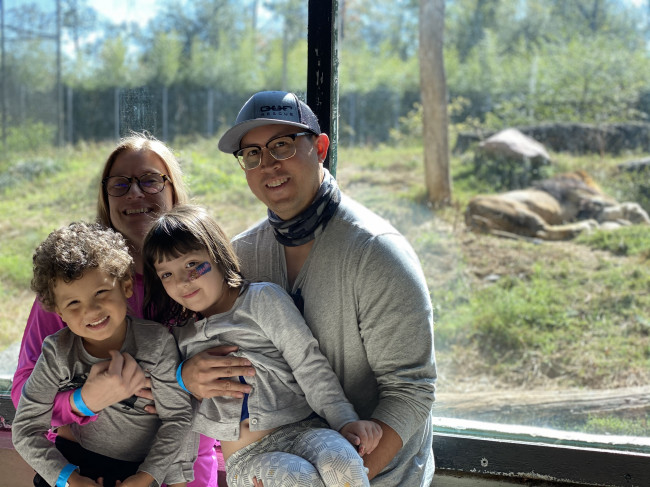 by the lion's exhibit
Zoo
one of our favorite places
Why we want to adopt again: The short answer to the question is, "We want to have as many children as we can." For me (this is Hannah speaking), my only desire since a young age was to be a Mother. I want to be there when our children learn new things and need comfort. I want to be their cheerleader in whatever they are doing. Greg and I were foster parents in Arizona for 2 years. We had 8 babies ranging in age from newborn to 13 months old. We loved them so much and keep in touch with their parents. It was hard to leave our last placements when we moved. Since we have been in Alabama we felt that God was leading us to pursue adoption again. So here we are. From Greg: We have never done any infertility testing and Hannah has never been pregnant and we are not sure why. We know that more children are waiting to join our family, we just need to find them. We feel so blessed by adoption already. Claire and Lex have been the greatest blessing to us. We don't know what it is like to have biological children, but we know that our love for Claire and Lex has been completely natural from the beginning. Our families and everyone around us love Claire and Lex too! They are excited for us to adopt. Hannah's parents have both passed away, but we have a few adopted grandparents who have filled in and they adore Claire and Lex. Greg's parents are very involved in Claire and Lex's lives as well. We have an open relationship with their birth mothers, Ashlee and Hailey. We really love them! We talk, send text messages and emails. We also have visits as time and distance allows. We welcome the involvement of our children's birth families. We feel it is a blessing for them to have so many people that love them. We know that not every birth mother prefers an open adoption. We will do what she considers comfortable the next time we adopt. We have a zoo pass and go regularly. We recently went to the zoo lights at night. It was cold, but so much fun!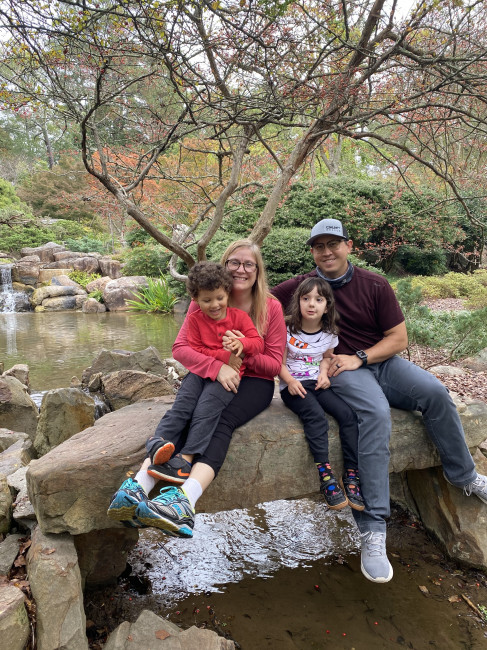 the koi fish were the best!
Botanical gardens
the Japanese garden
We love traveling and visiting places. We want to share special places with our kids and make memories. This is a snapshot of our family. We have so much more in our hearts to share. We are happy to talk with you personally if that would help you to know us better or if you just need someone who cares to listen. With love, Greg and Hannah 602-363-8532