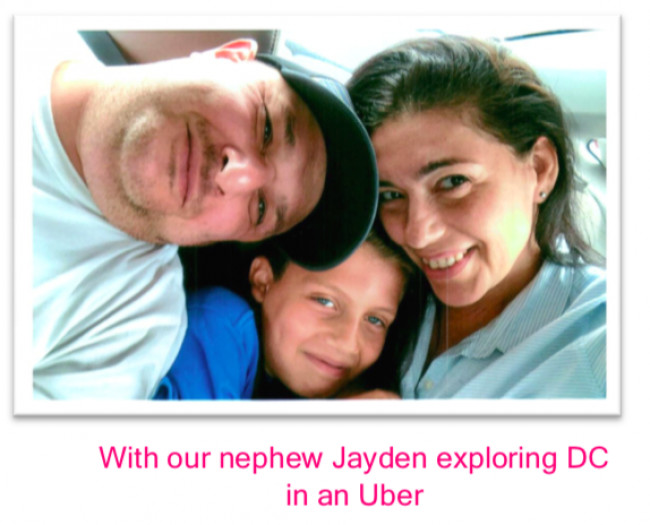 With Our Nephew Jayden
We would be thrilled and honored to devote our lives to your child.
We love children and our greatest dream is to become parents together. We are emotionally, logistically and financially ready to become parents.
Hello: We would like to introduce ourselves to you and thank you for taking the time to learn a little about us. It has always been our dream to be parents. When we discovered that we would not be able to have children on our own, we thought there must be a special plan out there for us. With the support of our family and friends, we decided adoption is the way we are meant to become parents. Your strength and bravery humbles us, and we are honored that you are considering including our family as part of your decision and giving us the gift of adopting your child. We understand that this is a difficult and emotional time in your life right now and we would like to be there for you if you would let us. We love children and our greatest dream is to become parents together. We are emotionally, logistically and financially ready to become parents. About Us / How We Met I still remember the day Brian and his family moved next door to us. It was the summer before 2nd grade and we quickly learned that we had similar interests and became good friends. Growing up next door to each other was so much fun. We used to call out to each other through our open kitchen windows. We continued to be friends into adulthood despite moving across state lines. Sure enough, we both found our way back to NY where our friendship grew into what is now an unbreakable loving partnership. The rest is history...well, not exactly. More than anything, we wanted to devote our lives to raising children together, and things didn't quite work out as planned. We discovered we were having fertility issues, and went through testing and treatment which ultimately was ineffective. We came to realize that we didn't need a biological connection to a child. What we wanted was to be a family and that's when we knew that adoption was the path we were meant to take. We are very close with our nieces, Dahlia (20) and Maya (17), and our nephew Jayden (10). We've played a huge role in Jayden's upbringing and are eager to raise a child. We would be honored and thrilled if you decided that we would be your child's adoptive parents. We look forward to being good role models for your child and show our kindness and empathy, honesty, love, and respect. We are a couple of foodies and enjoy watching The Food Network and then testing our chef skills in the kitchen. We recently discovered cycling and have become avid cyclists, participating in Cycle For Survival multiple times. We love to travel and explore different cultures. We look forward to traveling as a family and teaching your child about different cultures. We both speak Russian and Jenny speaks some Spanish as well. Brian is still trying to perfect his handful of go to Spanish phrases. Much of our downtime is spent attending soccer games and practices for our nephew Jayden. We're his biggest cheerleaders. About Jenny (written by Brian) Jenny, or "My Jenny" as our nephew likes to call her, is truly an amazing woman. She is determined- when she has her sights set on something, she is going to work hard to achieve it. My selfless wife Jenny gives her spare time helping family and friends. When our nephew Jayden's parents fell on hard times, Jenny arranged where she would work part time so she could help care for Jayden. She takes him to school every morning as well as soccer practice, and be his advocate. Elizabeth, Unfortunately, Jenny's sister Elizabeth and her ex-husband have not been able to raise Jayden and so he lives next door to us with Jenny's amazing mom. We are lucky enough to be a part of Jayden's daily life. Jenmy is a kind and warm person with a lot of love to give to your child. I am truly a lucky man because not only did I find the love of my life, even though it took me twenty five years to realize it, I married my best friend, the girl next door- The one I met at the age of seven when we moved in next door. She loves to bake cakes, especially on people's birthdays. I always tell her to just buy one but she insists on baking it from scratch, and you can taste the love she puts in it AND they are usually healthy. She is a true caregiver, both professionally and in her personal life. Jenny is a very successful Occupational Therapist and works with patients who are cancer survivors or going through treatment. I remember her saying what a great feeling it is when a patient says they are feeling better or when they are able to do something now that they couldn't before. At home, she helps out her mother and our nephew Jayden's daily schedule- from soccer to homework except for math, that's my job. She does this all while studying to improve her skills as a therapist. She is always there when a friend needs a shoulder, no matter what. I know that Jenny would be a great mother because she is incredibly loving, caring, and nurturing, and I am proud to call her my best friend and wife.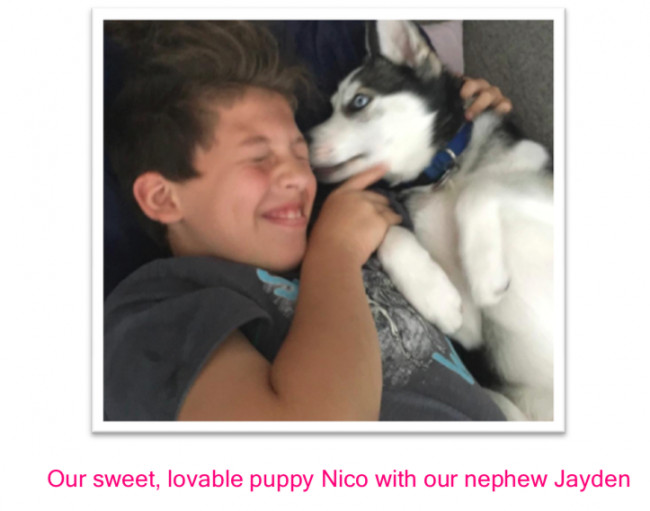 Our puppy Nico is soooooo sweet.
We both have always hoped to be parents. We are not able to have children on our own.
To us, a child would be the greatest gift.
About Brian (written by Jenny) Brian is the most thoughtful and selfless person I know. He is incredibly kind and will give you his right arm if you needed it. I remember a time when he gave up a lot to care for his parents when they needed him most. When I am sick, he drops everything to take such good care of me. One time when I had the flu, you would think that as an avid golfer, he would much rather go golfing with his friends on a planned trip than stay home to take care of his wife...Not my Brian even with me Mom living next door to us. He wanted to take care of me. He made me tea and food and took my temperature and made sure I was comfortable all day. Brian has a very successful career in the Construction and Building Industry with a flexible schedule and a strong work ethic. He enjoys what he does even though it can be really tough work. He can often be found helping the newer people who work for him. His favorite part of the job is tackling a challenging task. He works with a great group of people and always looks forward to coming to work. Brian is great with kids. Our ten year old nephew thinks the world of him. Brian is very hands on with our nephew Jayden or Jay as Brian fondly caand loves spending time with him. He especially loves exploring new places with Jay. Our most recent trip was to Boston, where Jay got a chance to be involved in a remake of The Boston Tea Party- It was so exciting. Our friend's little boy just started calling Brian his "best buddy"! Can you imagine?! So cute! I know Brian will be an incredibly doting father, showing patience and providing encouragement at all times. I can't wait to hear the pitter patter of little feet running to Brian and yelling, "daddy, daddy". Our Home We live in a beautiful, safe,friendly multi-cultural neighborhood in New York City. New York City might sound like its huge but our neighborhood is really a community and feels like a small town where we know our neighbors and the store owners. There are many children in the neighborhood with whom your child can play. There is a really good elementary school three blocks away and other great schools within walking distance. There is a playground a few blocks away and two parks, each within a ten-minute walk from our home. There are a variety of restaurants in our neighborhood. This is really a nice way for kids to grow up. There are also many activities available in the neighborhood including bowling, a library, a soccer club, and a baseball league...everything else is just a short ride away. We also love taking car rides for trips like going to the waterpark or a weekend escape to country in The Catskill Mountains. We are so excited to be able to set another place at our dinner table in the kitchen. We have a nursery prepared for and look forward to adding personal touches when we are lucky enough to adopt.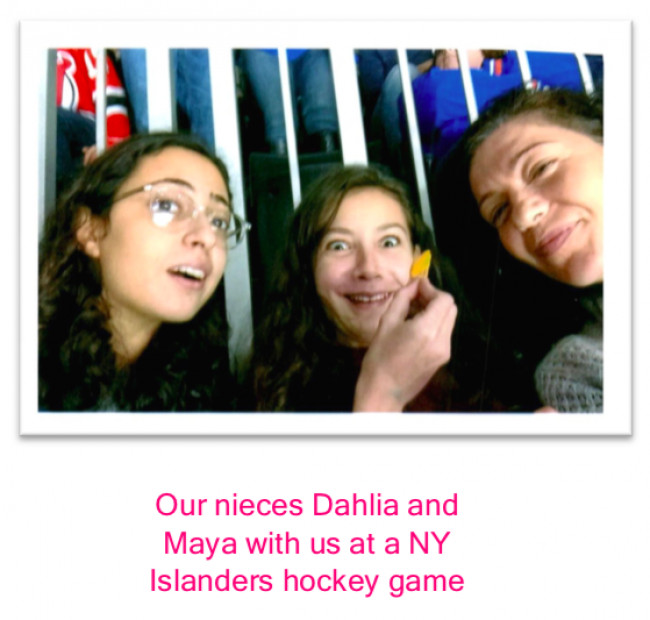 We love taking our nieces and nephew to professional sporting events.
Family and Holiday Celebrations are very important to use.
We have a family goal of watching professional soccers games in every MLS stadium.
Holidays / Celebrations Holidays, dinners and weekends are spent with our family. Brian's brother Art and his wife Samantha live in the city too and we have a great relationship with them. They are so excited for us to adopt. We see them a lot and would love to spoil your child. We're very close to our nieces (Art and Samantha's daughters) Dahlia and Maya. We've been a big part of their lives growing up. We just took our nieces out for dinner. We flew to North Carolina to visit our niece Dahlia in college. Now that they're older, they are so excited for a new baby cousin to dote on.:) Birthdays Birthdays are special in our family- We do sweet little things all week long in celebration of the birthday boy or girl. We decorate our home with balloons and open birthday presents. A special birthday breakfast is prepared and then in the evening we go out to dinner to one of our favorite restaurants with our family. Thanksgiving Thanksgiving is definitely one of our favorite holidays and we love to host in our home. We decorate our home in a festive way with seasonal flower arrangements and our nephew Jayden helps make paper turkey cut-outs. Our families come over and gather in the living room- It's usually about 15-20 of us. Our nieces, Dahlia and Maya, love to help out in the kitchen. Half of us enjoy watching football, while the other half watches the Macy's Thanksgiving Day Parade. We look forward to taking your child to the Macy's Day Parade one day and seeing the expression on his or her face as the floats go by. We always make too much food; Jen uses this as an opportunity to test out new baked goods in addition to our traditional desserts of course. Everyone always leaves with a little extra dessert for later. Christmas Everybody always looks forward to Jen's home-made cinnamon rolls and rainbow cookies on Christmas. We love watching the excitement on our nephew's face when he opens his presents on Christmas morning. He recently came to the conclusion that Santa doesn't exist and we can't seem to convince him otherwise. He calls Brian "Uncle Santa" (LOL). We love to stroll through Manhattan at Christmas-time of year and see all of the decorations- You can feel the holiday spirit all around you. We can't wait to take your child to Rockefeller Center to see the tremendous Christmas tree and the ice skaters, and also Radio City Music Hall to see the Rockettes. A Trip To The Apple Orchard With Our Nephew Jayden One of our favorite Fall traditions is taking our nephew Jay to the orchard every year. We always have so much fun and eat way too many cider donuts. On our ride home, we try to come up with different ideas for how to prepare the apples we have picked. Our nephew Jay would really love to have a baby cousin to bring with us to the orchard for an annual day of apple picking fun. New Years Every year, we celebrate the New Year by having a special dinner and watching the countdown to the ball drop on t.v. Our nephew Jay insists on noise makers and we make it special by wearing hats, decorating, and making a special drink to toast with- Last New Year's, our drink of choice was orange, mango, and pineapple juice. The following day, we all go out for brunch at one of our many favorite restaurants. Summers We spend our summers in the Catskill Mountains of upstate NY where we rent a small home called a bungalow in a bungalow colony. It's so much fun and beautiful to be outdoors, the air is so fresh. Our nephew Jay looks forward to going upstate all year long. Other than being home to the largest private pool in New York State, there are so many things for kids to do - It is truly a kid's paradise. Jay stays up there all summer with Jenny's mom, Maria, and we come up on the weekends. It's a summer great getaway! Halloween We love celebrating Halloween with our nephew Jay. The last few years, Jenny has been hand making our nephew Jayden's costumes with Jayden's assistance of course. She did such a great job, that Jay won the award for best costume last year- He was a Minecraft Enderdragon. Jenny also takes this opportunity to bake holiday cookies for Jayden's class at school. We love doing all of these activities with Jay and can't wait until we are parents to do this. We look forward to celebrating holidays and traditions as well as every milestone with your child. Our families are beyond excited and can't wait to shower him or her with love and attention. Especially our nephew, Jay. He is over the moon about having a little cousin. Nico The Klee-Kai We recently became the proud fur parents of a Klee Kai puppy. He is now five months and has been in our home for the past three months. He is the sweetest little guy. He is also very intelligent and incredibly friendly and loves kids. All of the neighborhood children love Nico and Nico loves all of the attention he gets. Travel We love to travel and explore new places and plan to bring your child on lots of fun trips. Whether by car or plane, we always discover great local activities, culture, and food. One of Jenny's favorite travel memories is exploring the Grand Canyon. One of Brian's favorite memories is exploring the forts in Puerto Rico and learning about the role they played in history. Brian also tries to pick up the language and has successfully learned his few go to Spanish phrases. We also enjoy chatting with the local people. We enjoy taking road trips to different places. Our top two favorite destinations have to be Maine and Massachusetts. We loved exploring Cadillac Mountain and learned to stand up paddle board in Maine, and always find a local treasure in Boston and Cape Cod when in Massachusetts.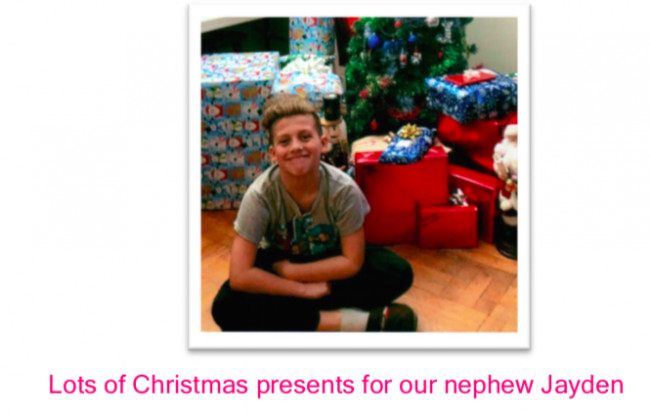 We love Christmas!
We would give your child the best life possible.
We would love to learn more about you and your goals and dreams for your child.
Thank you Thank you for taking the time to read about us and learn a little bit about who we are. We hope that it has provided a glimpse into our world and demonstrated the love and stability that we have to give to your child. We are so excited to open our hearts and our home and devote our lives to your child. We can't wait to take your child to the beach and build sandcastles together just like we do with our nephew Jay. We also look forward to playing soccer at the park- We know our nephew Jay would be more than happy to pass on his soccer skills. Please accept our promise to support and encourage your child's dreams. We look forward to providing unconditional love, emotional and financial support. We will love, protect, and celebrate your child, providing everything in our power so he or she can be anything they want to be. We want to thank you again for considering our family in your adoption journey. We would love to learn more about you and your goals and dreams for your child. Please feel free to call or text at: 1-800-362-7842. You may also feel free to email at: email@jennyandbrianhopetoadopt.com . Should you have any questions about us or the legal process, do not hesitate to contact our attorney. Suzanne is easy to speak with and happy to take your call. We wish you peace on your journey and hope to connect with you. Love, Jenny and Brian