Kaylon & Erin
Hoping to Adopt
(Colorado)
Thank you!
---
We know, without any doubt, that Family is central to God's plan and we deeply aspire to be parents.
---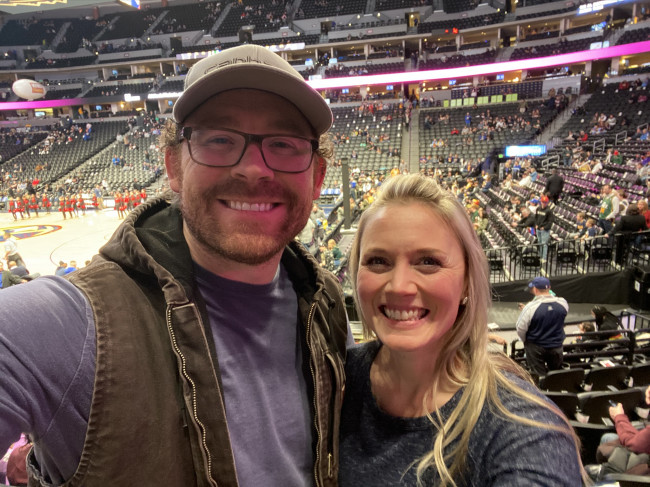 We are so lucky to be each others' best friend.
Thank you for choosing to learn more about us! Deciding what to write to you is perhaps one of the toughest things we have ever had to do. The journey to adoption is paved by a lot of difficult emotions. The path for us to get here has not been easy. The path for you has been no less difficult. We cannot imagine the weight of the emotions you are experiencing and decisions you are navigating. But we want you to know that we love you for sacrificing so much to bring joy to the lives of others…to a family and to your child. It is you who will provide us with a miracle in our life. We hope to share a little bit about our story, our love, and our life with you. Family is one of the most important things in this life, and family is one of the reasons you are here today. We know, without any doubt, that family is central to God's plan and we deeply aspire to be good parents; a mother and father to little ones that we can love, nurture, protect, and provide for. We know that selecting the right family for your child is very important , but also very difficult. We feel very honored that you would spend some time getting to know us. When we got married, we were always surprised at how long others would wait to start their family. We knew that we got married not only because we were best friends…but because the priority in marriage for us was to raise a family together. This life is about serving one another, and how better to serve than in having a family, to love, to nurture and to care for.
About Our Family
---
Our hearts have been opened to the miracle of adoption and we can't wait to increase our family, our love, and our adventure!
---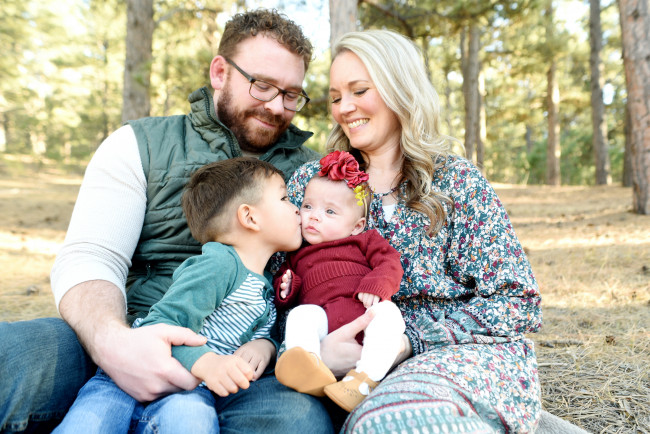 First official family photo with Macie!
We met in May of 2011 at church. We knew our relationship was special within weeks and 5 months later we were married. We are best friends; we truly enjoy the time we get to spend with each other. We live in a beautiful town in Colorado, south of Denver. We love spending time with family and friends, riding bikes, hiking, camping, four-wheeling, and trying to stay active within our community. We love to go out on our weekly dates, but down time is fun too…give us a movie marathon and we are happy as can be. We love to visit new places, love going on trips, and count down until our next family visit, road trip or vacation. We really just love getting to spend time together. As soon as we were married we set out to begin our journey as parents. We waited. And waited some more. Months turned into more months and that soon turned into years. With prayer and faith we approached our options through fertility specialists and did all we could to reach our goal of being parents. We have been married almost 11 years now and our goal of growing our family has not diminished. We know without a doubt that through adoption is where our family will grow. Our adventure to parenthood took a large leap November 2018 and again June 2021. We received two emails that changed our lives… In 2018, there was an 11 month old baby boy (Emmett), in foster care, in search of a forever home. And in 2021, a single mother (who we now love as family) contacted us in search for a family for her unborn baby girl (Macie). Emmett is fun, outgoing, silly, tough, BUSY, oddly articulate, loves motors, wrestling his dad, and absolutely adores his little sister Macie. Macie is tough (born at 27 weeks), sweet, vocal, and just a complete doll. Our eternal family continues to grow and our hearts are full due to miracle of adoption. We can't wait to increase our family, our love, and our adventure. About Erin - by Kaylon :) Erin has two bachelor degrees and her favorite movie is books! She has a BS degree from BYU in Geography, and a BS in Dental Hygiene from the Utah College of Dental Hygiene. She's always been a nearly perfect student; thank goodness one of us was! Erin is a Dental Hygienist at a great office just 15 minutes from home. Now that she is a mom, she only works 1 day a week so she can spend more time with our growing family. She loves the opportunity to help and serve those she cares for; at home and at her work. Her patients and the relationships she builds with them motivate her every day to be her best. She is fiercely loyal, an energizer bunny, compassionate, and intelligent! She is my best friend. Some of Erin's favorite things are reading a new book, making goat milk soap, gardening, cooking, baking, and meeting a good friend for lunch. With Erin, everything she does is done with a personal touch. A "Thank You" usually comes in the form of a handwritten letter or homemade card. All her friendships are sincere and full of love. She brings that same energy, attention to detail, and personal touch to raising our children. I love her and can't wait to see her continue to fill that role. About Kaylon - by Erin :) After 5 years in the Army and 27 month's deployed overseas, Kaylon decided to transition to civilian life and pursue a BS in Business from the University of Colorado at Colorado Springs. Kaylon works in Asset Management and Real Estate where he gets the opportunity to improve processes, build relationships, and breath fresh air into buildings. He is incredibly talented and excels at anything he does, from home projects to athletics. Kaylon is driven, bold, strong and caring with a unique gift of being aware of those around him. Kaylon loves to hunt, so he can feel the satisfaction that he is literally putting food on our table! He also enjoys tinkering and working on any machine, from his truck to our mower. Kaylon has a knack for making anyone feel at home and comfortable. Being around Kaylon you can't help but have a smile on your face. A great quality that Kaylon has is that of selfless service. He will drop anything to go help a friend or family member. No questions asked. One of my favorite things to do is to watch Kaylon play with Emmett and Macie. He has so much love to give and it brings me joy to see him as a father.
The Beautiful Journey to Build Our Family...
---
Your child will be so very loved by us.
---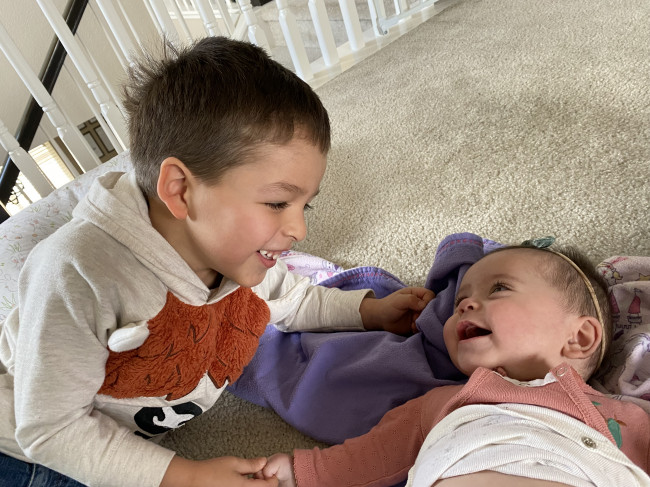 Emmett & Macie love being together!
Family is everything. We have both been blessed with incredibly loving parents and siblings. We enjoy spending time with our extended families and try to see them as often as possible. We value and cherish our close relationships with our Parents, Siblings, Nieces, Nephews, and extended family. "Family - We may not have it all together, but together we have it all. " We know what a huge decision awaits you and we want to thank you for giving us a chance to have a miracle in our lives. The Lord has a hand in all things in our lives. We know that Emmett and Macie were saved to be a part of our eternal family, and that the Lord has more in store for us. We have faith. Your child will be so very loved by us. We can't wait to meet you, and we can't wait to continue to build our family. Kaylon & Erin