Day after Thanksgiving is as long as we can wait….making a little Gingerbread house after decorating our house!
Apple Pumpkin Spice Fall
Oct 18, 2021
Enjoying the cooler weather with our pals and the annual orchard trip!
Back to School
Sep 09, 2021
Top: L- R Hiking with buddies. After some sad goodbyes to fuzzy friends this summer, we have a new kitty. Bottom L-R First day of school ice cream! Hiking as a family. Creek float with a school friend.
Enjoying a National park in Sweden
Alaska Cousin Camp!
Jul 28, 2021
Road Trip to see Civil Rights history spots, try all the food and see some long lost friends.
Adventures begin!
May 23, 2021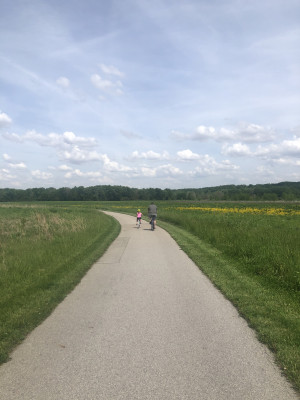 Back on the bikes after a long winter and cold spring!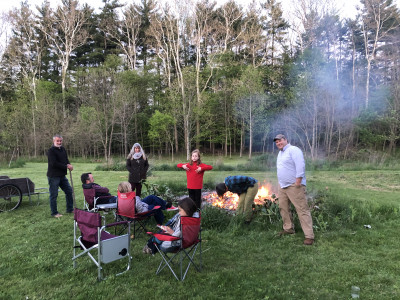 Long year of few gatherings, so great to eat, laugh, play and burn things!
Not quite magicians
May 06, 2021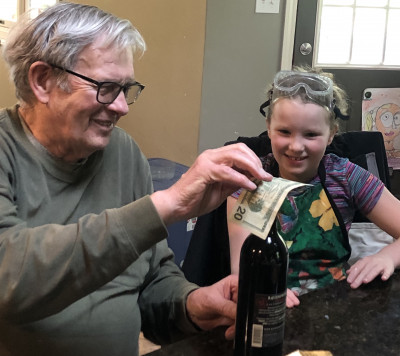 Trying some tricks with Grandpa
The Evergreen
Apr 27, 2021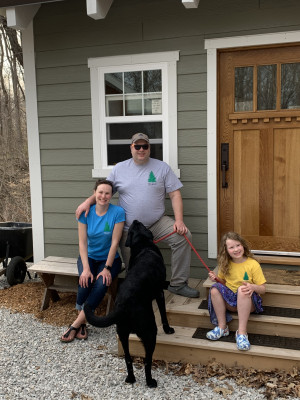 Derek, Cabin Master
Kelly, Concierge (also Housekeeping)
Madeleine, Staff
Ole, resident horse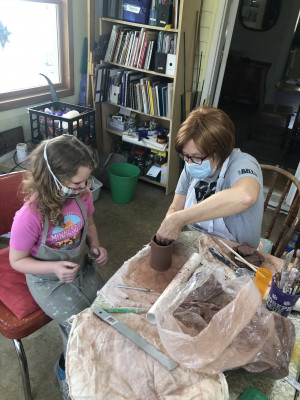 Learning about clay pottery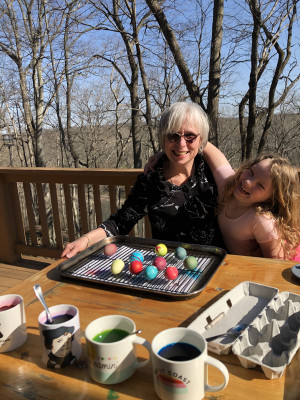 Spring is HERE!
Apr 07, 2021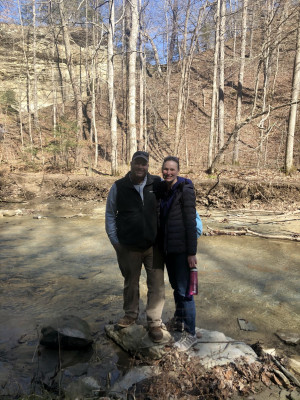 Time to get outside and hike!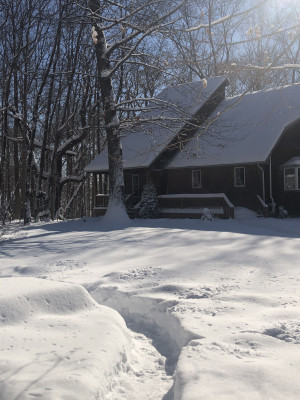 After elearning we are bundling up to enjoy this beautiful day!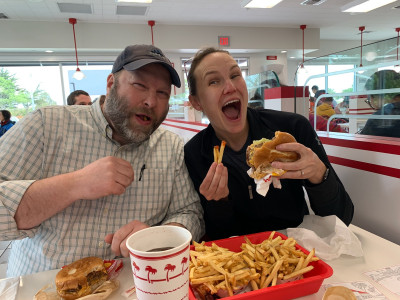 For travel and restaurants and sunshine
Adventures in ice
Feb 10, 2021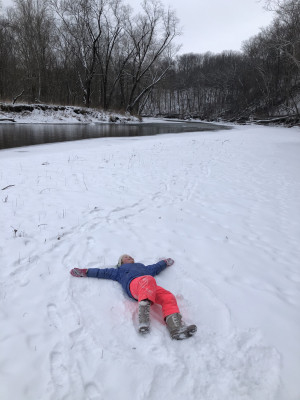 With very few places to go it's sure nice to have a creek for a backyard!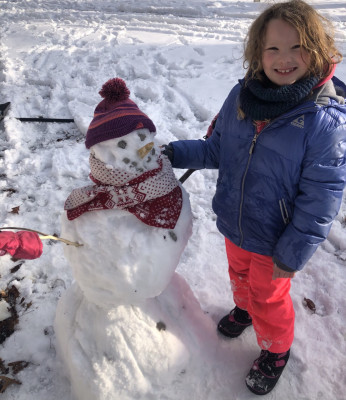 No bad weather, only bad clothes-that's our motto.
Learning new things
Jan 28, 2021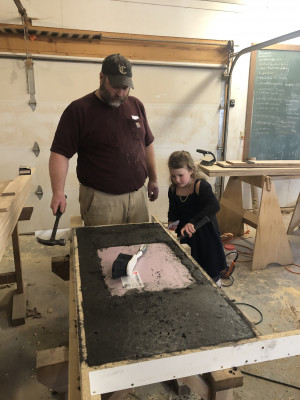 Madeleine and Derek work on making a concrete countertop for our little house!
Our Backyard
Oct 14, 2020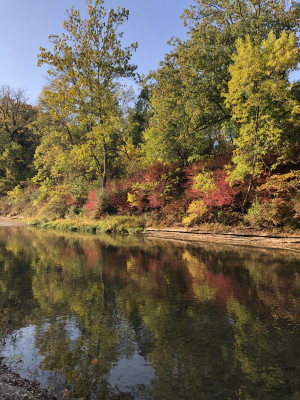 We're so lucky to have this beautiful creek in our backyard.
Science messes
Oct 01, 2020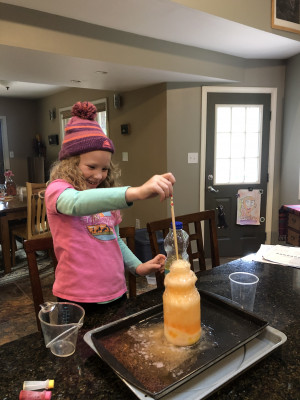 We like to do messy experiments and we keep thinking up ways we will include a little bro or sis in this fun!
Zoo with Friends
Sep 17, 2020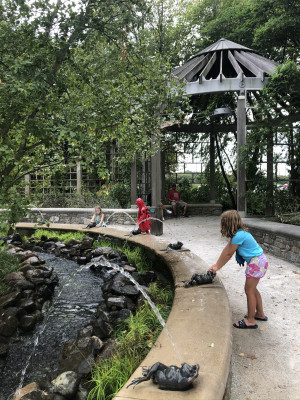 After a long time missing some of our best friends we were finally reunited for fun at the zoo! These kids are all such fun and love to play together.
So far..no takers...
Sep 08, 2020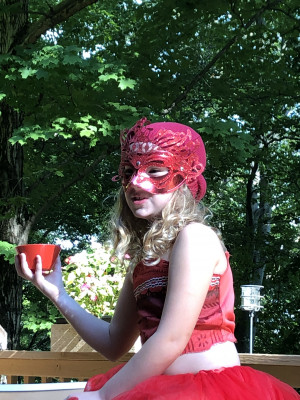 Can we trick the hummingbirds?
Sep 08, 2020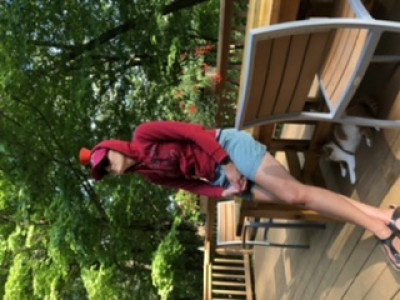 Got on all the red we could find to see if we could lure the hummingbirds to drink sugar water from us. Not yet...
Camping in the "cabin"
Aug 04, 2020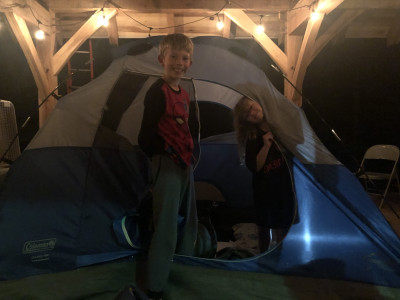 Hot summer nights are great for silly ghost stories while "camping" in your backyard with your cousin!
I call her... Firefly
Jul 13, 2020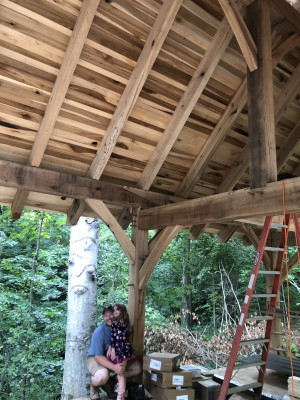 This little cabin project has been fun for our family! The roof is on, so we can camp out in the fresh air now. Madeleine had a great idea for a name: Firefly. There are about a million fireflies visible on most summer nights from that spot. The whole family has chipped in to help with the odds and ends. It will be a great place for grandma/grandpa to sleep when they come visit, or for the cousins to get away from their pesky parents..
Can't get enough animals
May 18, 2020
One of the fun things we've been doing since the stay-at-home order is to create "Pippi's Nature Channel." Pippi is our cat, a huntress skilled at terrorizing moles, voles, mice, and any other small critter. Our daughter likes to pretend she's a tv host filming footage of various animals trying to evade Pippi. We're up to episode 20! The grandmas in our family love to get the video updates. We're so lucky to live in a place that has access to the great outdoors, not just during this time of isolation and boredom, but all the time. Your child would grow up in an environment where kids can run around and get dirty outside, befriend all living things and breathe the fresh air as they follow their nose, creatively and literally.
Relaxin' all cool
Apr 20, 2020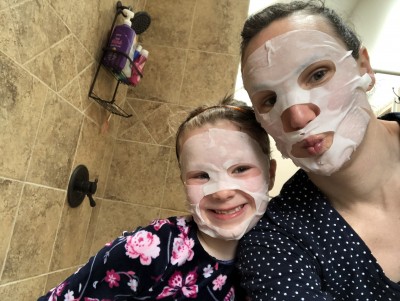 We want to look our best when we get on our daytime pjs and sit down to another day of e-learning, email, and tv!
Making Our Own Fun
Apr 10, 2020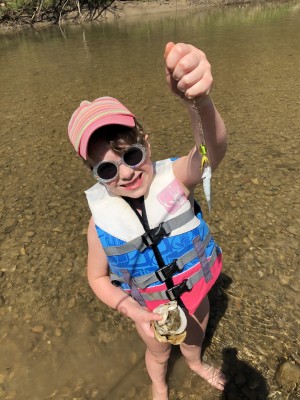 Like most of the country, we're going a bit stir crazy as we sit around at home. Fortunately we have a great place for kids (of all ages) to play around outside. Derek built some stairs (135 or so!) down to the river that runs below our house. Our daughter caught the first fish of the year. It is probably the smallest fish ever to be caught in the history of angling, but she was really excited. So was the fish... after it was released and swam away!
Building a Guest House
Apr 01, 2020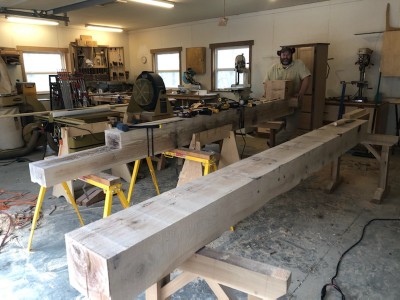 Ever since Derek was 16 and watched an episode of This Old House where the crew built a barn-style cabin, he's wanted to make one himself. What better time to do that than when we're all staying at home for a while? Here's a picture of Derek getting started on the huge oak beams that the cabin will sit on. It's been a very fun project so far, except for having to move these things around...
I'll try to post photos of the progress.
Heroes in Capes
Mar 27, 2020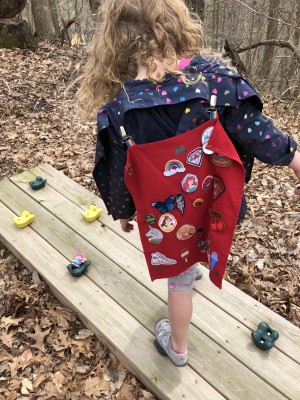 Every year all the kiddo cousins in our family and their parents and grandparents get together for a week-long "cousin camp." Sometimes we host at our house, sometimes we rent a big airb-n-b on the coast, and so on. A couple years ago we had a superheroes theme, and every cousin got a cape to wear. Then throughout the week there were patches and badges the kids could get for their cape. The much sought after "Grandma's Fave" patch, the "did the dishes without being asked" patch, that kind of thing. If you wanted to choose us to adopt your child, perhaps you can see the kind of fun-loving and stitched-together family he or she would be joining!
Hunkering Down with Grandma
Mar 25, 2020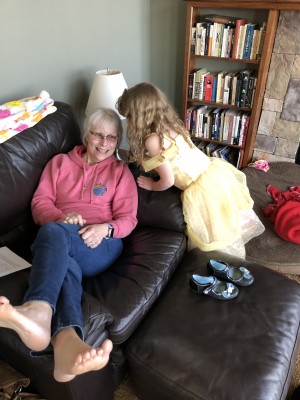 Well, like most of the rest of the country we're stuck in our house, waiting this thing out. Madeleine, our daughter, has been taking this time to try on more Disney outfits and learn more song-and-dance numbers. We're really lucky that Kelly's mom was able to visit for a week, giving us lots of Grandma time. Kelly has all the symptoms of Covid-19, but Indiana is not really doing any testing, so it's not confirmed. She's finally starting to feel better, like most of the people who get this. We'll be each other's best company for as long as it takes!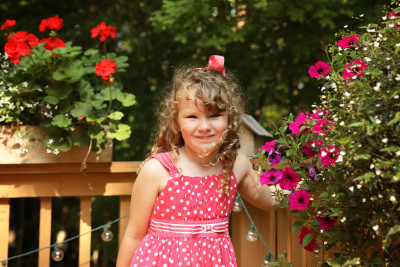 Our Madeleine is our everything. She's the funniest kid she's ever met (and cracks us up, too). I caught her looking at her kindergarten photo yesterday and asked her, "What are you thinking about when you see that photo?" She replied, "Um, how adorable I am." Then she made a weird face, "Is that bad?" She has been desperate for a brother or sister since she was tiny. When she was 13 months old she walked over to me and hugged and kissed me when the parents die in a shipwreck in the Disney movie Frozen as if to lessen any fears of mortality I might have had. When she was three she stood with her feet in the waves of the Pacific Ocean in Oregon, holding her grandmother's hand. She shouted at the top of her voice over the whitecaps, "I am MOANA!" Clearly we watch lots of animated movies in this house. Madeleine has a favorite doll, Dede. She has changed Dede's diaper approximately 4,000 times practicing for the time when she'll be allowed to do so for her sibling.
This Is Our Story
Jan 07, 2020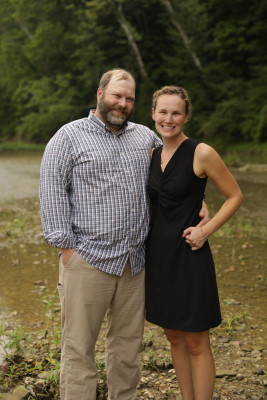 Both of us were in graduate school when we met, but we were both dating the wrong people. It took us a while to figure that out, after graduation, actually. But when we were single, Derek wrote on Facebook that he was going to a barbecue place to listen to bluegrass music, and Kelly flirtatiously joked that, in that case, they were definitely meant to be. Facebook messages led to phone calls. One night when a thunderstorm meant that cell phone reception was bad, Derek drove to his office to use the landline to call her and felt awful about racking up a three hour phone bill that night. Monthly cross-country flights led to an engagement at a dive bar because the fancy restaurant where he intended to propose was closed for the winter (oops!). She said yes and we've been married now for ten years. We make a life with two careers (minimum, Derek usually has a few extras), far away family, close-knit friends, and with a commitment to God, the world, and one another.
This Is Our Why
Jan 07, 2020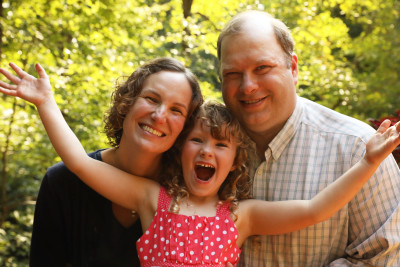 We are hoping to grow our family through adoption, because we feel we have more love to share. It took many years for us to have our daughter, Madeleine, and after her birth we've been unable to have another child. Both of us cannot imagine life without our sisters and we can see that Madeleine is a sister just waiting for a brother or sister whom she can love, share/fight over random things, and laugh at the expense of their crazy parents. There is room in our home and room in our lives for more.